Main content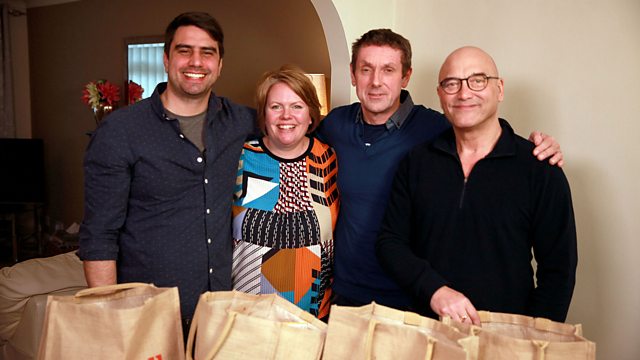 Gregg Wallace and Chris Bavin help families across the UK eat well for less. In this edition, they help the Hoylands to prepare gluten-free meals and save money.
This week, Chris and Gregg journey to Edinburgh to meet the Hoyland family. Dad Derek, who has coeliac disease, has not eaten the same meal as his family for nearly six years, living off salads to avoid any gluten in his diet. Mum Clair is brand obsessed, filling the trolley with frozen convenience food, diet-ready meals and litres of bottled water every week, spending over double the national average for a family of four. Their two children, Connor and Amy, long to sit down as a family and all eat the same meal, but Clair's fear of gluten-free cooking means she cooks three separate meals every day.
Can Chris and Gregg conquer Clair's gluten-free cooking phobia and finally get this family to sit down together and eat the same meal, as well as save them money?
BBC Food tantalises your taste buds with recipes for more than 3000 gluten-free dishes.
Credits
| Role | Contributor |
| --- | --- |
| Presenter | Gregg Wallace |
| Presenter | Chris Bavin |
| Expert | Hala El-Shafie |
| Executive Producer | Jo Scarratt-Jones |
| Series Producer | Jennifer Fazey |
| Production Company | RDF Television |