Main content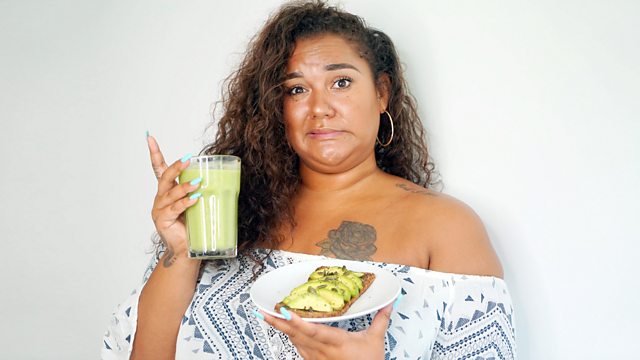 Clean Eating's Dirty Secrets
Vlogger and body-positive internet queen Grace Victory investigates clean eating. Is it the lifestyle change everyone needs, or is it another fad diet in disguise?
Vlogger and body-positive internet queen Grace Victory tries clean eating on for size. Is this the lifestyle change we all need, or another fad diet in disguise - a fad diet with potentially dangerous consequences?
Clean eating has exploded - from quinoa to courgetti, smoothie bowls to sweet potato brownies. Never before have we been so concerned with the purity of our food.
Lighting the way are a team of 'glowing' wellness bloggers. The goddesses of green juice have come to deliver us from the evils of our dirty, processed and sugar-filled diets.
With food avoidance now officially a mainstream phenomenon, cutting out gluten, sugar and dairy has become second nature to many. But is this new wave of 'health-conscious' poster girls really promoting the best way to eat, or are the pretty pictures hiding an uglier truth?
Grace dives hashtag first into the whitewashed world of clean eating. She vlogs her attempts to change her diet and meets with dieticians, YouTubers and those whose desire for health has become an unhealthy obsession. She investigates the claims many gurus swear by and questions whether we should be listening to them at all.
Will Grace really discover the hottest, healthiest, happiest her?
Credits
| Role | Contributor |
| --- | --- |
| Presenter | Grace Victory |
| Producer | Katie Rice |
| Director | Katie Rice |
| Executive Producer | Brian Woods |
Featured in...
Exploring programmes for a healthy mind and body.

Geting Your Year Off, to the Right Start!