Main content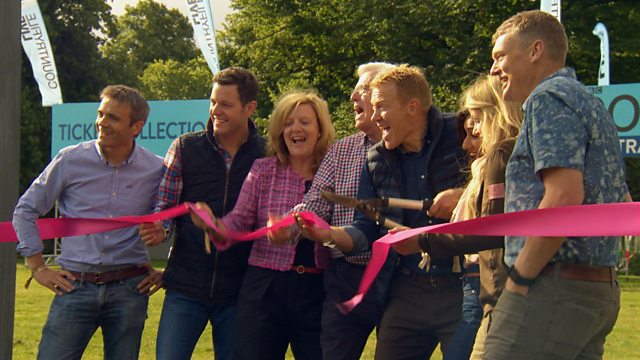 Countryfile Live
Matt Baker mingles with exhibitors and visitors at the first ever Countryfile Live, which took place in the magnificent grounds of Blenheim Palace in Oxfordshire.
The first ever Countryfile Live took place in the magnificent grounds of Blenheim Palace in Oxfordshire - four days in the sunshine celebrating the best of the British Countryside. Matt kicks the programme off with a whistlestop tour of the show, mixing and mingling with exhibitors and visitors, and he calls in at the Craven Arms, Countryfile Live's very own pub.
Ellie goes behind the scenes to see what goes into setting up a show on this scale, and she also chats with the Duke of Marlborough, Blenheim's owner, to find out what it is like having such a big show in your garden.
Anita steps away from the showground to get up close to some truly magnificent oak trees, many of them more than a thousand years old. John takes to the water to see how ducks are helping restore Blenheim's beautiful ornamental lakes, while Tom and Adam go head to head at the timbersports arena in a test of strength and speed.
And Charlotte Smith looks at what might happen to British foods protected under EU law and catches up with some producers who are worried they will lose a vital protection and others who see a real opportunity.
Welcome to Countryfile Live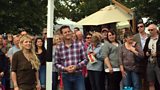 This year the grounds of Blenheim Palace are the setting for a special event, celebrating the best that the British countryside has to offer. With 750 exhibitors from across the country, 130 food producers and more than 1000 bales of hay, welcome to the first ever Countryfile Live. Matt Baker meets John Hoy, the Chief Executive of Blenheim Palace to find out what work has gone into planning the show. He then gets stuck in with a variety of activities that highlight the best in show – everything from wellie tossing and fly casting to catching up with Peter Pervis and some of man's best friends.
Behind the scenes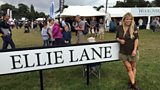 Ellie Harrison is exploring the hidden side of the event, going behind-the scenes to see how producers and performers are getting ready for their time in front of the crowds. In the shire horse village she meets Elspeth Ross who is busy preparing the only 6-horse shire team in Britain for their round in the equine arena. She then follows her nose to the food demonstration kitchen, where a busy team of home economists are grating, chopping and dicing an array of colourful food for chefs like Brian Turner and Rick Stein to cook up later on stage.  Finally she takes a sneak-peak at the Main Arena show, a kaleidoscope of colour involving trapeze artists, sheep, farm machinery and a few familiar faces.
Timber challenge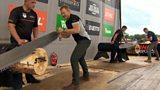 Tom Heap and Adam Henson go head-to-head in a contest of strength and stamina. Down on the Timber Sports stage champion lumberjacks demonstrate the skills of the sport, before they have a practice round with the aim of sawing through a trunk of wood in the fastest time possible. It might look easy when you've got a British champion sharing the effort, but how will Tom "The Hatchet" Heap and "Axeman" Adam Henson fare on their own against each other?
Protected Foods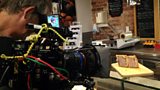 Some of our most famous foods here in the UK are protected from copycats by EU law, Melton Mowbray Pork Pies, Stilton and Cornish Pasties are some of the better known. So what will happen to them when we leave the EU? Charlotte Smith meets up with some who're worried that losing the protection could spell disaster and also those who see it as real opportunity.
Animals in action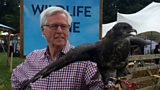 John Craven takes a tour of the wildlife zone, where members of the public are getting up-close to some of the countryside's feathered residents. He meets zoologist James McKay who teaches him about the role birds like buzzards and Hawks play in managing our countryside before stepping away to see first-hand how another species of bird is helping maintain the balance at Blenheim Palace. Plagued by Canadian pondweed that threatened the natural ecosystem of the river and lakes the estate team called upon the help of mallard ducks to keep this weed in check and John joins in as the latest 50 ducks are introduced to their new home.
Find out more about Blenheim's project to rid Bladon Lakes of Canadian Pondweed 
Ancient oaks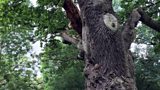 The natural setting of the event is in part thanks to the renowned landscape designer Capability Brown, who transformed Blenheim Palace into an oasis of green trees and tranquil lakes. But as Anita Rani has been finding out, there are some trees at the estate that go back a lot further. Anita steps away from the event to explore High Park, which is home to Europe's greatest collection of ancient Oaks. Here she meets foresters Nick Baimbridge and Christian Halbert who are responsible for looking after these portly giants. 
Adam's County Breeds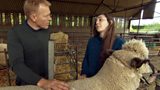 Adam breaks out from Blenheim Palace to look at the county breeds in Oxfordshire. He meets up with the breeders who have brought the Oxford Sandy and Black from the edge of extinction and proves that it's not as many suspected a cross between two other breeds. Adam then catches up with the family looking after a herd of Oxford Down sheep and reveals why they are such a special breed for him.
Passion for Pigs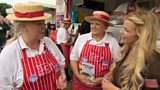 Ellie meets 'Ladies in Pigs' a group of dedicated women who are trying to put pork on back on the menu. The pig sector is one of the toughest sectors in the whole of UK farming, but these farmers and farmer's wives believe that connecting directly with the consumer is the way to turns things around. This is the same ethos behind the phenomenal rise of `street food' in the last few years, so after learning about the need to support our pig producers, Ellie steps back in time and joins a street food troupe called `What the Dickens', who are out to surprise and delight jaded British palates.  Their dishes, like devilled pork, are inspired by recipes found in the pages of 19th century literary classics and as Ellie finds out, they are just as delicious 200 years on.
Credits
| Role | Contributor |
| --- | --- |
| Presenter | Matt Baker |
| Presenter | Ellie Harrison |
| Presenter | John Craven |
| Presenter | Anita Rani |
| Presenter | Tom Heap |
| Presenter | Adam Henson |
| Presenter | Charlotte Smith |
| Executive Producer | William Lyons |
| Series Producer | Joanna Brame |