Main content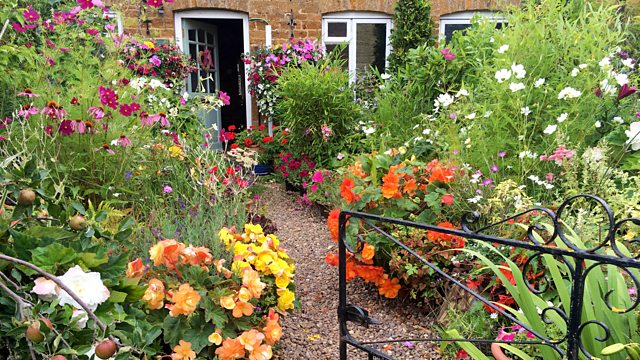 Moving House Special
Eric Robson hosts a Moving House edition of the horticultural panel programme from Matthew Wilson's house in Rutland. With Anne Swithinbank and Pippa Greenwood.
Eric Robson hosts a Moving House edition of the horticultural panel programme from Matthew Wilson's house in Rutland. Anne Swithinbank and Pippa Greenwood join Eric and Matthew to answer the questions.
Produced by Dan Cocker
Assistant Producer: Laurence Bassett
A Somethin' Else production for BBC Radio 4.
Fact Sheet
Q – How do you cope with taking on a new, larger garden in a new home?
Matthew – The great challenge is time – I arrived with lots of plants in pots which had been lifted and divided from the old garden. I cleared some ground and planted them immediately because by the time you finish designing the garden they will all be dead. If it is living, get it in the ground.
Q – I found a Brazil nut sprouting in my compost heap, I potted it and it is now 3ft (0.9m) – how should I care for it?
Anne – Grow it as a foliage house plant and keep moving the pot size up when necessary. If it grows to a size you like, you can take it out and saw off a couple of inches from the root ball and pot it back into another pot.  Make sure it gets enough warmth and adequate humidity – surround it with other plants and a large drip tray to increase moisture.
Q – Our potted Fig tree has grown roots into the patio – we cut them off, do we need to kill them to stop damage to the house?
Anne – I don't think the roots will produce anything – if they do you could cut off the new growth from the old roots and apply a stump killer.
Pippa – I think you should leave the roots for now and keep checking the base of the container of the fig tree. You could stand the pot on a large slab to stop it from growing downwards.
Q – I have a Bay tree which is growing well but the leaves are exuding a sticky sap – what am I doing wrong?
Pippa – There is a pest called Bay sucker where the edge of one leaf flips over and becomes thick and often a bit yellow and there is a little pest inside – that can make it sticky. It is more likely that it is a Scale insect infestation – it is a very small pest (1-2mm long), usually a yellow/beige colour.
Anne – The Scale insects will take sap from the leaf and their extrusion is the sticky sap that is the problem. If you remove the insects, the stickiness should disappear too.
Q – I do not want to leave my asparagus plants when I move house. I have dug them up and I would like to know how to store them before they can be replanted?
Anne – You are not supposed to move them but I would bring them in their buckets out into the garden and make sure they stay moist but not waterlogged. When you get to the new house, quickly get the soil dug and conditioned and replant.  Wait as long as possible though.
Matthew – When the soil is ready in the new garden, plant some new asparagus crowns too.
Q – I have moved to Devon and inherited a large swimming pool, we don't want to keep it – do the panel have any ideas as to how it could be used?
Anne – I would level the base of the pool and convert it into a pit. I would put a top over it and use it as a sunken greenhouse which will be much cheaper to heat than if it was above the ground.
Pippa - I would definitely turn it into a pond, you could make a beach effect out of the edges to encourage wildlife. You could include a boggy area too.
Q – My garden has been destroyed by building work, what can I do to revive it once the builders leave?
Matthew – When builders are working on your property, unless you set very clear boundaries (preferably physical), they will take over the garden – it can become a storage space.
Anne – I would design some bed and lawn areas – if you can get some soil in a bed then autumn is a good time to plant annuals.
Pippa – Building work can leave behind compaction where the soil has been weighed down with heavy machinery and adverse weather conditions. Even small amounts of cement could contaminate the soil. Using hardy annuals is a good idea because if they do fail, you have only wasted a few seeds instead of many expensive plants/trees.
Q – We have a small (20m x 6m/65ft x 20ft) garden in our new-build home, it is mostly lawn and some concrete for a patio. How can we improve it without having to pay to dig up the rubble from beneath the grass?
Matthew – I would recommend the use of potatoes to break up the ground after building work that leaves heavily compacted soil. You will need to condition the soil before you can plant but for the first year plant lots of potatoes.
Anne – Get stuck in and grown something, you can re-shape the borders once the ground is healthier.
Q – We are building our own homes and aspire to create a large communal allotment to grow as much of our own fruit and vegetables as possible. The area that will become the allotment is presently pasture but it could be damaged by some site traffic as everybody moves in. What is the best way to clear pasture?
Pippa – I would refrain from using a rotavator – You could have plants such as Couch grass and if it gets chopped up it will grow from each chopped section. Investigate what you've got in the pasture land and there will most likely be Wireworms and Chafer grubs. In the first couple of years, be careful with crops such as sweetcorn and potatoes because Wireworm (Brown, 1-2cm long) particularly like to eat the roots.
Matthew – Try no digging at all, place some cardboard boxes directly onto the grass and pin them into place. Add lots of organic matter on the top (or garden compost) and then wait for around 3 months, the cardboard will kill the grass underneath and the compost will improve the top layer of soil. It should be more ready for planting after that.
Q -  Can I propagate a new apple tree when I move house?
Anne – They are grafted onto root stocks so I would find a fruit nursery and ask if they would accept some fruits from the apple tree which they would then graft on behalf of the owner. That will be much more successful than trying to do it yourself.
Q – I have 25 Basil plants, grown inside, recently I've noticed mites on the leaves. They are very small and light brown in colour, is there anything I can do about this?
Pippa – It will be Red spider mite, even though they are not red. It loves Basil and dry, warm conditions. You can control it by introducing a predatory mite called Phytoseiulus – this needs to be introduced early.