Main content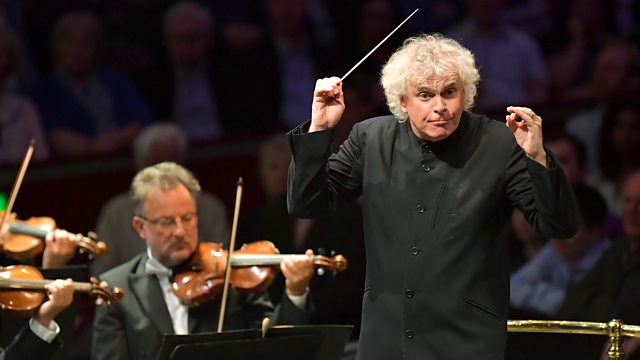 Live from the Royal Albert Hall in London, Simon Ratttle conducts the Berlin Philharmonic in Boulez's Eclat and Mahler's Symphony No 7. Presented by Martin Handley.
Live at the BBC Proms: The Berlin Philharmonic and Simon Rattle perform Boulez and Mahler
Live from the Royal Albert Hall, London
Presented by Martin Handley
7pm
Boulez: Éclat
Mahler: Symphony No. 7
Berlin Philharmonic
Sir Simon Rattle conductor
Sir Simon Rattle brings his Berlin Philharmonic to the Proms for two concerts, the first falling on the day the festival commemorates the towering genius that was the late Pierre Boulez.
Here Boulez's kaleidoscopic Éclat forms a prelude to perhaps Gustav Mahler's most radical symphony, a work in which his musical imagination stormed new territories in its fierce harmonies and wild scoring.
In the symphony's celebrated 'Night Music' serenades - eerie yet strangely calming nocturnes for orchestra, one hinging on a gently strumming guitar and mandolin - Mahler appears to look to a realm far beyond his own.