Main content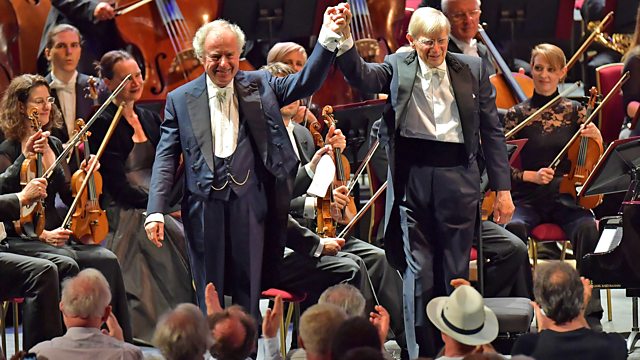 Herbert Blomstedt conducts the Leipzig Gewandhaus Orchestra. Beethoven: Leonore Overture No 2; Piano Concerto No 5 in E flat (soloist: Andras Schiff); Symphony No 7 in A.
The Leipzig Gewandhaus Orchestra, conducted by Herbert Blomstedt, play Beethoven's Symphony No 7 and, with András Schiff, the Piano Concerto No 5.
Live from the Royal Albert Hall
Presented by Martin Handley
Beethoven: Overture 'Leonore' No 2
Piano Concerto No 5 in E flat major, 'Emperor'
8.25: INTERVAL: Proms Extra - East and West Germany
Novelist Philip Kerr and historian Karen Leeder look back at Leipzig in 1989 where the border was first breached. Chaired by Rana Mitter with an audience at Imperial College Union
8.45: Symphony No 7 in A major
András Schiff, piano
Leipzig Gewandhaus Orchestra
Herbert Blomstedt, conductor
Tonight's all-Beethoven Prom culminates in the composer's most fascinating and bold symphony, a piece shaped by irresistible rhythmic drive, whether in the inevitable tread of its slow march or the propulsive energy of its outer movements.
One of the world's oldest orchestras, along with one of its closest collaborators, lights the fuse on Beethoven's Seventh and his excitable Leonore Overture No. 2, while 'pianist's pianist' Sir András Schiff performs the composer's most commanding piano concerto.
PROMS EXTRA: East and West Germany
The border separating East and West Germany was first breached in Leipzig. As the Leipzig Gewandhaus Orchestra perform at the Proms, novelist Philip Kerr and historian Karen Leeder from the University of Oxford talk about East and West Germany, their differences and similarities and how massive peaceful demonstrations in Leipzig in 1989 triggered the fall of the Berlin Wall. The discussion is chaired by Rana Mitter who is a regular presenter of Radio 3's Arts and Ideas programme Free Thinking and of Sunday Features.
Producer: Luke Mulhall.