Main content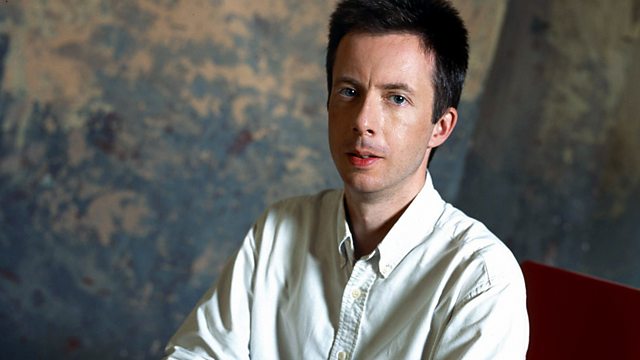 The Cantar di Pietre Festival in Quinto, Switzerland
John Shea presents a selection of early music from the Cantar di Pietre Festival in Quinto, Switzerland.
John Shea presents a selection of early music from the Cantar di Pietre Festival in Quinto, Switzerland.
12:31 AM
Anon
1. O monialis concio burgensis; 2. Rorate caeli; 3. Cum iubilo; 4. Kyrie, Rex virginum; 5. Gloria in excelsis
Ensemble Studium
12:47 AM
Anon
1. Graduale. Benedicta et venerabilis; 2. Alleluia, Salve Virgo; 3. Ave Maria
Ensemble Studium
12:57 AM
Anon
1. Ave Maria Graduale Romanum ad Offertorium; 2. O Maria Virgo/O Maria maris/In veritate; 3. Sanctus. Clangat cetus
Ensemble Studium
1:07 AM
Anon
1. Agnus Dei. Gloriosa spes reorum; 2. Beata Viscera; 3. Haec est mater; 4. Benedicamus Domino; 5. Benedicamus Domino
Ensemble Studium
1:18 AM
Brahms, Johannes (1833-1897)
Piano Sonata No. 3 in F minor, Op.5
Cristina Ortiz (Piano)
1:57 AM
Nielsen, Carl (1865-1931)
Symphony No.2, Op.16, 'The Four Temperaments'
Bergen Philharmonic Orchestra, Ingar Bergby (conductor)
2:31 AM
Respighi, Ottorino (1879-1936)
Concerto in modo misolidio, for piano and orchestra (concerto in the Mixolydian mode)
Olli Mustonen (piano), Norwegian Radio Orchestra, Markus Lehtinen (conductor)
3:07 AM
Stenhammar, Wilhelm (1871-1927)
String Quartet No.4 in A minor (Op.25)
Yggdrasil String Quartet
3:42 AM
Palestrina, Giovanni Pierluigi da (c.1525-1594)
Tu es Petrus - motet for 6 voices
Silvia Piccollo & Emmanuela Galli (sopranos), Fabian Schofrin (alto), Marco Beasley (tenor), Daniele Carnovich (bass), Chorus of Swiss Radio, Lugano; Diego Fasolis (conductor)
3:49 AM
Delius, Frederick (1862-1934)
On Hearing the First Cuckoo in Spring - from Two Pieces for Small Orchestra (1911/12)
Symphony Nova Scotia, Georg Tintner (conductor)
3:57 AM
Bach, Johann Sebastian (1685-1750), arr. Andrew Manze
Toccata and Fugue in D minor (BWV.565) - reconstructed for violin solo by Andrew Manze
Andrew Manze (violin)
4:05 AM
Fougstedt, Nils-Eric (1910-1961)
Concert Overture (1941)
Finnish Radio Symphony Orchestra, Jukka-Pekka Saraste (conductor)
4:13 AM
Mendelssohn, Felix [1809-1847]
3 Studies Op.104b for piano
Sylviane Deferne (piano)
4:21 AM
Vivaldi, Antonio (1678-1741)
Concerto da Camera in F major (RV.99)
Camerata Köln
4:31 AM
Gratton, Hector (1900-1970)
Légende - symphonic poem
Orchestre Metropolitain, Gilles Auger (Conductor)
4:40 AM
Hamelin, Marc-Andre (1961-)
Variations on a Theme by Paganini
Marc-André Hamelin (Piano)
4:51 AM
Schütz, Heinrich (1585-1672)
Magnificat anima mea Dominum (SWV.468)
Schütz Akademie, Howard Arman (conductor)
5:01 AM
Ferrabosco, Alfonso (c.1578-1628)
Pavan and Fantasie
Nigel North (lute)
5:08 AM
Marcello, Alessandro (1669-1747)
Concerto in D minor
Jonathan Freeman-Attwood (trumpet), Colm Carey (organ of the Dutch Church, Austin Friars, London)
5:18 AM
Viotti, Giovanni Battista [1755-1824]
Serenade in A major for 2 violin, Op. 23 No.1
Angel Stankov (violin), Yossif Radionov (violin)
5:27 AM
Britten, Benjamin (1913-1976)
Serenade for tenor, horn and string orchestra (Op.31)
Benjamin Butterfield (tenor), James Sommerville (horn), Manitoba Chamber Orchestra, Simon Streatfield (conductor)
5:51 AM
Paderewski, Ignacy Jan (1860-1941)
Nocturne in B flat (Op.16 No.4); Dans le désert (Op.15)
Kevin Kenner (piano)
6:04 AM
Mendelssohn, Fanny Hensel (1805-1847)
Piano Trio in D minor, Op.11
Trio Orlando.