Main content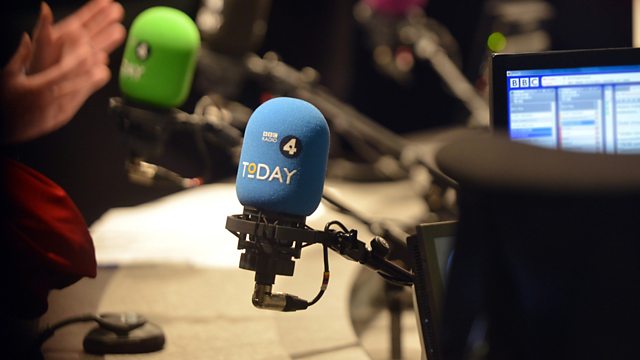 01/09/2016
Morning news and current affairs. Including Sports Desk, Weather and Thought for the Day.
Today's running order
All subject to change
0653
Hospitals in England will begin to make contingency plans for the five consecutive days of strikes this month by junior doctors later. Chris Hopson is chief executive of NHS Providers so speaks on behalf of NHS Trusts.
0709
More on the five consecutive days of strike by junior doctors: Dr Mark Porter is chair of the BMA Council.
0714
A new Alzheimer's treatment has shown promising results in trials, raising hopes that a drug to slow the progression of the disease may finally be in sight. Dr Tara Spires-Jones is the interim director at Centre for Cognitive and Neural Systems at the University of Edinburgh.
0720
All victims of crime in England and Wales should have a legal right to have contact with offenders, MPs have said. Paul Kohler is a university lecturer who was beaten in 2014 and met his offender, and Katy Bourne is the police and crime commissioner for Sussex and vice chair of the Standing Group in Supporting Victims.
0732
US Republican presidential candidate Donald Trump has insisted Mexico will pay for a border wall "100%", in a major immigration speech. Peter Navarro is Donald Trump's economic advisor and an associate professor of economics and public policy at the University of California.
0741
The great nephew of one of Britain's most famous spies, Martin Pearce, has written a new book coming to the defence of his infamous ancestor Sir Maurice Oldfield: Martin Pearce's Spymaster: The Life of Britain's Most Decorated Cold War Spy and Head of MI6.
0747
Former Labour shadow chancellor Ed Balls has written a new memoir called Speaking Out and he is the latest in a line of politicians to appear on Strictly Come Dancing.
0810
Junior doctors in England will take part in five consecutive days of strikes next month as they ramp up their opposition to a new contract. Jeremy Hunt is the health secretary.
0818
All iPlayer users must now own a TV licence, regardless of whether or not they watch programmes live. Damian Collins is acting chair of the culture, media and sport select committee and Renate Samson is the chief executive of Big Brother Watch.
0830
One of the people fighting to take the top job of UN secretary general is Christina Figueres, former executive secretary of the UN framework convention on climate change.
0836
A new Channel 5 documentary Gangland will offer uncompromising access into the workings of some of London's most brutal and notorious street gangs, using footage shot by the young people who operate within this world. Paul Blake is a filmmaker who has spent over a decade filming gangs in London.
0843
Elections in Germany and France next year could have a greater bearing on international decisions and negotiations, such as Brexit, migration, Dover/Calais, TTIP and the future of the EU. Christine Ockrent is a journalist and former boss of France 24 television and Bettina Vestring is the managing director of United Europe.
0849
Why are serving and former politicians getting involved in reality TV? Sir Vince Cable is the former secretary of state for business, innovation and skills and Glenn Coomber runs the UK arm of international production company.