Main content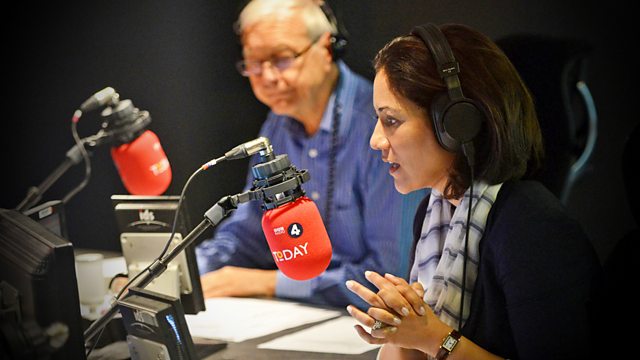 31/08/2016
Morning news and current affairs. Including Sports Desk, Weather and Thought for the Day.
Today's running order
All timing subject to change
0652
US Republican candidate Donald Trump is to visit Mexico on Wednesday, after repeatedly disparaging the country during his campaign. Franc Contreras is a journalist in Mexico City.
0709

The chief strategist of the Islamic State group, whose calls for attacks against the West during Ramadan led to mass bloodshed, has been killed in Syria, IS-affiliated media say. Dr Afzal Ashraf is a visiting fellow at Nottingham University's Centre for conflict security and terrorism.
0715
France's former economy minister Emmanuel Macron will make his first public speech today after resigning from the government yesterday. Sophie Pedder is the Paris Bureau Chief for The Economist.
0719
The new head of the National Grid says people need to stop worrying about the lights going out. Nicola Shaw says a smart energy revolution will reduce the need for new conventional power stations. Roger Harrabin is the BBC's energy analyst.
0730
The Women and Equalities Committee has called for UK women to have protections similar to those in Germany after what it calls a 'shocking' increase in workplace pregnancy discrimination over the past decade. Jo Swinson is the former Equalities Minister and Kathrin Brugger is a senior associate specialising in HR and employment law with Pinsent Masons in Germany.
0741
This week a new book about one of Radio 4's greatest traditions is being published. The author and sailor Nick Compton is releasing the first official companion to the shipping forecast called: 'The Shipping Forecast: A Miscellany'. Charlotte Green is a former broadcaster on the Shipping Forecast.
0748
Apple would be "welcome" to do business in the UK, after the European Commission ruled that the firm should pay more than £11bn in back tax to Ireland.  Jennifer McCloskey is the director of government affairs for the information technology industry council and Dr Liza Lovdahl Gormsen is a senior research fellow at the British Institute of international and comparative law.
0810
Theresa May is to chair a meeting of her cabinet at Chequers to discuss the UK's approach to leaving the EU and its objectives in future negotiations. Anna Soubry is a Conservative MP and former business minister and Lord Nigel Lawson is the former Conservative Chancellor of the Exchequer.  
0819
The new ITV drama, Victoria, began on Sunday to warm reviews. This weekend it faces a major test when it goes head to head to with the first episode of the new series of Poldark. Daisy Goodwin is a novelist and creator of the TV show, Victoria, and Kate Williams is author of Becoming Queen. 
0832
Over 1000 migrants are expected to arrive at Palermo Harbour today with more across other parts of Sicily.  Jacob Goldberg is team leader of the rescue boat Aquarius AV and nurse at MSF.
0839
The number of frontline officers working in public-sector prisons has fallen over the last year, despite plans by the Ministry of Justice to recruit additional staff, according to the Howard League for Penal Reform. Andrew Selous is former minister for prisons, probation and rehabilitation at the Ministry of Justice.
0842
An international team of researchers has found that when monkeys are kept in captivity, their gut biomes become less diverse. Scientists think this could be a step to understanding why humans are missing so much microbial diversity. Dan Knight is lead author of the study.
0846
More than a third of the population of England and Wales have not seen a bobby on the beat for a year or more according to a survey by IPSOS MORI for the Inspectorate of Constabulary. Steve Bays is the chairman of Tiptree Parish Council.