Main content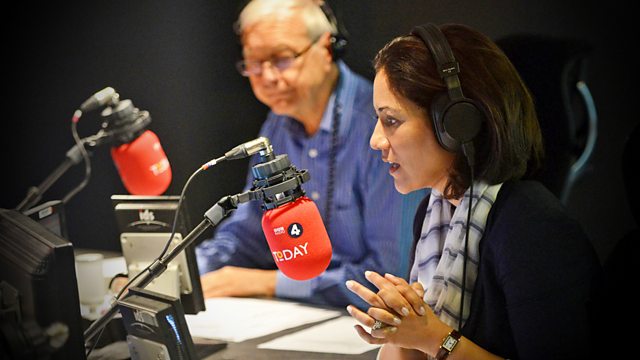 25/08/2016
Morning news and current affairs. Including Sports Desk, Weather and Thought for the Day.
Today's running order
All subject to change:
0650
A peace agreement has been signed between the Colombian government and the Farc rebel group, aimed at ending five decades of conflict that has killed more than 200,000 people. The BBC's Will Grant reports.
0655
A report out from Centre for Cities has warned that the amount of tax revenue raised by London to the Exchequer has continued to rise in the last 10 years, while revenues from other big cities across the country have fallen or stagnated. Alexandra Jones is chief executive of Centre for Cities.
0710
Thousands of rescuers have searched through the night for survivors following Wednesday's earthquake in a mountainous area of central Italy. Luigi D'Angelo is head of the National Service of Civil Protection.
0715
Syrian rebels, backed by the Turkish military and US air cover, say they have taken the town of Jarablus from jihadists of so-called Islamic State. Alan Semo is the UK foreign affairs spokesperson for the Kurdish Democratic Union Party.
0720
Police in Sussex are trying to identify five men who drowned while swimming off the Camber Sands beach. Josie Holloway started a petition to get a fulltime lifeguard on the beach at Camber and Peter Dawes is RNLI national operations manager.
0730
GCSE results are published this morning. Charlotte Aldritt is director of Public Services and Communities at the RSA Open Public Services Network and John Widdowson is principal of New College, Durham.
0740
The first ever dodo skeleton is to be sold at auction today.Rupert van der Werff is director of Summers Place Auctions.
0750
Today UKIP will hold its final hustings for the party's leadership contest, although Diane James is not attending. We speak to Ms James, UKIP's Justice and Home Affairs spokesperson.
0810
Thousands of rescuers have searched through the night for survivors following Wednesday's earthquake in a mountainous area of central Italy. The BBC's James Reynolds reports; Barbara Contini is undersecretary general of the Red Cross and Warner Marzocchi is co-chairman of the Seismic Hazard Center at the National Institute of Geophysics and Volcanology.
0820
Max Whitlock returned from the Olympics with two gold medals and a bronze to his name. We speak live to Mr Whitlock and to Jane Allen, CEO of British Gymnastics.
0830
The BBC world affairs correspondent Mike Thomson has been speaking to a Free Syrian Army officer who took part in the Turkish-based assault on IS-held Jarablus yesterday. Lyse Doucet is the BBC's chief international correspondent in Geneva and Baroness Hussein-Ece is vice chair of the All-Party Parliamentary Group for Turkey.
0835
The Home Affairs Committee has released a new report into radicalisation, saying that social media giants like Facebook, Twitter and Google are "consciously failing" to prevent their services being used to promote terrorism and online extremism. Keith Vaz is chair of the Home Affairs select committee and Peter Neumann is director of the International Centre for the Study of Radicalisation at King's College London.
0840
How relevant are the theories of Karl Marx to modern Leftist thought? Gareth Stedman Jones is professor of the History of Ideas at Queen Mary University of London and author of Karl Marx: Greatness and Illusion.
0850
The Colombian government and the Farc rebel group have signed a historic peace accord, putting an end to more than five decades of conflict. Nestor Osorio Londono is the Colombian Ambassador to London.
0855
Manchester City is building a glass tunnel so fans can watch their players as they enter and exit the pitch. Keith Hackett is a former Premier League referee and Dion Dublin is a former Manchester United player.