Main content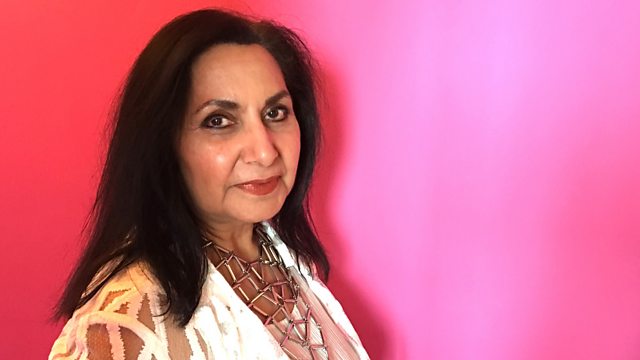 God Loves a Drunk
Poet Imtiaz Dharker examines the uncontainable release of energy and exhilaration which comes with divine intoxication.
Award winning poet Imtiaz Dharker examines the phenomenon of divine intoxication - being drunk on God.
It's an experience which causes an uncontainable release of energy and intoxication, one that has inspired writers for centuries. Imtiaz explains "Before I ever tasted it I understood the metaphor of wine and its powerful spell. It was in the Urdu poetry my parents listened to, the ghazals and Hindustani film songs with the recurring theme of 'nasha', intoxicating love."
Intoxication, especially when brought about by something as pure as love, offers us the chance to lose ourselves, to communicate with an elusive beyond. The imagery of intoxication flows through cultures, enriching art, songs and poetry. Drunkenness it transpires is not always frowned upon. At Purim, Jews are instructed to become inebriated, in memory of their deliverance through Esther. Dionysus offers liberation through wine, a release into exuberant fertility, music and dance.
Imtiaz draws upon the work of the 14th century Persian poet Hafiz and the Sufi poets who, despite being Muslims, used the metaphor of wine, taverns and heavenly barmaids to suggest a longing for God. Music featured includes Joni Mitchell, Jacques Brel and Richard Thompson.
Presenter: Imtiaz Dharker
Producer: Max O'Brien
A TBI Media production for BBC Radio 4
Readings
Title: Ode 44
Author: Hafiz (translated by Richard Le Gallienne)
Publisher: Penguin
Title: Eating God, A Book Of Bhakti Poetry
Author: Manikkavacakar translated by A K Ramanujan
Publisher: Penguin
Title: Be Drunk
Author: Charles Baudelaire
Publisher: Penguin Classics
Title: The New Rule
Author: Rumi
Publisher: Penguin Classics
Title: Song of Myself
Author: Walt Whitman
Publisher: Dover Publications Inc
Title: The Windhover
Author: Gerard Manley Hopkins
Publisher: Penguin Classics