Main content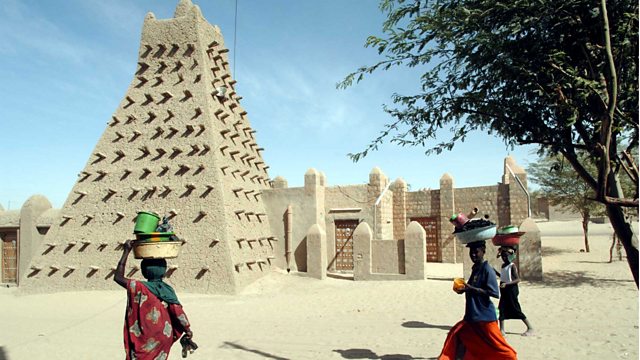 Cultural genocide; Greenbelt festival; Handel in Italy
Edward Stourton asks if cultural destruction during conflict should be classed as a war crime. Plus Bob Walker visits Greenbelt, the largest Christian arts festival in the UK.
Following a recent landmark trial in the Hague - at which Ahmad al-Mahdi pleaded guilty to destroying most of the architecturally and historically precious mausoleums in Timbuktu - Edward Stourton asks the question: Should acts of cultural destruction during conflict be classed as war crimes?
Rahul Tandon reports from Calcutta on preparations to celebrate the canonisation of Mother Teresa.
Bob Walker visits Greenbelt - the largest Christian arts and music festival in the UK.
Edward talks to a priest about the comfort being offered by the Order of Malta to the victims of the Italian earthquake.
In 1706, at the age of 21, George Frederick Handel decided to visit Italy. Internationally renown harpsichord player Bridget Cunningham explains how, despite his strict Lutheran upbringing, Handel managed to charm the Catholic church in Rome.
This week, the Columbian government signed a peace agreement with the FARC rebels. Christian Aid's representative in Columbia - Thomas Mortensen - explains to Edward why there is still much work to be done in a country with great social inequality.
On Friday, 20 UK faith leaders delivered a letter to the French authorities which contained the names of over 300 unaccompanied refugee children eligible for transfer to the UK. The French authoritiesâ€TM awareness of the individual names of children alone in the camp means that France has a legal obligation to take the children into protection if it starts its demolition of the camp in September. Trevor Barnes reports.
Producers:
Helen Lee
Peter Everett
Series Producer:
Amanda Hancox.
Last on
Chapters
Italian Earthquake

A volunteer with the Order of Malta talks about helping victims of the Italian earthquake.

Duration: 03:07

Greenbelt

Bob Walker reports from Greenbelt, the UK's biggest Christian arts and music festival.

Duration: 06:25

Colombia

Colombia's government has reached a peace agreement with the rebels known as the FARC.

Duration: 04:37

Handel In Italy

Internationally renowned conductor, Bridget Cunningham talks about Handel's time in Italy.

Duration: 05:06

Kolkata

Rahul Tandom reports on preparations in Kolkata for the canonisation of Mother Teresa.

Duration: 04:41

Calais

Charity Citizens UK has identified over 300 children who are eligible to come to Britain.

Duration: 06:29

Timbuktu

Should acts of cultural destruction during conflict be classed as war crimes?

Duration: 11:21

Broadcast

All the colours of the rainbow