Main content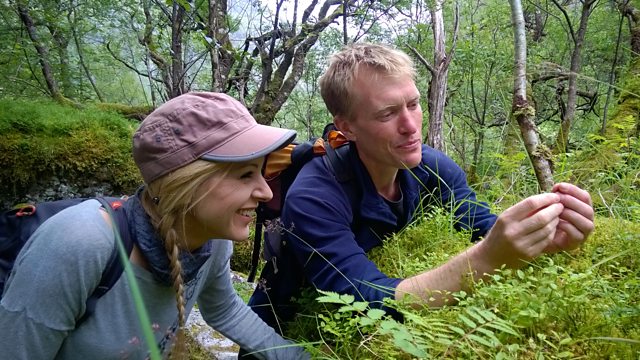 Lochaber
Countryfile marks the sixtieth anniversary of the Duke of Edinburgh Awards scheme. Joe heads to the Scottish Highlands to meet a team taking part in five-day challenge.
2016 is the 60th anniversary of the Duke of Edinburgh Awards scheme, and to mark the occasion Countryfile heads to the wilds of the west Highlands of Scotland. Joe joins the intrepid team mid-way through their five-day Diamond Challenge. They have already scaled Ben Nevis, and when Joe meets them they are canoeing the Great Glen all the way to Inverness. Joe also meets the scientist who has made it her mission to fight the menace of Scotland's infamous midges. Sean meets mountaineer Hamish Macinnes, whose inventions, including his famous stretcher, have saved hundreds of lives.
Naomi explores Glencoe's 'Atlantic woodland' - a rich and rare habitat, where she gets a close look at the amazingly intricate lichens and mosses that carpet the woodland. Helen is in the Peak District with a party of schoolchildren undertaking their bronze Duke of Edinburgh, and she walks a stretch of Kinder Scout with HRH the Earl of Wessex, himself a Gold Award holder and trustee of the scheme.
And as the red grouse shooting season gets underway, Charlotte Smith meets the supporters and critics of one of Britain's most controversial country pursuits.
Diamond Canoeing on Loch Lochy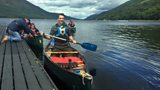 To help celebrate the 60th anniversary of the Duke of Edinburgh's Award, Joe Crowley joins a special team of explorers who are hiking, canoeing and cycling their way to completing the very special Duke of Edinburgh Diamond Challenge. Joe meets team leader, Jen Howie, and finds out what their adventure along Loch Lochy is all about. He then meets up with other members of the team to find out why doing the Duke of Edinburgh Award can be so appealing. 
Helen meets HRH The Earl of Wessex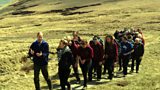 Helen Skelton joins up with HRH The Earl of Wessex for a special interview as he hikes up Jacob's Ladder on a section of the Pennine Way. It's a route that many DofE participants have trodden over the last 60 years as part of their bronze, silver and gold award expeditions. Helen also meets a school group from Liverpool who are undertaking their first ever practice run of a silver award expedition and finds out about the challenges and opportunities that DofE presents for young people, especially those from urban backgrounds. 
The Glorious Twelfth?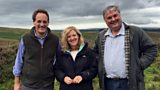 Friday the 12th August is the beginning of the red grouse shooting season here in the UK. But this countryside pursuit is becoming more controversial as opponents and supporters argue over how the environment is managed, its effect on wildlife and specifically the fate of our birds of prey. To get to the bottom of the debate Charlotte Smith meets up with those both for and against grouse shooting to find out why this sport evokes such a passionate response.
The Secrets of Glencoe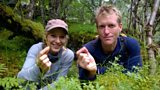 Naomi Wilkinson joins the National Trust for Scotland team based at the Glencoe Visitor Centre to explore one of the rarest of locations in the area, an Atlantic Woodland. Set within the shadow of Glencoe's Three Sisters, Naomi meets up with Ecologist Dan Watson who introduces her to some of the rare plants which can be found in this magical landscape. Naomi also discovers the reasons for some of the more bizarre plant names. Later, Naomi joins Botanist Gordon Rothero to discuss his interest in this particular subject as well as the importance of conserving such an area in Glencoe. 
Pigs and their personalities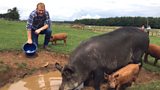 This week Adam is checking up on the pigs on his farm. One Iron Age sow is due to give birth any day now, but another group of piglets demonstrate an amazing insight into pig behaviour. Adam then visits a neighbouring farm to see some of latest research in pig husbandry from the University of Lincoln, which is looking at pigs' personality traits. He gives them a helping hand testing a group of adventurous piglets to find out what sort pigs they really are.
Read more about the research into pig personality traits
Scottish midges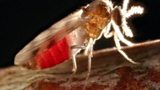 Scotland has wonderful lochs and incredible mountains, but there is one thing you will find at all of these places… the dreaded Scottish Midge! Joe catches up with Bill Kerr, an official Midge counter. Bill shows a very simple trick to find out how many midges are in the area and how his research feeds into a wider project called the Midge Forecast. Joe later meets up with Midge expert Dr Alison Blackwell who explains why they pick on us and what works and what doesn't when to repelling them.
The hero of mountain rescue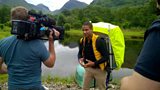 Exploring the great outdoors is something that many of us take for granted, but things can go wrong and that's when we all need help. Sean Fletcher meets the mountaineering legend, Hamish MacInnes and discusses his many inventions that have have saved countless lives across the world. The pair discuss his establishment of the Glencoe Mountain Rescue Team, now the blue print for mountain rescue teams everywhere. Later, Sean meets up with mountain guide Dave Anderson who teaches Sean the very basics of navigation and sets him on a mission to get from one location to another in the middle of the no-where with just a map and compass… Just watch out for those bogs Sean!
Discover more about Hamish's contribution to mountain rescue
Credits
| Role | Contributor |
| --- | --- |
| Presenter | Joe Crowley |
| Executive Producer | William Lyons |
| Series Producer | Joanna Brame |