Main content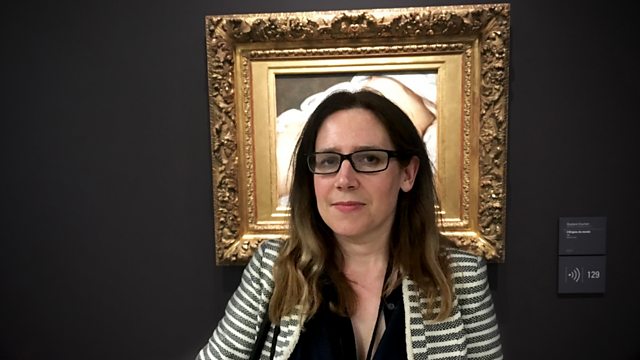 L'origine de L'Origine du monde
Viv Groskop explores one of the most famous and notoriously explicit paintings housed in a public museum, Gustave Courbet's L'Origine du monde, which was painted in 1866.
L'Origine du Monde is perhaps the most notorious and explicit painting housed in a public museum.
Gustave Courbet's painting of a woman's genitals, torso, thighs and single breast, but no head, was painted 150 years ago. Its first owner was Khalil Bey a wealthy art collector and diplomat for the Ottoman Empire. Visitors and dinner party guests would be led to his dressing room and towards a green curtain:
"When one draws aside the veil, one remains stupefied to perceive a woman, life-size, seen from the front, moved and convulsed, remarkably executed ... providing the last word in realism".
After Khalil Bey's art collection was sold the painting disappeared for more than a hundred years. It was said to be in the collection of a Hungarian aristocrat, looted by the Germans in the Second World War and possibly somewhere in the United States. In fact, since the 1950s, it had hung in the country house of the French psychoanalyst, Jacques Lacan, hidden behind a surrealist landscape.
When the painting was acquired by the Musée d'Orsay in Paris in 1995 as payment in lieu of taxes on the Lacan estate, visitors were a little squeamish about looking at it.
In this programme Viv Groskop, a huge admirer of the work, visits the museum to talk to visitors about their responses to the painting now.
She talks to art historians, Segolene Lemen and Lynda Nead, the performance artist Deborah Robertis whose "conversation" with the painting in 2014 caused a scandal, and Patrick Collister who has worked in advertising for more than 25 years, to find out about the painting's history, how it works on the viewer and why it remains one of the most powerfully affecting works of art.
Producer: Natalie Steed
A Whistledown production for BBC Radio 4.
Last on
Broadcast