Main content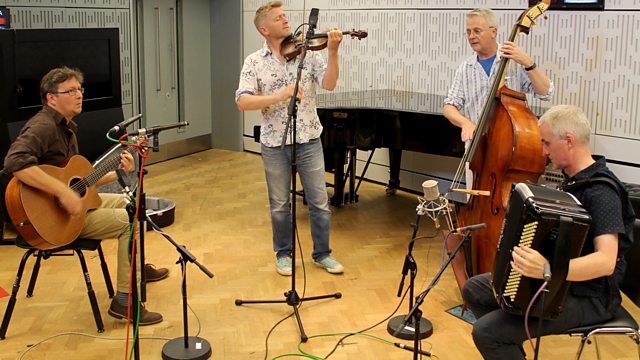 Budapest Cafe Orchestra, Sally Beamish, Adam Swayne
Sean Rafferty presents, with live music from the Budapest Cafe Orchestra and pianist Adam Swayne, plus composer Sally Beamish talking about her new work Merula perpetua.
Sean Rafferty presents, with live music from the Budapest Café Orchestra, who'll be performing at the Machynlleth Festival this week. Pianist Adam Swayne will play Satie before embarking - with the help of some friends - on a performance of his 21-hour Vexations in Brighton. Plus composer Sally Beamish talks about a new work for the Proms, Merula perpetua, which members of the Armida Quartet will premiere on Monday 29th August.
Last on
Music Played
Dinicu

Whistle Hora

Ensemble: Budapest Jazz Orchestra.

Wolfgang Amadeus Mozart

Symphony no.41 in C major K551 'Jupiter' - iii. Menuetto

Orchestra: Budapest Festival Orchestra. Conductor: Iván Fischer.

Mozart:Jupiter Symphony.
Hungaroton.
3.

Trad. Gaelic

Aignish

Ensemble: Budapest Jazz Orchestra.

Budapest Jazz Orchestra

The Stobo Stomp

Camille Saint‐Saëns

Piano Concerto no. 1 in D major Op.17 - iii. Allegro con fuoco

Performer: Stephen Hough. Orchestra: City of Birmingham Symphony Orchestra. Conductor: Sakari Oramo.

Saint-Saens: The complete works for piano and orchestra.
Hyperion.
3.

Constant Lambert

Romeo and Juliet,1st tableau: Rondino; Gavotte & Trio

Orchestra: English Chamber Orchestra. Conductor: Norman Del Mar.

Lambert: Romeo and Juliet/Pomona/Muni.
Lyrita.
1-2.

Georges Bizet

Carmen Suite (arr. for percussion and marimba ensemble): VI. Toreador Song

Music Arranger: Claus-Dieter Zimmer. Ensemble: Horsholm Percussion and Marimba Ensemble.

Alexander Goedicke

Concert Etude op. 49

Performer: Alison Balsom. Performer: Tom Poster.

Thomas Linley

Arise! Ye spirits of the storm (The Tempest)

Orchestra: The Parley of Instruments. Conductor: Paul Nicholson.

Sally Beamish

Reed Stanzas - String Quartet No. 3: extract

Ensemble: Elias Quartet.

Sally Beamish

Reckless, for Chamber Orchestra

Orchestra: Royal Scottish National Orchestra. Conductor: Martyn Brabbins.

The Singing: Concertos and Orchestral Works by Sally Beamish.
BIS.
12.

Pyotr Ilyich Tchaikovsky

Kuda... Kuda... 'Lensky's Aria' (from Eugene Onegin)

Singer: Rolando Villazón. Orchestra: Münchner Rundfunkorchester. Conductor: Michel Plasson.

Opera Recital.
Virgin Classics.
8.

Erik Satie

Gnossienne No. 3

Performer: Adam Swayne.

Federico García Lorca

Canciones espanolas antiguas: Sevillanas del siglo XVII

Performer: Javier Perianes. Singer: Estrella Morente.

Encuento.
Harmonia Mundi.
24.

Gioachino Rossini

L'Italiana in Algeri (Overture)

Orchestra: Chamber Orchestra of Europe. Conductor: Claudio Abbado.

Overtures (The Chamber Orchestra of Europe feat. conductor: Claudio Abbado).
Deutsche Grammophon.
003.

Robert Russell Bennett

Autobiography - iii. 1900: Corn, Cows and Music. Jig

Ensemble: Royal Northern College of Music Wind Orchestra. Conductor: Clark Rundell.

Bennett: Works for Wind Orchestra.
Chandos.
20.

Erik Satie

Vexations

Performer: Adam Swayne.

Claude Debussy

Preludes - book 1: no.10; La Cathedrale engloutie

Performer: Adam Swayne.

Antonio Vivaldi

Concerto for Bassoon in B flat RV504 - i. Allegro ma poco

Performer: Robert Thompson. Ensemble: London Mozart Players. Conductor: Philip Ledger.

Vivaldi: 4 Bassoon Concertos.
Chandos.
1.

Reynaldo Hahn

La chere blessure

Performer: Alice Coote. Performer: Graham Johnson.
Broadcast