Main content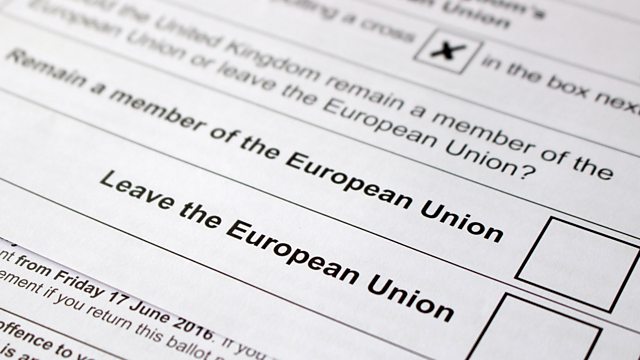 How We Voted Brexit
Leading Remainers and Brexiteers reveal the strategic thinking that shaped their EU referendum campaigns. Presented by Anne McElvoy.
The EU Referendum is the biggest democratic decision Britain has faced in a generation - but how were voters swayed into choosing Remain or Leave?
Anne McElvoy speaks to leading figures from across the Leave and Remain campaigns to reveal some of the strategic decisions made on the campaign trail, which ultimately led to the momentous result.
CONTRIBUTORS
Iain Duncan-Smith, Conservative MP and Leave campaigner
Nigel Farage, leader of UKIP and Leave.EU campaigner
Alan Johnson, chair of the 'Labour in for Britain' campaign
Gisela Stuart, Labour MP and chair of the Vote Leave campaign committee
Lord Jonathan Marland, former Conservative trade envoy
Will Straw, chief executive of the Britain Stronger in Europe campaign
Matthew Elliott, chief executive of the Vote Leave campaign
Lord Paddy Ashdown, Liberal Democrat and Remain campaigner
Diane Abbott, Labour MP
Producer: Richard Fenton-Smith
Researcher: Beth Sagar-Fenton
Last on

Leave voters in Wakefield tell David Aaronovitch why they want to quit the EU

More than 16m people voted Remain. How do they feel now that they have lost?

Unprecedented levels of immigration motivated many Leave voters. What caused the rise?
Broadcasts

Featured in...
A collection of programmes and content reflecting on the UK's departure from the EU.