Main content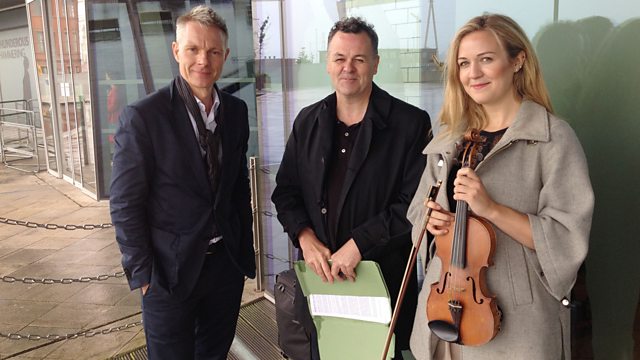 Brian Irvine, Belfast's composer laureate, who works in many forms, and multi-instrumentalist Rachael Boyd meet by the Harland and Woolf shipyard to play the skyline of Belfast.
In 'Playing the Skyline' Tim Marlow joins two musicians as they look at how the land meets the air, and imagine it as music. They give their responses, then begin playing the skyline, before creating new pieces. Later, Tim hears how they are getting on and, finally, he and Radio 4's listeners hear the finished works and the musicians consider each other's pieces.
In the final programme in this series Tim Marlow returns to an urban skyline, next to the Harland and Woolf shipyard in Belfast. Here the city's composer laureate, Brian Irvine, shelters from the rain beneath the Titanic Centre. He is amazingly prolific, his work ranging from collaboration with Seamus Heaney on an orchestral piece to an oratorio for 500 children. He settles down, manuscript paper in hand, looks at the skyline and sketches like a painter. But the strokes Brian makes are notes of music, bar lines, and dynamic markings. Remarkably, they closely resemble the industrial shapes on the skyline - an oil-rig, huge gantries, ships and sheds.
The multi-instrumentalist, Rachael Boyd, who creates melodic soundscapes, plays her initial response to the skyline as she looks at it, on her violin. Then, next to Brian, she begins to write it, too. What is intriguing, and crucial, is that two artists can look at the same skyline and be struck by it in entirely different ways. The notes on Rachael's manuscript undulate, capturing the rhythmic flow of the hills that surround Belfast which, even as she writes, are shrouded in cloud and rain, and disappear.
How will the musicians resolve these sketches into complete compositions? How, if at all, will the musical traditions of this troubled city influence these two different pieces, that play the same Belfast skyline?
Producer: Julian May.
More episodes
Next
You are at the last episode