Main content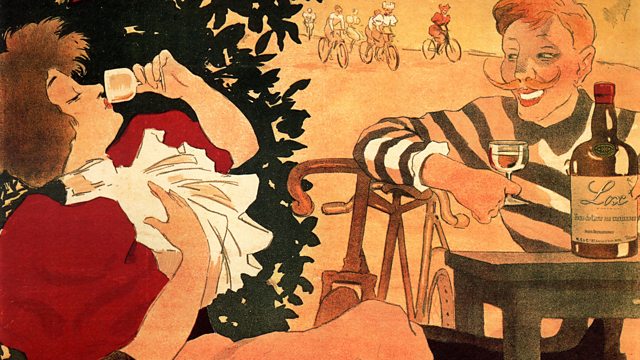 Time for an Aperitif? The Drinks Menu
In the first of The Food Programme's summer drinks series, food writer Diana Henry asks listeners to take a moment, a cold glass, some ice and a bottle and appreciate an aperitif.
In French, 'l'aperitif', in Italian, 'l'aperitivo'. We don't of course have a translation in English, but the aperitif, the drinks and snacks which proceed a meal have long captured our imaginations. The sounds and smells of Mediterranean holidays, the tastes of a summer day... and those glamorous and just a bit tacky TV adverts from the 70s. ('Dubonnet vous?')
Food writer Diana Henry fell for those adverts, and then experienced l'aperitif as a teenager on a French exchange. Now, with the rise and rise of low alcohol, sprtizy cocktails in our pubs and bars, Diana wants you to embrace the aperitif, in its many forms and flavours. She explores the history of the aperitivo in Italy, from its Roman origins to its significance for the Futurist movement. In France, she reflects on the cultural and social significance of aperitif, and hears how once deemed old fashioned, brands like Suze, and Dubonnet are making a comeback. And in Britain, she discovers chefs making their own infusions with ingredients from a Suffolk garden and the Somerset countryside.
In the first of The Food Programme's summer drinks series 'The Drinks Menu', Diana wants you to take a moment, a cold glass, some ice and a bottle and appreciate an aperitif.
Presented by Diana Henry
Produced by Clare Salisbury.
Thom Eagle's Fig Leaf Wine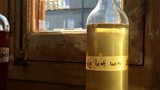 Here's how to make Thom Eagle's DIY aperitif - fig leaf wine...
Crush and tear clean fresh fig leaves and fill a 1 litre jar with them. You will smell the flavour coming out of them. 
When the jar is full to the top, cover with 200g of white sugar. Or less to taste. 
Pour over a whole bottle of white wine. Fresh, simple drinking wines are best, nothing to powerful.
Add 75ml of vodka. Thom uses homemade fig vodka, but ordinary vodka will do.
Muddle to dissolve the sugar and put the lid on the jar.
Leave on a shelf for around 3 days, before carefully straining and bottling. You can squeeze the leaves to get as much flavour from them as possible.
Serve cold, either straight with ice, or as a spritz with sparkling water.

Kay Plunkett-Hogge's tapenade
300g tin black olives in brine, drained
3 - 4 tablespoons capers, rinsed
½ - 1 large sprig rosemary, leaves only
4-6 cloves garlic, peeled and chopped
4-6 tablespoons olive oil
55g tin anchovies in olive oil (optional)
juice of ½ a lemon
glug of brandy
plenty of freshly ground black pepper
Blitz everything together in the blender or the food processor until well combined but still retaining some texture. Or, if you prefer, you can chop everything by hand, then pound it in a pestle and mortar for a coarser paste. Taste and add more lemon juice, olive oil or pepper if needed. Cover tightly and refrigerate until you need it.
Diana Henry's Cherry wine
This cherry wine or 'Guignolet' is from Diana Henry's book 'Food From Plenty', Octopus Publishing Group.
Fruit liqueurs and 'wines' are a wonderful way of capturing summer – doesn't cherry wine seem lovely, even before you've tasted it? – and they are the easiest kind of 'preserve' you can make. Cherries are usually expensive, but every so often you come across a mountain being sold cheaply in a street market. That's the time to make this. Cherry wine is a French aperitif. Serve it chilled in small glasses (a fresh cherry hanging on the side of the glass doesn't go amiss! – it is, after all, a pretty and romantic drink). You can add sparkling white wine to make a sort of cherry kir, or sparkling water to make a spritzer.
Makes about 1.2 litres
500g (1lb 2oz) unblemished pitted cherries
1 bottle light red wine
300g (10½oz) caster sugar
75ml (2½fl oz) kirsch
1 Heat the cherries in a saucepan with the wine and sugar, stirring to help the sugar dissolve. Bring just up to the boil, then turn down the heat and simmer gently for 5 minutes. Cool, add the kirsch, cover and leave for 2 days.
2 Strain and pour into sterilized bottles and add a screw top or cork. The boozy cherries left behind are delicious with chilled rice pudding, or used to make a filling for a summer sponge (spoon them on to a layer of whipped cream, or a mixture of mascarpone and crème fraîche).
Thirsty for more?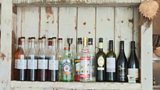 Spritz Life? Talia Baiocchi and Leslie Pariseau are authors of 'Spritz: Italy's Most Iconoic Aperitivo Cocktail' published by Ten Speed Press.Talia is Editor-in-chief of drinks magazine
Punch
Georgeanne Brennan
is a food writer specialising in food and drink of Provence, France. She is based in California. She is author of Aperitif: Recipes for Simple Pleasures in the French Style published by Chronicle Books.
Kay Plunkett-Hogge
is a food and drink writer and has published two books on drinks, 'Make Mine a Martini' and 'A Glass of Sherry & a Little Plate of Tapas'
Thomas Eagle is sous chef at
Darsham Nurseries Cafe
 in Suffolk and blogs at
'In Search of Lost Thyme'
Le Federation Francaise de L'Aperitif
aims to celebrate the French aperitif as an 'art de vivre'
Jack Adair-Bevan is a creator of
The Collector vermouth
 from
The Ethicurean
near Bristol
Credits
| Role | Contributor |
| --- | --- |
| Presenter | Diana Henry |
| Producer | Clare Salisbury |