Main content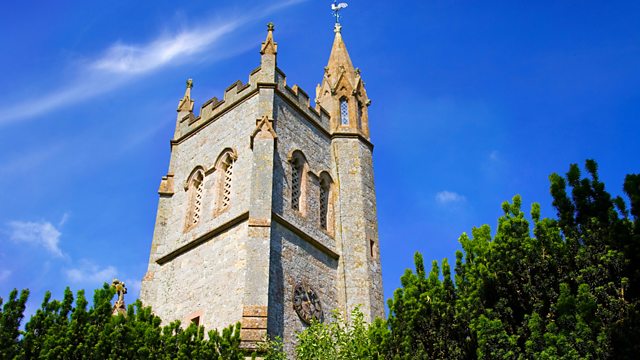 All My Hope on God Is Founded
The Revd Dr Janet Wootton and the Revd Ally Barrett reflect on the ways Christian communities and individuals respond to life events through song. With the Coventry Singers directed by Paul Leddington Wright and accompanied by Daniel Moult. Producer: Stephen Shipley.
Script
Please note:
This script cannot exactly reflect the transmission, as it was prepared before the service was broadcast. It may include editorial notes prepared by the producer, and minor spelling and other errors that were corrected before the radio broadcast.
It may contain gaps to be filled in at the time so that prayers may reflect the needs of the world, and changes may also be made at the last minute for timing reasons, or to reflect current events.
Opening announcement from Continuity
BBC Radio 4. It's ten past eight.  Time now for Sunday Worship which this morning reflects on the ways in which individuals and communities respond to life's events in music and song. The service is led by the Revd Janet Wootton of the Congregational Federation, and begins with the hymn Angel Voices Ever Singing.
Music 1: Angel-voices ever singing
Good Morning. God's people have always been singing, from the Psalms to the present day. They have sung in praise and thanksgiving, but also in times of horror and suffering.
We're here to celebrate the craft and art of music making, so it's appropriate that our opening hymn of praise was written for the dedication of a new organ for the Parish Church at Wingates in Lancashire, in 1861. When we sing, we join the Angel voices.
Let us pray
Almighty God, again and again through Scripture we hear your instruction to sing. Your people sing in the wilderness, they sing in front of the enemy, they sing in exile and they sing in prison. Why do you command this? Our song is our worship to you but it also blesses us. We are reminded that you are God and if you are for us then who can be against us.

God of love, when we sing we hear the voices of our brothers and sisters around us. Our voice becomes more than it could ever could be on its own. We might not be able to make a sound but they sing and carry us with them.

Praise-worthy God, when we sing we give expression to our faith. We sing out our hopes. By your grace may we sing a new world into being. May we sing justice, peace and freedom. Let us sing of a world where regrets do not cling to us and we have the courage not to hate. Let us sing not to avoid the issues of our day but to give us the strength to face them.

Almighty God we praise you for making us singing beings and we commit ourselves to praising you in worship. Forgive us when our praise is half-hearted, half-lived, half-voiced…you desire and deserve the whole of us. Great God help us sing with everything we've got!
ALL: Amen.
Many of our best known hymns are the ones we sing together, at national occasions. O God our help in ages past is regularly sung at Remembrance services, where its sombre, dignified words match and carry our response to the memory of wars past, and the awareness of present conflicts. Based on Psalm 90, the hymn doesn't flinch from the reality of human frailty, but offers us the shelter of God's love.
In fact,  it has its roots even deeper in the often violent history of our nation. Isaac Watts, known as the Father of English Hymnody, wrote it as 'Our God, our help' at the beginning of the 18th century, at a time of great religious turmoil, when Christian was set against Christian. There seemed to be no hope of toleration or peace. People were fearful of a return to the civil war of a generation earlier, when one in twenty-five of the population perished, a higher proportion than in the First World War.
Given its long history, perhaps it is not surprising that this hymn has been part of our national consciousness and our response to conflict and war, for over 300 years. Our God our help in ages past
Music 2: Our God our help
One of the worst things that can happen to an individual is the death of a child. It is an overwhelming and life-changing tragedy. Robert and Dawn Critchley were worship leaders at Niagara Community Church  in the USA in the 1990s. Later they moved on to the church in Toronto, and were powerfully influenced by what came to be called the Toronto Blessing. Their music gained a world wide audience.
While they were at Niagara, their son, Gideon, died only days after his birth. Through the period of grief that followed, they were powerfully aware of God's love and grace to them. The song that they co-wrote during those harrowing days, has become one of their best known. Through the storm and the night, comes the courage to sing, 'What a faithful God have I'.
Music 3: What a faithful God
The same sense of God's faithfulness in the storms of life echoes through the song book of the Bible, the book of Psalms, as we hear in this reading of Psalm 46.
Reading: Ps 46
God is our refuge and strength,
    a very present help in trouble.
2 Therefore we will not fear, though the earth should change,
    though the mountains shake in the heart of the sea;
3 though its waters roar and foam,
    though the mountains tremble with its tumult.
4 There is a river whose streams make glad the city of God,
    the holy habitation of the Most High.
5 God is in the midst of the city; it shall not be moved;
    God will help it when the morning dawns.
6 The nations are in an uproar, the kingdoms totter;
    he utters his voice, the earth melts.
7 The LORD of hosts is with us;
    the God of Jacob is our refuge.
8 Come, behold the works of the LORD;
    see what desolations he has brought on the earth.
9 He makes wars cease to the end of the earth;
    he breaks the bow, and shatters the spear;
    he burns the shields with fire.
10 "Be still, and know that I am God!
    I am exalted among the nations,
    I am exalted in the earth."
11 The LORD of hosts is with us;
    the God of Jacob is our refuge.

In a church in down town Detroit, there is a reminder of a bitterly cruel chapter in the history of humankind: the trade in slaves from Africa to work on plantations in the Americas and the Caribbean. First Congregational Church, Detroit was a station on the underground railroad, a network of individuals and churches who helped slaves to escape to freedom. The road was long and dangerous for the escapees and their helpers. It began with the first precarious steps, under cover of darkness. Was it safe to leave? Was the coast clear? If it was, the watchers would sing a well known spiritual, which became the code for freedom. Steal away, steal away, steal away to Jesus here in an arrangement by Paul Leddington Wright.
Music 4: Steal away
Steal away to Jesus. Why Jesus, because in him, God knows our needs, and feels our suffering. The earliest Christians grappled with the suffering of God, just as people do in our own time. What are we to say, Paul writes at the high point of his letter to the church in Rome, can anything separate us from the love of God in Christ Jesus? We hear from Romans chapter  8 verses 31-39.
Reading: Romans 8:31-39
31 What then are we to say about these things? If God is for us, who is against us? 32 He who did not withhold his own Son, but gave him up for all of us, will he not with him also give us everything else? 33 Who will bring any charge against God's elect? It is God who justifies. 34 Who is to condemn? It is Christ Jesus, who died, yes, who was raised, who is at the right hand of God, who indeed intercedes for us. 35 Who will separate us from the love of Christ? Will hardship, or distress, or persecution, or famine, or nakedness, or peril, or sword? 36 As it is written,
"For your sake we are being killed all day long;
    we are accounted as sheep to be slaughtered."
37 No, in all these things we are more than conquerors through him who loved us. 38 For I am convinced that neither death, nor life, nor angels, nor rulers, nor things present, nor things to come, nor powers, 39 nor height, nor depth, nor anything else in all creation, will be able to separate us from the love of God in Christ Jesus our Lord.
Janet Wootton
A song which, above all, celebrates the conquest of hatred by love is the great anthem Nkosi sikelel'i Africa. This powerfully carried the hopes of a whole community, during the terrible days of apartheid, when it seemed that black South Africans would never be free, and South Africa would never be whole.
Nkosi sikelel'i – God bless Africa. It was sung as a lament and a fervent prayer during long years of violence and struggle.
And then the system of oppression began to crumble; amazingly, Nelson Mandela walked free, and the broken community began to face its past, and build its future, with dignity and courage.
And the song turned to celebration. God bless Africa!
Music 5: Nkosi Sikelel'i Africa
I am delighted that we are able to hear from the Reverend Ally Barrett, who reflected on her own experience, crafting a hymn in response to recent events.
Sermon – play in.
It was the week when 49 people were killed in a gay night club in Orlando, and Jo Cox, MP, was murdered in her own constituency. And that was on top of the conflicts that have filled our news reports for weeks, months or even years. I found myself lying awake at night, appalled by humanity's inhumanity. I ended up sitting at the kitchen table at 1.30 in the morning, with a pen and notebook, trying to put something of these feelings into words.
A hymn gives us a song when speech has failed. A hymn allows simple words, a melody and harmony, to express what we might not dare to say in ordinary ways. It gives the soul a voice when the mind is overwhelmed. It places our temporal struggles in the light of eternal truth. It holds the changes and chances of this world in the loving hands of God. It reminds us that when we are all at sea, we have someone to whom we can cling.

This is what I tried to do.

Then, into my sorrow and anger came the inspiring words of Jo Cox's maiden speech in the House of Commons last year: 'we are far more united, and have far more in common than that which divides us'. I thought of Orlando victims' families, choosing to remember them on social media not for how they died, but for their love of life.  I looked at the hashtag, still being shared around the world: the simple words, #lovewins. In all the hurt and outrage, a deeper and more hopeful story was emerging, a story of love. 

I'd tried to write something that expressed a vision of hope even through tears. I hoped the music would let us inhabit that place of hope, even though we were walking through the valley of the shadow of death.  I wanted it to proclaim, as the psalmist did, 'God is our refuge and strength' even in the midst of danger.  I wanted it to meet us where we are, and take us on a journey to a better world, not just through hope and imagination alone but through a call to action as the last line of my hymn affirms: "we'll take our life's vocation to make, like heaven above, in this and every nation, a kingdom built on love".  It is as if we sing the Kingdom of God into being, as our words and music shape our actions, both individually, and communally. 

This is not a new idea. People sang of freedom, though they were still bound by slavery. People sang songs of protest and hope to fuel the movement towards equality in South Africa.  We still sing now, at least in part, because the kingdom of justice and peace is still far from established in this world.  Hymns have shaped the life of the church and even the nation over years and centuries. Even Christmas carol lyrics take on new meanings in the light of contemporary conflict: And man, at war with man, hears not the love song which they bring: O hush the noise ye men of strife, and hear the angels sing.

We may remember with affection the hymns and songs we sang at school, and in times of crisis, it can be comforting to hear the trusted words and music in our minds' ear.  Those at the end of life may sing familiar hymns by heart long after the mind retreats into its own shadows, and ordinary communication fails. 
When I wrote this hymn, I thought it might be useful for a week or so, then be forgotten.  But in the days and weeks since then it feels as if there has been a new outrage, a new tragedy every day. I long for the day when that hymn no longer meets us where we are, but that day seems far off. St Augustine said, 'The one who sings, prays twice'. The world today seems to need more prayer than ever, so we sing:

O God of our salvation, in this our darkest hour
Look down on your creation with pity and with power.
In all the pain we're seeing for parent, partner, friend,
We'll cling with all our being to love that cannot end.
Music 6: O God of our salvation (Ally's hymn) tune: Corvedale
Let us pray: our prayers are accompanied by the song of the Civil Rights movement, said to be based on a hymn by a former slave: We shall overcome.
Music 7: We shall overcome

The Lord's Prayer
Our Father, who art in heaven, hallowed be thy name; thy kingdom come; thy will be done, on earth as it is in heaven. Give us this day our daily bread. And forgive us our trespasses, as we forgive those who trespass against us. And lead us not into temptation; but deliver us from evil. For thine is the kingdom, the power and the glory, for ever and ever. Amen.
We close with another story of personal faith. In 1935, the composer Herbert Howells' nine year old son Michael died from spinal meningitis. For any family the shock of such a death would be immense, but for Herbert Howells, it went so deep that he became frozen with grief. He said, 'it was my young daughter - then aged 14 - who suggested to me one day, knowing what I was going through: 'Why don't you write some music about Michael?'
He wrote a Requiem, which he kept private for many years before it was eventually performed. But far better known is the hymn tune which he named after his son. Written in a flurry of inspiration over breakfast, the tune MICHAEL has now become inseparable from one of the greatest songs of faith of all time. All my hope on God is founded.
Music 8: All my hope on God is founded tune: Michael
Blessing…