Main content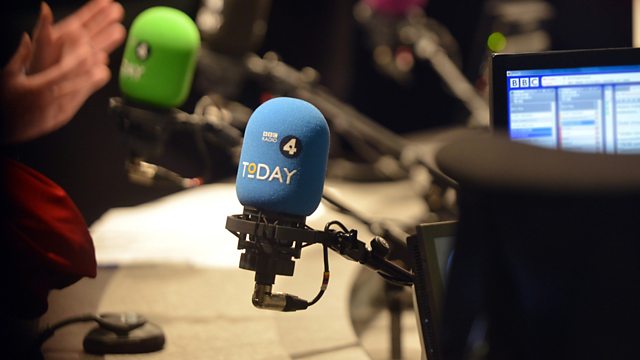 12/08/2016
Morning news and current affairs. Including Sports Desk, Weather and Thought for the Day.
Last on
Today's running order
All subject to change:
0650
A new study suggests that Greenland sharks can live to almost 400 years old. It means they are now the longest living vertebrates. Julius Neilsen is a marine biologist from the University of Copenhagen.
0655
Last night was the peak of the Perseid meteor shower, as the Earth passed through a dense clump of debris from Comet Swift-Tuttle. It was set to be one of the brightest showers since 2009. Dr Katherine Joy is a lunar scientist.
0715
Team GB have won the track cycling men's team sprint final after beating the favourites New Zealand. Jess Varnish is a British track cyclist and a world, European and Commonwealth Games medal winner.
0720
Labour members will find out from a court today whether almost 130,000 of them, who have joined since January, will get a vote in the leadership contest. Diane Abbott is shadow health secretary. 
0730
Politically correct sensibilities have led the authorities to turn a blind eye to electoral corruption in the UK, a report on the issue has suggested. Former communities secretary Sir Eric Pickles is head of the report.
0740
In London 2012 Charlotte Dujardin smashed every world record multiple times in dressage, a sport in which Great Britain had never won a single medal before. Who is Dujardin and why has she been so successful? Debi Thomas was her trainer for sixteen years and Deborah Bull is former principal dancer at the Royal Ballet.
0750
Professor Alexis Jay, who led the Rotherham abuse inquiry, is to be the new chairwoman of the inquiry into child sex abuse in England and Wales. Adele Gladman is a whistleblower who worked for youth project in Rotherham and Lord MacDonald QC is the former director of public prosecutions.
0810
One of the three British schoolgirls who travelled from Bethnal Green in east London to join the so-called Islamic State in Syria is believed to have been killed. Rushanara Ali is the MP for Bethnal Green and Bow.
0820
Today marks the Glorious Twelfth, the official start of the grouse shooting season. More than 80,000 people have signed an online petition to call for a ban on the pursuit. Former England Test cricketer Sir Ian Botham is a shooting enthusiast and Chris Packham is a wildlife presenter and vice president of the RSPB.
0830
The Russian government has accused Ukraine of playing with fire in Crimea. Russian state television has shown an arrested Ukrainian man apparently confessing to being part of a military force sent into Crimea. Natalia Galibarenko is the Ambassador of Ukraine to the United Kingdom.
0845
Labour leader Jeremy Corbyn is campaigning in Sunderland today. And today is not just any day - it's also National Mackem Day, the day celebrating all things Sunderland. Paul Swinney is the author of the Mackem Dictionary.
0850
Theresa May has escaped to the Swiss Alps for a thirteen day holiday. According to reports, she will be accompanied by six armed protection officers at all times. How much privacy can a Prime Minister enjoy on holiday? John Warwicker is a former special protection officer for Harold Wilson, James Callaghan and Margaret Thatcher.
0855
This Olympics has a host of athletes competing who are over 40, and they're doing rather well. Rachael Heyhoe Flint is former England cricket and hockey captain who played until she was 41 and Amit Katwala is the author of The Athletic Brain: How Neuroscience is Revolutionising Sport.
Broadcast