Main content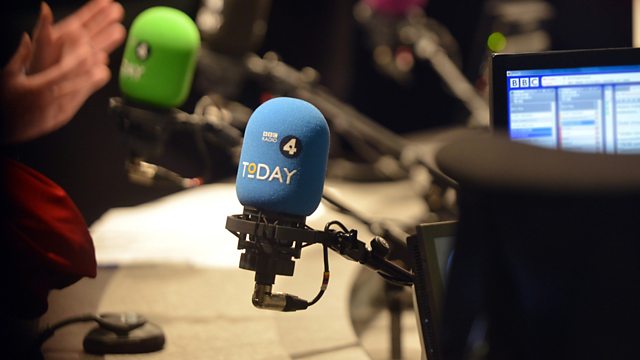 17/08/2016
Morning news and current affairs. Including Sports Desk, Weather and Thought for the Day.
Today's running order
All subject to change:
0650
A major sea defence programme is underway to protect a cliff top on the south coast from erosion. A 270m berm, or rock barrier, is being constructed in front of the cliffs at Fairlight Cove. Ian Hollidge is from Rother District Council.
0655
Oxford University researchers say that trees which grew during intense radiation bursts in the past have 'time-markers' in their tree-rings that could help archaeologists date events from thousands of years ago. Dr Michael Dee is lead author from the School of Archaeology at the University of Oxford.
0710
Team GB's Jason Kenny won gold last night in one of the most dramatic races of the Rio Games. Peter Deary is a British Cycling national track commissaire.
0715
One of the UK's most notorious radical clerics has been convicted of inviting others to support the so-called Islamic State, it can now be reported. Raffaello Pantucci is director of International Security Studies at the Royal United Services Institute.
0720
What does a post-Brexit countryside look like? The Campaign to Protect Rural England today argues for a 'revolution' in how the countryside is farmed. Claire Marshall is the BBC's environment correspondent.
0730
British and French authorities are to meet in the 'Jungle' migrant camp in Calais to discuss how to care for unaccompanied children. George Gabriel is lead organiser at the charity Citizens UK and the BBC's Catherine Carr reports.
0740
Britain has never finished an Olympics ahead of China since the country re-joined the Games in 1984. As the BBC's China editor Carrie Gracie reports, the very idea of fighting Team GB for second place is a surprise in Beijing - and not a pleasant one.
0750
This week thousands of teenagers will get their A-Level results and will know whether they have got into the university of their choice. It's a hugely competitive business - but not just for the students. Dave Phoenix is vice chancellor of London South Bank University and Dominic Shellard is vice chancellor of De Montfort University.
0810
One of the UK's most notorious radical clerics, Anjem Choudary, has been convicted of inviting others to support the so-called Islamic State. David Anderson QC is Independent Reviewer of Terrorism Legislation. Robb Leech made the documentary My Brother the Terrorist in 2014 following the imprisonment of his brother Richard for preparing acts of terrorism after fraternising with Choudary.
0820
Why is it women have to queue for so long to go to the loo at the theatre? Kate Basset is a theatre critic at The Times and Kieran Brown has been the understudy for the Phantom in the Phantom of the Opera for the last 18 months.
0830
British swimmer Jack Burnell has said his disqualification form the men's 10km open water swim was "a joke". Colin Hill was technical operations manager for London 2012's open water swim and Alan Bircher is a former world championships open water swimmer and GB coach.
0835
A skull long believed to be that of Lord Darnley, the father of James I, has been found to be a fake by Emma Price, a forensic artist studying for her Master's degree.
0840
Why have waiting times for NHS surgery increased and how can they be reduced? Dr Rob Findlay is a specialist in NHS planning, patient scheduling and waiting times.
0850
While the nation has been gripped by the Olympics and British success, how does that make the rest of feel? Proud and inspired or inadequate and lazy? Stand-up comedian Geoff Norcott is sceptical about Olympic fever.
0855
The Association of Jewish Refugees will today unveil a commemorative plaque to celebrate the life of Sir Rudolf Bing, founding father of the Glyndebourne Opera Festival. Gus Christie is executive chairman of Glyndebourne and grandson to founders John Christie and Audrey Mildmay.