Main content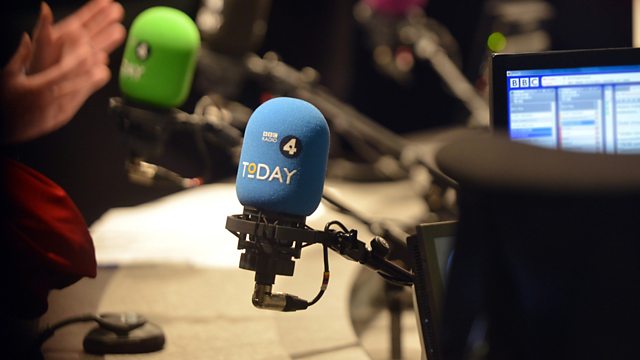 19/08/2016
Morning news and current affairs. Including Sports Desk, Weather and Thought for the Day.
Last on
Today's running order
All subject to change:
0650
Since taking over as Mayor of London Sadiq Khan has made the night time economy one of his main priorities. Mirik Milan is Amsterdam's 'night mayor'.
0655
In Sudan there is grave concern about the humanitarian situation as the crisis continues. Justin Forsyth is deputy executive director of the UN Children's Fund and has just returned from South Sudan.
0710
Usain Bolt is on course to achieve a "triple treble" of Olympic gold medals – that is gold medals in the 100m, 200m and 4x100 relay in Beijing 2008, London 2012, and now Rio 2016. Norman Peart is Usain Bolt's business manager.
0715
The news site Gawker.com will shut down next week, just days after its parent company was purchased by Univision. Robert Colvile is author of The Great Acceleration: How the World is Getting Faster, Faster about how the media landscape is changing.
0720
Water voles are being returned to a lake in the Yorkshire Dales in what is thought to be the largest reintroduction project for the endangered mammal in Britain. Roisin Black is National Trust ranger for Malham Tarn Estate.
0730
Russia says it's prepared to back a 48 hour ceasefire in the city of Aleppo following an impassioned appeal by the UN envoy to Syria. Lord Williams is former UN envoy for the Middle East and Misty Buswell is Save the Children's director of advocacy for the Middle East.
0740
Donald Trump has revamped his campaign team this week because the polls are not going his way. The BBC's James Naughtie reports.
0750
A district judge is to decide today whether or not to lift a sexual risk order (SRO) from a man who currently has to give police 24 hours' notice before having sex. Eleanor Laws QC specialises in prosecuting and defending sex offences.
0810
Sadiq Khan reached his first 100 days in office as Mayor of London this week. He has suggested delaying the start of Brexit negotiations, but how will he seek to promote London's interests? We speak live to the mayor.
0820
Mark Cavendish has returned home from Rio with a Silver medal to his name as part of Team GB's hugely successful cycling team.
0830
The Prime Minister Theresa May has said that the Midlands has untapped potential and supporting a 'Midlands engine' would be a key part of the government's new industrial strategy. David Jamieson is Police and Crime Commissioner for the West Midlands and Professor Catherine Staite is director at the Institute of Local Government Studies at the University of Birmingham.
0835
Brazilian police say that at least one of a group of US Olympic swimmers questioned about their story that they had been robbed in Rio has admitted it was untrue. Wyre Davies is the BBC's Brazil correspondent.
0840
Australia and Papa New Guinea have announced they are shutting Manus Island detention centre but offered no details on when it will happen or on the fate of the 854 men being held there. Paul Stevenson is a psychologist and whistleblower who worked on Manus Island.
0845
Scottish comedian Scott Agnew, who was diagnosed last year as HIV positive, is hoping talking about his illness in his show at the Edinburgh Fringe Festival will challenge some of the stereotypes around the virus.
0850
The start of 2016 saw the highest number of terrorism deaths in Western Europe since 2004. William Chalk is a BBC Newsbeat Reporter and Johan Norberg is an author and historian.
Broadcast