Main content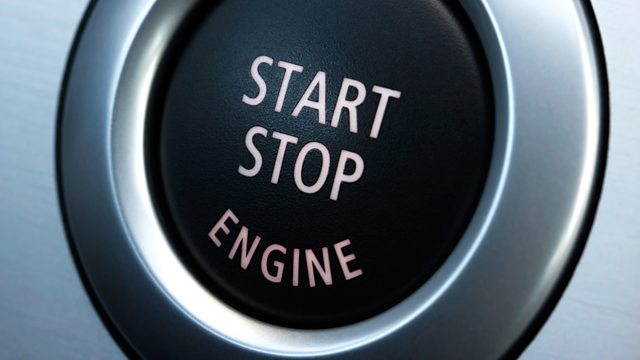 Cathy wants her Dad to leave his nursing home and live with them. So Barney starts plotting. Stars John Sparkes. From 2016.
Start/Stop is a sitcom by Jack Docherty about three marriages in various states of disrepair.
Barney and Cathy have been married for ages and it shows, Evan and Fiona's marriage is one big, noisy argument and David is old enough to be Alice's father.
Start/Stop follows the story of these three couples as they try to make the best of their marriages and friendships, and the characters are able to stop the action, explain themselves to the audience and start it all up again.
This week: 'Cathy's Dad'.
Cathy's Dad is in a nursing home but Cathy wants him to come and live with them, especially since he's just developed a condition where the wrong words come out all the time. Barney is not keen but then realises he can use looking after Cathy's Dad to make him seem more caring and, as it turns out, more attractive to Alice.
Meanwhile David gives his daughter a big role in the school play. And Evan finds there are some pluses to Fiona losing her voice after a throat operation.
But will Cathy's Dad ever be able to tell Barney what he thinks of him?
Cast:
Cathy's Dad...John Sparkes
Barney...Jack Docherty
Cathy...Kerry Godliman
Evan...John Thomson
Fiona...Fiona Allen
David...Charlie Higson
Alice...Laura Aikman
Written by: Jack Docherty
Producer: Claire Jones
A BBC Studios Production first heard on BBC Radio 4 in August 2016.
Credits
| Role | Contributor |
| --- | --- |
| Cathy's Dad | John Sparkes |
| Barney | Jack Docherty |
| Cathy | Kerry Godliman |
| Evan | John Thomson |
| Fiona | Fiona Allen |
| David | Charlie Higson |
| Alice | Laura Aikman |
| Producer | Claire Jones |
| Writer | Jack Docherty |