Main content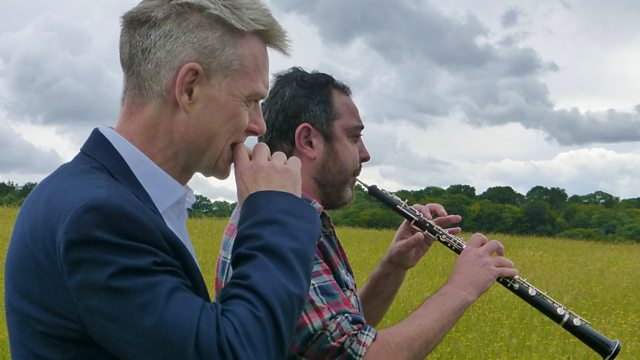 A Hillside in Oxfordshire
Paul Sartin, oboe player in Bellowhead, and contemporary composer Robert Worby, in a flower-filled meadow close to the roaring M40, make music following the skyline of Oxfordshire.
In 'Playing the Skyline' Tim Marlow joins two musicians as they look at how the land meets the air, and imagine it as music. They give their responses, then begin playing the skyline, before creating new pieces. Later, Tim hears how they are getting on and, finally, he and Radio 4's listeners hear the finished works and the musicians respond to each other's pieces.
There is in the south of England a dramatic skyline viewed by thousands daily. Sadly they can't stand and stare. This is where the M40 cuts through the Chilterns, opening to the expanse of rural Oxfordshire. For the second Playing the Skyline Tim, Robert Worby and Paul Sartin gather in a meadow of wild orchids, with red kites wheeling, beside the cutting.
Robert played keyboards in The Mekons, famous '70s punk band. These days he presents Radio 3's new music programme,' Hear and Now' , and composes music that draws on all available sounds - instrumental, mechanical, environmental and electronic.
Paul plays the oboe. He was, until they split up this year, one of Bellowhead, the folk big band that brought English traditional music to the main stage at Glastonbury, the London Palladium and even Radio 2. He now works with Faustus, Belshazzar's Feast and directs a community choir.
The scene is a Constable painting (plus motorway). Paul plays a folk tune collected in the 19th century just a couple of miles away, appropriately in such an English landscape, on the cor anglais. But both musicians are inspired by the dramatic intervention of modern man in this ancient landscape. Robert collects sounds of the motorway for his piece. Above this drone skylarks sing and Robert pulls a tiny synthesizer from his bag and, right there, creates a new electronic 'Lark Ascending'.
Producer: Julian May.
Last on

Broadcasts