Main content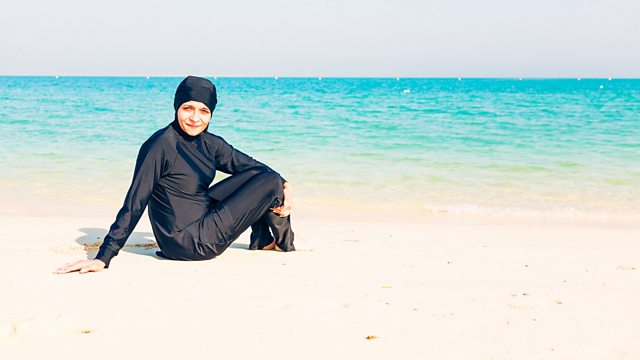 Burkini bans, Alisa Weilerstein, Sophie Carrigill
Why are some French holiday resorts banning the burkini from beaches? Plus cellist Alisa Weilerstein, women-only addiction treatment centres and Sophie Carrigill.
The Burkini, a full body swimsuit worn by some Muslim women, was recently banned in two French resorts. We discuss the ban with Benedicte Paviot from News Channel France 24, and Feiza Ben Mohamed from the Federation of Muslims in the South of France.
Cellist Alisa Weilerstein returns to the BBC Proms this Sunday to premiere Matthias Pintscher's Reflections on Narcissus. She tells us why she loves playing the piece.
Amy's Place is a drug addiction clinic that recently opened in London. Why might female addicts benefit from single-sex clinics? Milly Chowles visited a women-only centre in Gloucestershire. And Dr Sally Marlow the Public Engagement Fellow in the Addictions Department at Kings College London explains why they help.
We speak to Sophie Carrigill, co-captain of Team GB's Wheelchair Basketball team, before she sets of for Rio.
Why are older women more prone to Urinary Tract Infections? One listener tells us why she thinks we should discuss this health issue and Dr Helen Stokes-Lampard, a GP specialising in Women's Health tells us how UTI's can be treated and possibly avoided.
The journalist Sue Lloyd-Roberts interviewed women across the world suffering danger, violence and oppression. We talk to Sue's daughter Sarah about completing the book her mother left unfinished before her death.
There have for far been five proposals of marriage made to sports women competing in the Rio Olympics: including Charlotte Dujardin who had just won the gold in the dressage event and Chinese diver He Zi who had just stepped off the podium to find her boyfriend on one knee. But are these grand romantic gestures on the biggest stage of all or crass proposals made by men trying to take the spotlight away from their partner's sporting success? We discuss with Daisy Amodio, the Founder of consultants The Proposers, and Anoosh Chakelian a journalist from the New Statesman.
Credits
| Role | Contributor |
| --- | --- |
| Presenter | Jenni Murray |
| Producer | Rabeka Nurmahomed |
| Editor | Jane Thurlow |