Main content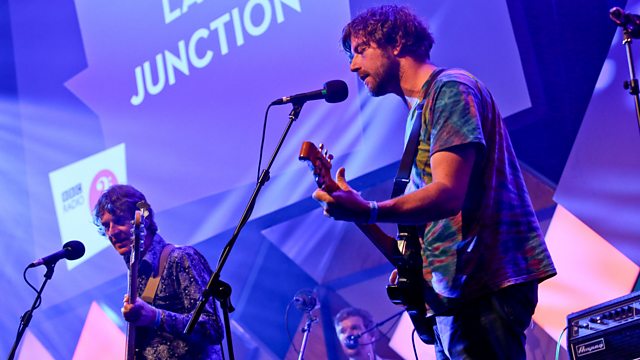 Verity Sharp with an Edinburgh Festival concert
Verity Sharp presents live music from the 2016 Edinburgh Festival, from Trembling Bells, Alastair Savage, Matt Rogers, Electric Voice Theatre and the Songworks community choir.
BBC at the Edinburgh Festivals: Verity Sharp presents a brilliant line-up of musicians for a Late Junction concert. Playing live are Trembling Bells, Alastair Savage, Matt Rogers, electric voice theatre, and SongWorks choir. Please join us at the BBC's new broadcast and audience hub at George Heriot's School in Edinburgh ...
We'll also be hearing from performance artist FK Alexander and improv-noise band Okishima Island Tourist Association, whose piece '(I Could Go On Singing) Over The Rainbow' explores the extreme edge of Judy Garland at the Summerhall Festival 2016.
Scottish folk-rock group Trembling Bells formed in 2008 around drummer Alex Neilson. They have released five studio albums, and also collaborated with Bonnie Prince Billy and Mike Heron.
Fiddle player Alastair Savage was born and raised in Ardrossan, on the Ayrshire coast. As well as releasing albums under his own name, he is a member of the BBC Scottish Symphony Orchestra.
Matt Rogers has won the Paul Hamlyn Foundation Award for Composers, and produced work for the Royal Opera House, Aldeburgh Music, and the New York Metropolitan Museum Of Art. His latest album SK?-1 is a suite of solo scorchers belched straight out of a GravesEnd Casio SK1.
Formed in 1985, electric voice theatre is a multi-disciplinary music-theatre ensemble. Their Edinburgh Fringe show 'Superwomen of Science' celebrates great female scientists through modern, specially commissioned music from some of the UK's leading female composers.
SongWorks is a community choir in Edinburgh. They are part of Songlines, a city-wide event taking place on the middle Sunday of the International Festival inviting everyone to take part in a unique celebration of singing.
Produced by Jack Howson for Reduced Listening.
Music Played
Verity talks to fiddler Alastair Savage

Verity talks to Frances M Lynch of Electric Voice Theatre

Verity takes in part of the Edinburgh Art Festival at Trinity Apse

Olivia Webb: Voices Project

Verity talks to Alex Neilson of Trembling Bells

Verity talks to composer Matt Rogers

Verity talks to performance artist FK Alexander about her show '(I Could Go On Singing) Somewhere Over The Rainbow'

Verity talks to Irene Railley, leader of SongWorks choir