Main content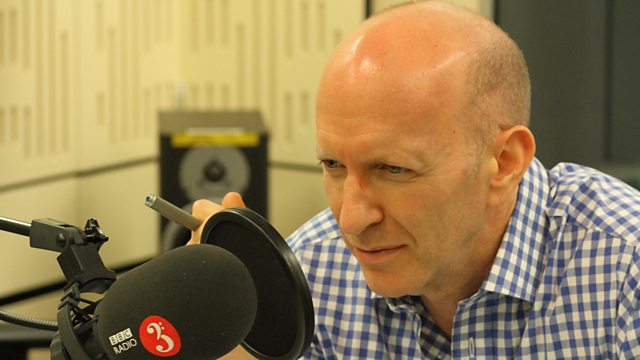 Monday - Rob Cowan with Simon Sebag Montefiore
With Rob Cowan. My Favourite Duos; Music in Time: Wagner: Ride of the Valkyries; Proms Artist of the Day: Thomas Ades, featured conducting Couperin's Les barricades mysterieuses.
9am
My Favourite... Duos. Rob shares his favourite examples of these works for two musicians, where each artist's response to the other is put under the spotlight, creating what is perhaps the ultimate expression of chamber music. Rob's choices explore a selection of instrumental combinations including duos for strings by Bartók, a duo for pianos by Schubert, and duos for percussion, and guitars.
9.30am
Take part in our daily musical challenge: can you remember the film or television programme that featured this piece of classical music?
10am
Rob's guest, historian, writer and television presenter Simon Sebag Montefiore, will be sharing a selection of his favourite classical music, including works by Shostakovich, Prokofiev and Tchaikovsky that link to his writing on Russia, every day at 10am. Simon's acclaimed history books have been published in over 45 languages and include Jerusalem: The Biography, Catherine the Great and Potemkin and Young Stalin. His latest book, The Romanovs 1613-1918, chronicles the stories of twenty tsars and tsarinas, and is already a bestseller in the UK, Australia and the USA. Simon has also won literary prizes for his fiction work. He has written the first two instalments of a trilogy of thriller-love-stories set in Russia. The second in the series, 'One Night in Winter', won the Best Political Novel of the Year Prize and was longlisted for the Orwell Prize.
10.30am
Music in Time: Romantic
Rob places Music in Time as he heads back to the Romantic period with Wagner's Ride of the Valkyries. This curtain raiser demonstrates Wagner's ability to combine music (rhythm and leitmotif) and drama (the arrival by winged steeds of warrior maidens returning from battle) to create a unique theatrical experience.
10.45am
Rob's Proms artist of the day is the composer-conductor Thomas Adès, who takes to the rostrum in tonight's BBC Prom to conduct music by Prokofiev, Beethoven and Francisco Coll, as well as his own composition, Lieux retrouvés. This morning Rob features Adès conducting his transcription of Francois Couperin's Les Baricades Mistérieuses.
Couperin transcribed Adès
Les Barricades Mystérieuses.
City of Birmingham Symphony Orchestra
Thomas Adès (conductor).
Music Played
My Favourite...Duos

SIMON SEBAG MONTEFIORE'S CHOICE NO.1

SIMON SEBAG MONTEFIORE'S CHOICE NO.2

SIMON SEBAG MONTEFIORE'S CHOICE NO.3

MUSIC IN TIME: ROMANTIC

Proms Artist of the Day: Thomas Ades
Heard on Screen
Answer: The Sting (1973)
The music played:
Joplin 
The Easy Winners 
Joshua Rifkin (piano)  
EMI