Main content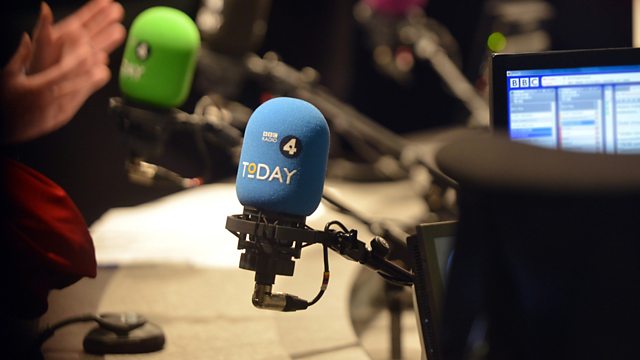 11/08/2016
Morning news and current affairs. Including Sports Desk, Weather and Thought for the Day.
Last on
Today's running order
All subject to change:
0650
Inspection teams examining the oil rig Transocean Winner that ran aground on the west coast of the Isle of Lewis on Monday, say that two of its fuel tanks appear to have been breached. Hugh Shaw is the secretary of state's representative for maritime salvage and intervention.
0655
Scientists say that they have discovered a possible explanation for how Alzheimer's disease spreads in the brain. Rosie Freer is the lead author of the study.
0710
The BBC's Wyre Davis reports from Rio de Janeiro with a round-up of Olympic action overnight.
0715
A strike on the Southern rail network has been suspended to allow fresh talks in the row over the role of conductors, Acas said. Andy McDonald is the shadow transport minister.
0720
A senior German security source has told the BBC that he believes the so-called Islamic state have sent teams into the country disguised as refugees in order to prepare terror attacks. The BBC's Berlin correspondent Jenny Hill reports.
0730
Doctors in Aleppo are calling on President Obama to intervene to stop the bombs falling on a city which has been dubbed 'Syria's Stalingrad'. Stephen O'Brien is the UN's under-secretary general for humanitarian affairs and spoke to Nick Robinson this morning from New York.
0740
A judge has used the C-word in court. Is this a contravention of judicial impartiality? Former barrister Peter Moffat is the writer of Silk and Criminal Justice.
0750
A woman has received £75,000 in damages after details of domestic abuse which she suffered were made public by Greater Manchester police without her consent. Nick McAleenan is the woman's solicitor and David Tucker is the College of Policing lead for crime and criminal justice.
0810
An appeal hearing is being held later today against a High Court ruling that said new members of the Labour party should have the right to vote in its leadership election. Lord Falconer is former shadow justice secretary who resigned from Jeremy Corbyn's shadow cabinet in June.
0820
Simone Biles, the 19-year-old US gymnast, has stunned the world with her faultless routines at the Rio Olympics - she is just 4ft 8 inches tall. The BBC's Catherine Downes reports; Katie Foster is a commentator for British Gymnastics and Kieran Mcinerney is PhD researcher at the Centre for Sports Engineering Research at Sheffield Hallam University.
0830
MPs are calling on the government to address the inequalities in employment faced by UK Muslims. Maria Miller is chair of the Women and Equalities Committee and Faeeza Vaid is executive director of the Muslim Women's Network.
0835
Negotiations are continuing between unions and rail franchises over the future role of train conductors and who should close the doors. Colin Stewart is Global Rail Business leader at engineering firm ARUP and Phil Marsh is the chief correspondent for The Railway Magazine.
0840
South Sudan is reeling from an unprecedented humanitarian crisis, a month after deadly clashes between government and opposition forces set off a fresh cycle of violence and displacements, the UN has warned. Caelin Briggs co-ordinates the UN with NGOs in the country and Dr Mareike Schomerus is research fellow at the Overseas Development Institute.
0845
What is is that Olympic athletes do to give them the edge on their opponents? Matthew Syed is author of Black Box Thinking: The Surprising Truth About Success and former Olympic table tennis player.
0850
In the highly technical sport of track cycling, what comes first: the talent of the rider or the engineering of the bike? Today's Rob Bonnet has been given exclusive access to a factory in Oxfordshire where some of the key components for Team GB's bikes are produced.
0855
There have probably never been so many organised activities on offer to entertain children during the summer holidays, but would children be better off left to their own devices? Dr David Whitebread is a Cambridge developmental psychologist and Zoe Chesher is from the Active Training and Education Trust which runs children's summer camps.
Broadcast