Main content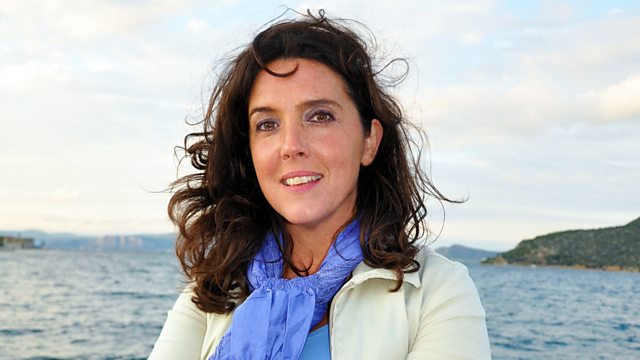 Street philosophy with Bettany Hughes, and changing ideas about hubris on a building site, at an Ancient Greek palace, in political office and aboard an Elizabethan sailing ship.
Bettany Hughes considers changing ideas about hubris on a building site, at an ancient Greek palace, in literature, in political office, and aboard a replica of Sir Francis Drake's Golden Hinde.
This surprising and invigorating history of the most influential ideas in the story of civilisation, has been described as 'a double espresso shot of philosophy, history, science and the arts'. Award-winning historian and broadcaster Bettany Hughes begins each programme with the first, extant evidence of a single word-idea in Ancient Greek culture and travels both forwards and backwards in time, investigating how these ideas have been moulded by history, and how they've shaped us.
In this programme Bettany explores hubris with experts from the humanities and sciences, people who see these big philosophical ideas playing out in their own lives including archaeologist Michael Cosmopoulos, classicist Paul Cartledge, historian Anna Whitelock and former Deputy Prime Minister Nick Clegg. Bettany travels to a new archaeological excavation Greece to see where these ideas were born and then explores the street markets, churches, offices and homes where they continue to morph and influence our daily lives, including The Fellows' Library at Clare College in Cambridge, the replica of the Golden Hinde on London's South Bank, and in a recording booth where Nick Clegg is recording his memoir Politics: Between the Extremes.
Other ideas in this series are harmony, narcissism, technology and hubris. Ideas examined previously include idea, desire, agony, fame, justice, wisdom, comedy, liberty, peace, hospitality, virtue, psyche, charisma, irony and nemesis.
Series Producer: Dixi Stewart.
Last on
More episodes
Next
You are at the last episode