Main content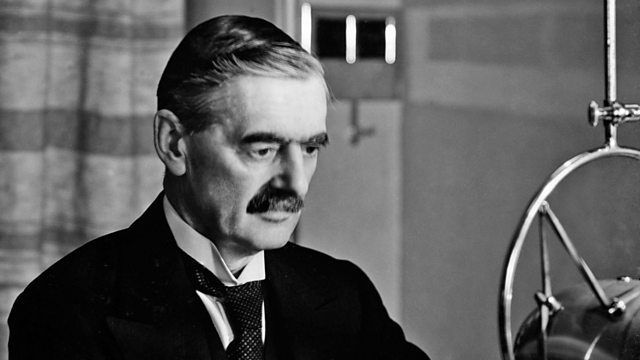 Neville Chamberlain's Umbrella
4 Extra Debut. David Cannadine explores political fame and defining objects: Neville Chamberlain's umbrella and appeasement. From 2016.
Professor Sir David Cannadine explores political fame and image by looking at how an object or prop, whether chosen deliberately or otherwise, can come to define a political leader.
Sir David looks at the significance of these props of power - what they mean and what they become, and what happens when, almost inevitably, Prime Ministers lose control of their image and their props take on a hostile meaning, very different from their original intentions.
Neville Chamberlain always liked to carry a big black umbrella. It was intended to project an image of the quintessential Englishman, who was always smart, prepared and, in a manner of speaking, neatly furled. When Chamberlain arrived home after meeting Hitler at Munich in 1938, he was clutching Hitler's signed piece of paper in one hand and his brolly in the other. His umbrella now took on a new and potent symbolism as a "peace umbrella" and one that would keep the German bombs from raining down on British heads. He was sent hundreds of umbrellas by a grateful public and there was even a song composed at the time that contained the lyrics, "You look swell holding your umbrella / All the world loves a wonderful fella".
Yet as war broke out in Europe, Chamberlain's trademark brolly was quickly seized upon by his enemies as a laughable symbol of his gentlemanly ineffectiveness and it became a lightening-rod for critics of appeasement. Declassified MI5 records reveal how Hitler mocked him for it - and Chamberlain's once so celebrated umbrella morphed from useful trademark into an embarrassing symbol of political weakness and pusillanimity.
Producer: Melissa FitzGerald
A Blakeway production first broadcast on BBC Radio 4 in August 2016.
Last on
More episodes
Previous
You are at the first episode
David Cannadine talks about his series on five examples of PMs and their props of power
Broadcasts