Main content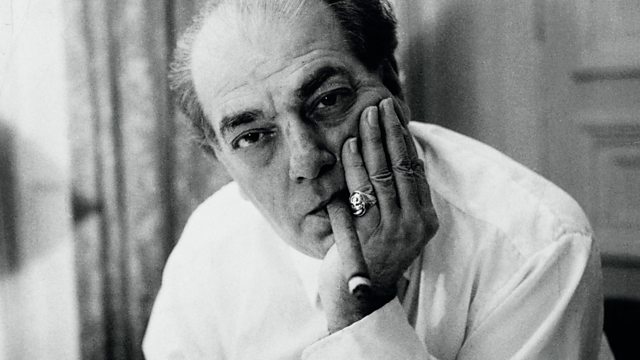 From Street Corner to Concert Hall
Donald Macleod focuses on Villa-Lobos's choros: works rooted in the street music of Rio de Janeiro.
This week, in conversation with Brazilian musicologist Manoel Correa do Lago, Donald Macleod explores the music and life of Brazil's greatest composer, the mercurial Heitor Villa-Lobos. Today, his chôros - works rooted in the street music of Rio.
It's hard to imagine a more Brazilian composer than Heitor Villa-Lobos. His works are suffused with the accents of his native land - the street music of Rio de Janeiro, where he was born in 1887, in the dying years of the monarchy; the rural music he first encountered as a six-year-old, when his father had to hurriedly relocate himself and his young family to the countryside to avoid arrest for criticizing the new government; the Afro-Brazilian folk music he discovered on trips deep into the country's interior, accounts of which he subsequently - and characteristically - embroidered with tall tales of narrow escapes from cannibal cooking pots; and above all, a general sense of the essence of Brazil - its forests, its fauna, its folklore, its traditions. Intertwined with all these influences was Villa-Lobos's deep appreciation of European classical music - at least, selected aspects of it - which he absorbed first from his father, a keen amateur cellist and concert-goer. Bach was an early and abiding passion, thanks, apparently, to a favourite aunt who played him extracts from The Well-Tempered Clavier. Visits by foreign musicians, notably Artur Rubinstein and the Ballets Russes, added Ravel and Debussy to the mix. And in the 1920s he was able to spend several years living and working in Paris, where he was exposed above all to Stravinsky's Rite of Spring, his first hearing of which he described as the greatest musical experience of his life. In 1957, two years before his death, he wrote that "Anyone born in Brazil who has formed his conscience in the heart of this land cannot, even if he wishes, imitate the character and manners of other countries." Yet he ended his days disillusioned with the Brazilian musical scene: "I have done all in my power to diffuse musical culture in Brazil, but it is useless. The country is dominated by mediocrity; for each mediocre person that dies, five more are born."
In today's programme, a generous sampling of chôros - a thoroughly disparate but absolutely fascinating group of compositions written during Villa-Lobos's most experimental decade, the 1920s. They range from brief jottings for solo guitar and piano to large-scale works for orchestra, with or without chorus. This is the period of Villa-Lobos's first sojourns in Paris, funded in part by a grant from the Brazilian government but mainly thanks to the generosity of a pair of prominent Brazilian industrialists, the Guinle brothers, whom Artur Rubinstein had smooth-talked into handsomely backing their talented young compatriot. This was Villa-Lobos's first outing on an international stage and he brought it off with extraordinary panache, playing up his 'exoticism' with the flair of a one-man Brazilian musical tourist board.
Villa-Lobos: Chôros No 2
Elizabeth Plunk, flute
Ovanir Buosi, clarinet
Chôros No 1 ('Chôro tipico')
Norbert Kraft, guitar
Chôros No 4
Samuel Hamzem, Dante Yenque, Ozéas Arantes, horns
Darrin Coleman Milling, trombone
Chôros No 7 ('Settiminio'), for flute, oboe, clarinet, saxophone, bassoon, violin, cello and offstage tam-tam
Bülent Evcil, flute
Arcádio Minczuk, oboe
Sérgio Burgani, clarinet
Nailor Azevedo (a.k.a. Proveta), alto saxophone
José Arion Linarez, bassoon
Cláudio Cruz, violin
Alceu Reis, cello
Armando Yamada, tam-tam
John Neschling, conductor
Chôros No 5 ('Alma brasileira'), for piano
Nelson Freire, piano
Chôros No 3 ('Pica-Pau'), for clarinet, bassoon, saxophone, 3 horns,
trombone and male voices
Male Voices of the Choir of São Paulo Symphony Orchestra
Sérgio Burgani, clarinet
Alexandre Silvéro, bassoon
Marcos Pedroso, alto saxophone
Dante Yenque, Luciano Amaral, Samuel Hamzem, horns
Wagner Poliscthuck, trombone
John Neschling, conductor
Chôros No 10 ('Rasga o Coraçao') for chorus and orchestra
Choir of the São Paulo Symphony Orchestra
São Paulo Symphony Orchestra
John Neschling, conductor
Producer: Chris Barstow.