Main content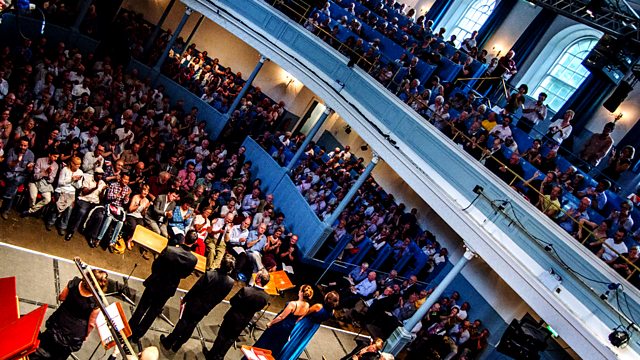 Simon Keenlyside and Friends
Baritone Simon Keenlyside and a quartet of jazz musicians in a jazz and cabaret concert. With music by Berlin, Kalman, Weill, Rodgers, Gershwin, Kern, Porter and Ellington.
The distinguished UK baritone Simon Keenlyside presents another side to his artistry, singing a programme of jazz and cabaret with a quartet that features some of the finest musicians on the UK jazz scene today. He draws his songs from Broadway, operetta and the vibrant cabaret scene in Berlin in the 1930s.
Berlin: Isn't This a Lovely Day, from 'Top Hat'
Kálmán: Tanz 17c, from 'The Duchess of Chicago'
Kálmán: Lichtreklamen
Kálmán: Tanz 16b, from 'The Duchess of Chicago'
Weill: Johnny Johnson's Song
Kálmán: Tanz No.1
Kálmán: Cowboy Song, from 'Arizona Lady'
Weill: Song of the Bigshot, from 'Happy End'
Weill: Lonely at Home, from 'Street Scene'
Rodgers: Soliloquy, from 'Carousel'
Berlin: Call Me Up Some Rainy Afternoon
Gershwin: How Long Has This Been Going On?, from 'Funny Face'
Kern: Let's Begin, from 'Roberta'
11.45 Interval
Donald Macleod introduces Leonard Bernstein's symphonic suite from 'On the Waterfront', the award-winning Hollywood crime film starring Marlon Brando.
12.05
Strayhorn: Lush Life
Carmichael: Stardust
Ellington: Mood Indigo
Gershwin: Love Is Here to Stay
Loewe: On the Street Where You Live, from 'My Fair Lady'
Porter: What Is This Thing Called Love?, from 'Wake Up and Dream'
Blane/Martin: The Girl Next Door (The Boy Next Door), from 'Meet Me in St Louis'
Carmichael: Skylark
Porter: So in Love, from 'Kiss me, Kate'
Ellington: Do Nothing Till You Hear From Me
Kern: She Didn't Say Yes, from 'The Cat and the Fiddle'
Simon Keenlyside, baritone
Howard McGill, saxophone, clarinet, flute, piccolo
Gordon Campbell, trombone
Richard Pryce, double bass
Matthew Regan, piano
Mike Smith, drums, percussion
Presenter: Donald Macleod
Producer: Lindsay Pell.