Main content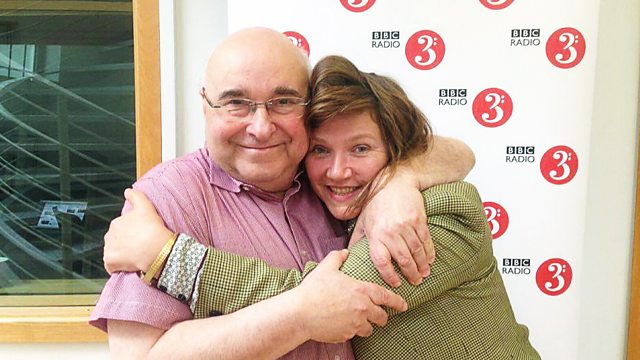 Wednesday - Rob Cowan with Jessica Hynes
With Rob Cowan. Including My Favourite Impromptus; Music in Time: Chopin: Ballade No 4; Proms Artist of the Day: Hakan Hardenberger, featured in Telemann's Trumpet Concerto.
9:00am
My Favourite... Impromptus. This week Rob shares a selection of his favourite impromptus, works that are based on improvisation and impulse. The line-up includes Schubert's Impromptu in G flat, performed by Alfred Brendel, Scriabin's Impromptu Op.14 No.1 with Klara Min and Bennett's Five Impromptus for guitar featuring Craig Ogden.
9:30am
Take part in our daily musical challenge: identify a piece of music played backwards.
10am
Rob's guest this week is the BAFTA award winning actress and writer Jessica Hynes. Jessica was one of the creators and stars of the popular British sitcom Spaced, and is well known for her other comic roles including Cheryl in The Royle Family and Siobhan in the Olympics backroom comedy Twenty Twelve, and the BBC parody W1A. Jessica will be talking about her comedy writing and her acting roles, and sharing a selection of her favourite classical music, including works by John Ireland, Marcel Tournier and Will Todd, every day at 10am.
10:30am
Music in Time: Romantic
Rob places Music in Time. He heads to the Romantic era to look at the Ballade - a piece of music often written for the piano, and with storytelling characteristics. Rob plays a fine example of the genre: Chopin's turbulent Ballade No.4 in F minor.
10:45am
In tonight's Prom, trumpeter Håkan Hardenberger will be performing HK Gruber's Busking, a piece written for Hardenberger himself. This morning Rob features him in Telemann's Trumpet Concerto in D. Hardenberger combines an aria-like approach in the opening Adagio with dynamism and buoyancy in the other movements.
Telemann
Trumpet Concerto in D
Håkan Hardenberger (trumpet)
Academy of St Martin in the Fields
Iona Brown (conductor).
Music Played
MY FAVOURITE...IMPROMPTUS

JESSICA HYNES' CHOICE NO.1

JESSICA HYNES' CHOICE NO.2

MUSIC IN TIME: ROMANTIC

PROMS ARTIST OF THE DAY: HAKAN HARDENBERGER
Recording Rewind
The music played:
Schubert
Quartettsatz in C minor
Amadeus Quartet
DG