Main content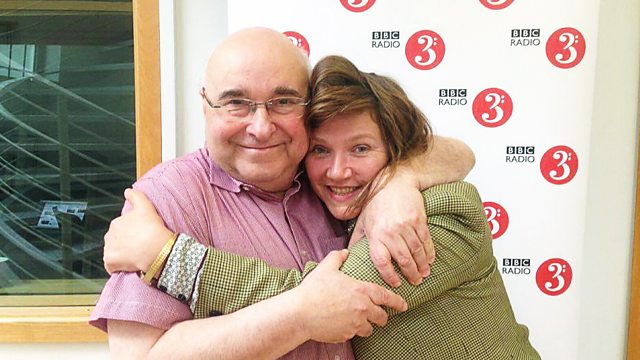 Tuesday - Rob Cowan with Jessica Hynes
With Rob Cowan. My Favourite Impromptus; Music in Time: Tavener: Eternity's Sunrise; Proms Artist: Esa-Pekka Salonen, featured conducting Beethoven's Leonore Overture No 2.
9:00am
My Favourite... Impromptus. This week Rob shares a selection of his favourite impromptus, works that are based on improvisation and impulse. The line-up includes Schubert's Impromptu in G flat, performed by Alfred Brendel, Scriabin's Impromptu Op.14 No.1 with Klara Min and Bennett's Five Impromptus for guitar featuring Craig Ogden.
9:30am
Take part in today's music-related challenge: listen to the clues and identify the mystery person.
10am
Rob's guest this week is the BAFTA award winning actress and writer Jessica Hynes. Jessica was one of the creators and stars of the popular British sitcom Spaced, and is well known for her other comic roles including Cheryl in The Royle Family and Siobhan in the Olympics backroom comedy Twenty Twelve, and the BBC parody W1A. Jessica will be talking about her comedy writing and her acting roles, and sharing a selection of her favourite classical music, including works by John Ireland, Marcel Tournier and Will Todd, every day at 10am.
10:30am
Music in Time: Modern
Rob places Music in Time. Today he looks to one of the most successful British composers of the Modern period, John Tavener, whose minimalist techniques create a sense of stasis in his work, Eternity's Sunrise.
10:45am
Rob's featured Proms artist is the composer-conductor Esa-Pekka Salonen, who conducted his Philharmonia Orchestra in music by Schoenberg, Dutilleux and Mahler in last night's Prom 32. Today on Essential Classics Salonen brings his creative instincts to bear on Beethoven's dramatic Leonore Overture No.2.
Beethoven
Leonore: Overture No.2
Philharmonia Orchestra
Esa-Pekka Salonen (conductor).
Music Played
MY FAVOURITE...IMPROMPTUS

JESSICA HYNES' CHOICE NO.1

JESSICA HYNES' CHOICE NO.2

MUSIC IN TIME: MODERN

PROMS ARTIST OF THE DAY: ESA-PEKKA SALONEN