Main content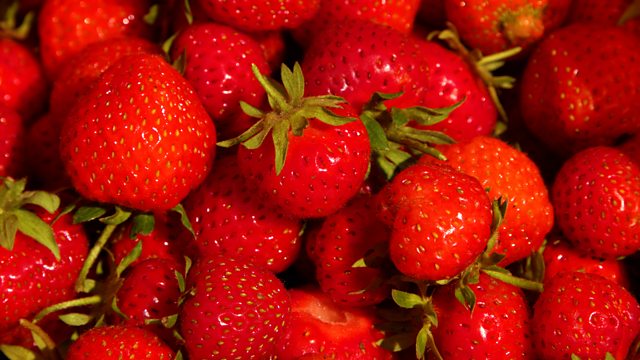 The Surprising Strawberry
2016's strawberry solstice fell as the UK's strawberry pickers embarked on a bigger crop than ever before. Sheila Dillon unravels the uncertain future of our favourite fruit.
2016's strawberry solstice fell as the UK's strawberry pickers embarked on a bigger crop than ever before. Strawberries have become a supermarket staple - no longer a seasonal treat. But as our appetite for the berries has increased, production it seems, is becoming more complicated.
Californian strawberry farmers, who produce one of the biggest crops in the world, are facing some of the most challenging times in recent history. Back in post-Brexit Britain, fruit farmers are looking for assurance that they'll still attract pickers from the continent.
Yet the strawberry is interwoven into our culture like no other fruit, and when good, can be the flavour, scent and colour of summer. Chef Jeremy Lee, author Jane McMorland Hunter, farmer Marion Regan, professor Julie Guthman and winemakers Ron and Judith Gillies help Sheila Dillon unravel the surprising story of the strawberry.
Presented by Sheila Dillon
Produced by Clare Salisbury.
Last on
Some surprising strawberry recipes....
Halibut with Strawberry Chipotle Glaze and Strawberry Salsa
This sounds a little unusual but trust us it is delicious. The sweetness of the strawberry combined with the smoky heat of the chilli works so well against the fish. If you don't have halibut any large flake, firm textured white fish will work as well.
The heat varies between different brands of chipotle paste and what you are looking for here is a subtle smokiness with a kick, not an overwhelming chilli burn. You want to be able to taste the strawberry and the fish so we advise starting with ½ teaspoon of paste in your glaze and then taste-you can always add more in but it is difficult to take it out.
Serves 4
For the glaze
1 shallot
6 strawberries
½ - 1 ½ teaspoons chipotle paste
½ teaspoon dark muscavado sugar
4 x 150 g / 5 oz fillets of halibut, skinned
4 tablespoons pumpkin seeds
For the salsa
1 avocado
3 spring (green) onions
juice of a lime
1 red chilli, seeded and chopped
6 strawberries
2 tablespoons coriander (cilantro), chopped
Preheat the oven to 200 C / 400 F / Gas Mark 6.
First make the glaze. Roughly chop the shallot and strawberries and place all the glaze ingredients in a blender and whiz to a fine purée. Taste and add more chilli if you think it needs it (see note above).
Place the halibut fillets on a lightly oiled baking tray (baking sheet) and brush the glaze over to give a thick pink layer. Sprinkle with the pumpkin seeds. Bake for 10 –15 minutes until cooked through. The timing may vary a little, depending on the thickness of your fillet.
Whilst the fish is cooking prepare the salsa. Peel, stone and dice the avocado and pour over the lime juice. Hull and dice the strawberries and add these to the avocado. Chop the spring (green) onions and add along with the chopped chilli and coriander. Stir everything together gently.
Serve the fish accompanied by the salsa. We like to serve this with a green salad and a few rosemary potatoes. 
Berry Butter


This is delicious on freshly baked scones. It is best served directly from the fridge. If you make a batch, what you don't eat can be formed into a log wrapped well in cling film and frozen. Defrost before use.
Makes 275g / 9 oz
250g / 8oz / 2 sticks unsalted butter2 tablespoons icing sugar, siftedseeds from one vanilla pod or 1/2 tsp vanilla extract90g / 3oz strawberries (4 to 5 large ones), hulled and freshly chopped

Beat the butter, sugar and vanilla seeds for five minutes until softened. Add the berries and beat to combine. Use immediately or store in the fridge.
Recipes taken from
Berries Growing & Cooking
by Jane McMorland Hunter & Sally Hughes. Published by Prospect Books.
Credits
| Role | Contributor |
| --- | --- |
| Presenter | Sheila Dillon |
| Interviewed Guest | Jeremy Lee |
| Interviewed Guest | Jane McMorland Hunter |
| Interviewed Guest | Marion Regan |
| Interviewed Guest | Julie Guthman |
| Interviewed Guest | Ron Gillies |
| Interviewed Guest | Judith Gillies |
| Producer | Clare Salisbury |
Broadcasts