Main content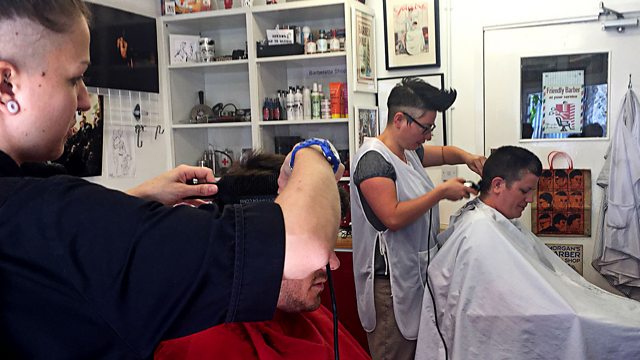 The Price of a Haircut, Employment Rights for Teenagers
Can employees work out their entitlements if their hours of work change or if they are on a rolling short-term contract? Plus, the cost of haircuts.
The world of work has changed and many people find there are often difficult compromises to make in an effort to hold down a job down. The pressure and anxiety of having no control or knowledge over your working hours, the time that work is and how long a contract could last means many people don't want to rock the boat by asking for or enforcing their rights at work. Even when people don't face risks over these things understanding your rights when you have fluctuating work is a huge challenge. Can you work out your entitlements if your hours of work change or if you are on a rolling short-term contract?
How much do you pay for your haircut? If you're a woman, chances are you'll be used to paying more. But there is a growing debate inside the hairdressing industry on whether this is fair. The hairdressing industry is unregulated. So what redress does a consumer have if they think they've been overcharged?
Forget the Spice Girls and Boris Johnson, the most exciting comeback of the year has gone to Margate, the once dilapidated beach destination that has just been crowned the 'Best British seaside town.' Shari Vahl goes to the seaside.
Remember the days when you would anxiously await the new Levis advert on TV, where a dark handsome stranger in a launderette would strip to his boxer shorts to wash his new 501s? Just me then? Well maybe adverts have changed a little since then but so have our consumer habits and as everything moves online, do TV adverts still have the same impact? Figures by industry analysts eMarketer show that last year, Britain became the first country in the world where spending on digital ads exceeded that spent on all other forms of advertising put together. Sites like Google and Facebook make up a huge percentage of that spend - with so much traffic to their sites; it's becoming impossible for companies not to advertise through them. So exactly how does the advertising industry keep up without overloading us?
Presenter: Andrea Catherwood
Editor: Chas Watkin.
Chapters
Pizza Hut

Some workers are waiting on site for the employer to tell them if and when they want them

Duration: 05:30

Airline Rules

It's been 10 years since restrictions on liquids changed the nature of air travel.

Duration: 05:06

Broadband

People in rural areas are being misled by providers about their internet connection.

Duration: 03:24

Price of a Haircut

More and more salons are starting to adopt gender neutral pricing for haircuts.

Duration: 07:10

Seaside

Margate is slowly making a recovery from the bad old days.

Duration: 07:50

Advertising Panel

Britain now spends more on digital ads than all other forms - so is the TV ad dead?

Duration: 08:34