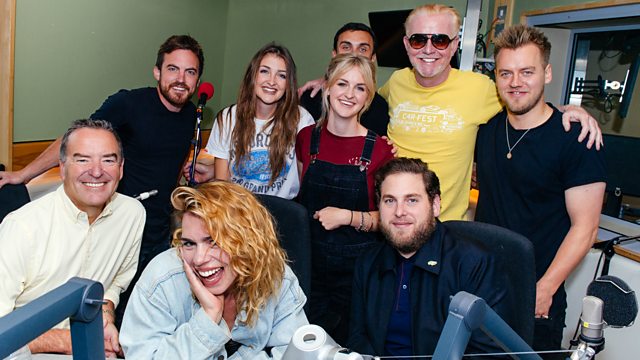 Jonah Hill, Jeff Stelling, Billie Piper and Ward Thomas
Chris is joined by Hollywood heavyweight Jonah Hill ahead of his latest blockbuster War Dogs, sporting pundit turned quiz show host Jeff Stelling and amazing actress Billie Piper. Plus country singing sisters Ward Thomas provide the Friday soundtrack as they perform live in the studio.
Last on
Chris' Pause for Thought: Richard Coles
From Rev'd Richard Coles, cleric and broadcaster:
We've just come back from Italy, a country I love, for its history, for its art, for its custom of serving a great bowl of pasta between starters and main course. Downside, after a week, my circumference is so enlarged my angle of comfortable bend has significantly reduced. The effort required now is so great that I resolved not to bend to pick up anything less than a Euro. It's just not worth it.
And I've discovered that the world for a stoutish parson unwilling to bend, is noticeably different, not least going shopping.
It has got more expensive, about twenty percent I reckon, and the reason is that supermarkets put premium brands, sold at premium prices, on the higher shelves, the shelves you don't need to bend to access.  I asked a friend in retail if the placement of the product on the shelf make a difference to its sales? Of course its does, he said, "eye level is buy level".
Next time you go to the supermarket look at the difference in price between the premium brands in front of you, and the cheaper brands at ankle height. The truth is we are more likely to go for what's right there, than to make the effort to seek what's better for us.
In a consumerist world, like ours, these realities affect more than our shopping. In politics, the catchy slogan which leads to the easy conclusion, the one that is comfortably in reach and requires least effort to secure, is hard to resist, whether you're deciding what's best for you, or organising a political party, or, or choosing the Commander in Chief of the world's most powerful military.
Jesus Christ taught that the path that leads to where you ought to go is not the easy one, but the one that is narrow, the one that is hard (ask any athlete – well maybe not a Russian athlete). So I resolve in future to make the effort to stretch, to flex, to bend, to reach out beyond what's comfortable.
So if you're in the supermarket and hear the sound of a cassock button flying off and shattering a jar of pickled onions, that'll be me. Do pop over and say hello.