Main content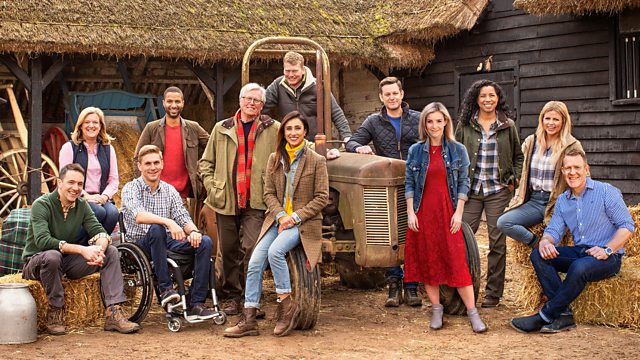 Cumbria
The team visit Cumbria, looking at the places which inspired Beatrix Potter, a farm run using horses and steam power, and Lakeland sports, including Cumberland wrestling.
The team visit Cumbria, where Matt Baker looks at the places which inspired the work of Beatrix Potter, marking the 150th anniversary of the writer's birth.
Helen Skelton meets a couple who run their farm using horses and steam power, and also finds out about traditional Lakeland sports, including Cumberland wrestling.
Naomi Wilkinson meets an artist who captures the inspirational women of the Cumbrian countryside, Adam Henson visits a Capability Brown landscape being restored with heavy horses, and Tom Heap investigates why there are calls across the UK and Europe to ban glyphosate, the world's most used herbicide.
Beatrix Potter's landscapes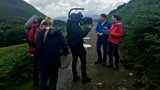 Matt Baker is exploring the lush Lakeland landscape, which throughout time has inspired a great number of artists and writers alike. Beatrix Potter's love of the Lake District is well known and to mark the 150th anniversary of her birth, Matt takes a look at the real characters and landscapes behind her stories. He joins National Trust ranger Jessie Bins, who has been painstakingly matching real locations in the northern lakes with her beautifully crafted illustrations. He also learns that it was here, on the shores of Derwent Water, that Beatrix Potter was inspired to write some of her most famous stories.
Glyphosate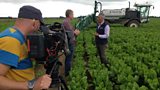 Tom has been investigating the controversy surrounding Glyphosate - the world's most used weed killer. It's used on farm land, and households across the UK - but some claim it's unsafe and increases the risk of cancer – and now the EU is considering banning it altogether. But, does it really pose as serious a health risk as is being claimed? Many of those who are convinced glyphosate is safe say opposition to it is driven by a desire to cripple its leading manufacturer – a company seen by some as the bogeyman of modern farming – Monsanto. So, is that true, and can we farm without it?
Old Hall Farm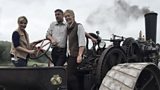 Helen Skelton is out exploring what it was like to work the land in days gone by. She pays a visit to Old Hall Farm; a traditional Lakeland farm that was saved from dereliction a decade ago by owners Alex and Charlotte Sharphouse. Combining their passion for heavy horses and old steam machines, it is still very much a working, productive farm and Helen discovers how these two methods for cultivating the land can exist harmoniously side-by-side. She also learns how Alex's passion for restoring old machines has lead him on his biggest challenge yet, and offers a helping hand with some of the latest additions to this new locomotive. 
Modern day Potters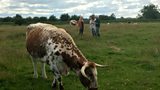 Beatrix Potter's images of the pastoral way of life are famous all over the world and to mark the 150th anniversary, artist Freya Pocklington has set out on a project to capture some of the rural characters of today on canvas. Naomi Williams meets Freya at Acorn Banks, where she experiences the colourful art first-hand and learns how her pieces have all been inspired by the fierce female farmers and conservationists of Cumbria; a subject close to Potter's heart. From the studio to the field, she travels to meet Susan Aglionby, one of the women behind Freya's portraits. A local farmer with a love for Longhorn cattle, Susan tells Naomi how her own passion for farming was inspired by Beatrix Potter.
Lingholm's red squirrels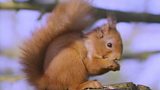 Beatrix Potter loved the Lake District and for ten years her family spent their summers at Lingholm Estate on the shores of Derwent Water. Potter herself claimed that if Mr McGregor's garden were anywhere it would be here, but for years the real kitchen garden had all but disappeared. Matt sees how the current owner has been painstakingly reinstating the garden and discovers it's not just the vegetables that are making a comeback, so too are the estate's red squirrels. Under the supervision of head gardener Ken Swift, Matt helps restock the feeding stations and put up cameras that will hopefully give us a glimpse of the elusive creatures that Potter loved so much.
Explore Beatrix Potter's links with Lingholm Estate
Capability Brown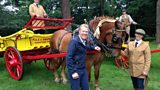 This year marks 300 years since the birth of the great landscape designer Capability Brown. Adam Henson is at Euston Hall in Suffolk finding out how the Suffolk punch horse is being used to restore this incredible landscape. These gentle giants have magnificent power and would have been used to do most of the heavy work around the estate. Adam gets to see these horses in action loading a timber drug, rolling the lawn, and pulling a carriage and harvest wagon.
Discover more Capability Brown landscapes in his anniversary year
Traditional Lakeland sports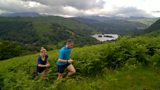 In Cumbria, sporting traditions go back a long way, with locals taking part in hotly competed events today, just as they would have done over a century ago. With the 130th anniversary of the Ambleside event just around the corner, Helen meets some of the current athletes as they prepare for the big day. Connie Hodgson comes from a family of successful Cumberland and Westmorland wrestlers and will be competing at the first Women's Championship match this year. Helen gets put through the paces with Connie in the field before joining runner Mark Addington on the fell.  As the current champion of the Guides Race, Mark has a tip or two about how to succeed in the event, but as Helen discovers; what comes up, must come down.
Girl Guiding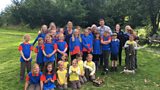 Beatrix Potter's Lake District legacy extended well beyond her children's tales. She celebrated and championed the rural way life and was determined to preserve the landscape she loved so much. One of the many things she did was encourage women and young girls to get out into the countryside and she was known to host a number of camps on her farm for local groups of Girl Guides. In the anniversary year, Girl Guiding UK have launched a special Beatrix Potter Badge and Matt joins the Hawkshead Guides as they set about on some of the tasks needed to earn themselves a badge.
Beatrix Potter 150th Anniversary Challenge
Credits
| Role | Contributor |
| --- | --- |
| Presenter | Matt Baker |
| Presenter | Naomi Wilkinson |
| Presenter | Helen Skelton |
| Presenter | Tom Heap |
| Presenter | Adam Henson |
| Executive Producer | William Lyons |
| Series Producer | Joanna Brame |