Main content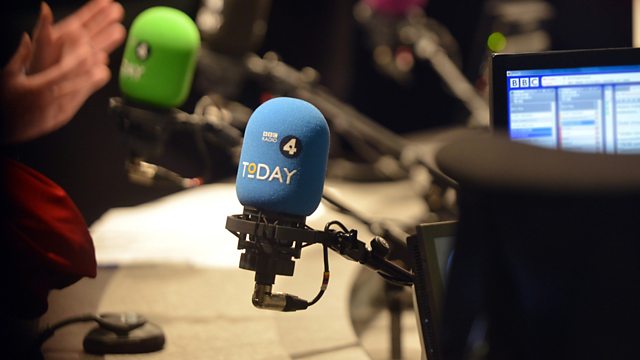 29/07/2016
Morning news and current affairs. Including Sports Desk, Weather and Thought for the Day.
Today's running order
All timings subject to change
0650
The UK's first maternity clinic designated for victims of rape and sexual assault is opening today. Frankie McCamley reports.
0709

Plans to build the first new UK nuclear plant in 20 years have suffered an unexpected delay after the government postponed a final decision until the early autumn. Malcolm Grimston is a senior research fellow at Imperial College London.
0713
BBC News has learned that a troubled NHS trust has paid millions of pounds to companies owned by associates of its embattled chief executive.  Roy Lilley is the former chairman of an NHS trust and now a health policy expert.
0721
Queen Elizabeth's portrait dating back 425 years will stay in England after its private owner said in May that he was selling it.  People were afraid it would go abroad but now it won't due to a huge response from the public who have made 8,000 donations.
0732
Hillary Clinton has made history as the first woman from a major political party nominated for the candidacy of US president. But there are many hurdles ahead. Nick Bryant reports.  
0739
We are following the progress of the The Polar Ocean Challenge - an expedition that hopes to circumnavigate the Arctic to highlight declining sea ice during the summer months. The expedition leader, David Hempleman-Adams has been recording an audio diary for the programme - the latest instalment is from Novaya Zemlya island.
0744
BBC Proms are staging a celebration of the music of David Bowie tonight featuring performers including John Cale, Marc Almond, Laura Mvula and the countertenor Philippe Jaroussky. Neil Hannon from The Divine Comedy is also performing at the Albert Hall.
0751
Pakistan yesterday appointed a senior police official to investigate the death of a British woman whose husband alleges she was killed for marrying him against her parents' wishes. Baroness Warsi is the former chairman of the Conservative Party.
0810

More on the unexpected delay in building the first new UK nuclear plant in 20 years: Barry Gardiner is the shadow secretary of state for energy and climate.  
0818
Next month the Idler Academy will launch an online course so that people can learn Latin from home or on their mobile phones. Harry Mount is a journalist and the presenter of a new Idler Academy course teaching Latin online and Donald Clark is founder and former CEO of Epic Group, a leading provider of E-learning courses.
0836
There is an art to walking in cities. The writer Lauren Elkin has invented a new word for women with her city walks all around the world. Lauren showed our reporter Nicola Stanbridge the art of flaneusing through London.
0847
Foreign Minister Boris Johnson has met his French counterpart Jean-Marc Ayrault in Paris for a working lunch yesterday. During the press conference, he delivered a speech in French - he is not the first to do so. Journalist Jonathan Fenby is the author of the book 'The History of Modern France'.
0852
Hinkley Point got the go-ahead from the French firm EDF but the deal was then unexpectedly paused by the UK government. What happens now? Catherine Mitchell is a professor of energy policy from the University of Exeter and George Monbiot is a Guardian commentator and environmental activist.