Main content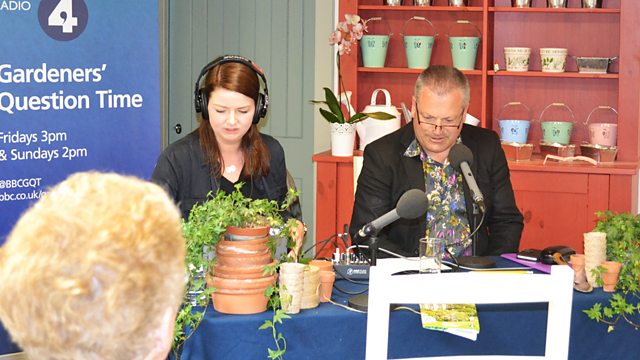 Potting Shed Edition
Horticultural panel show. The panel offers horticultural advice to listeners at this year's Summer Garden Party Potting Shed sessions from Edinburgh Botanic Gardens.
The panel answer horticultural questions from listeners at this year's Summer Garden Party Potting Shed sessions from Edinburgh Botanic Gardens.
Regular panellists Bob Flowerdew, Matthew Wilson, Anne Swithinbank, Bunny Guinness and Matt Biggs offer one-to-one advice to visitors at the Garden Party. Beechgrove's Jim McColl also joins in to discuss peas and ailing Acers.
Christine Walkden suggests Topical Tips.
Produced by Dan Cocker
Assistant Producer: Hannah Newton
A Somethin' Else production for BBC Radio 4.
Fact Sheet
Q – I'm looking after Wasabi plants that are growing very fast, can I plant them outside in my bog garden?
Bunny – I don't think they will survive. They are not totally hardy and slugs love them. I keep mine in the greenhouse – they would not tolerate temperatures below freezing. You can also eat the Wasabi leaves. You could use a glass cloche to protect from the cold.
Q – My Agapanthus has stopped flowering but there is plenty of foliage, should it be divided?
Bunny – The more crammed in the pot they are, the better they flower. Every three years we split up the large pot into two. Pot ash is meant to promote flowering. They might have had too much nitrogen and water and not enough sun. Varieties like 'Blue Storm' flower for longer and 'Peter Pan' is one of the best low, green, broad Agapanthus.
Q -   My 15-year-old 'Victoria' Plum has lots of curled leaves, aphids and black soot but I still get a crop. This year it also has chlorosis on the leaves – is it time to give up?
Bob – I would not worry about it, this should pass. Plums are notorious for missing a year of crop and it is worth thinning the plums in an 'on' year. Other good plum varieties are 'Coe's Golden Drop' and 'Seven Cross'.
Q – I grow carnivorous plants on my window sill – my Sundews (Drosera) have got greenfly. How can I stop this?
Bob – They catch the insects to balance the poor nutrition they are growing in. They need low nutrients and tap water has lime and other nutrients – this will cause overfeeding and they will become soft and more attractive to the aphids. Using distilled, pure water will help the problem. You can remove the aphids with a sticky substance like honey/golden syrup.
Q – I have fungal problems on my heritage variety tomatoes and apple trees – I have been using Copper Sulphate and lime solution.  How do I cure the fungal problems?
Bob – That solution will not help the plants once they already have the fungal problem, it works as a preventative. For the apples Wood Ash will help at the base and you can spray harmless seaweed solution.
Q – I have planted some peas and put up netting but they are not growing at all – what am I doing wrong?
Jim – I think it is the torrential rain that we have had this year, some pea varieties have not grown well. If the roots are discoloured, there may be some sort of disease. You can sew a new crop in the summer too.
Q – I have a problem with planting under an Acer tree – south west facing. The soil is very hard beneath.
Jim – Remove the low branches. You could cut out a small amount of the roots but if you do it at the wrong time they will bleed. Late winter/early spring should be the right time.
Q – 10 years ago I planted a small Viburnum – it is now 2m (6.5ft) – it keeps getting bigger and creating too much shade, what should I do?
Anne – I think it's a semi-evergreen Viburnum x bodnantense. I would remove a quarter of the tallest stems near to the base to take some of the leaf off it – you could do that now. Then lift it in the winter period, dig round it and take up as much root as you can with a new planting hole ready for it. Dig at least 60cm (24 inches) away from the trunk in a circle around the plant – cut through the larger roots and dig under to lift the root ball. If you put hessian under the root ball, then two people should be able to lift it more easily.
Q – I have a large 'Kilmarnock' willow, which has sprouted a second willow from the top of the plant. How should I maintain it?
Anne – To save the willow beneath it would be best to cut off the second one because it will take over – possibly a Goat willow.
Q – We have a 20-year-old, large Peony bush, is it possible to divide it?
Matthew – Generally Peonies do not like being moved, I have an 'Inspector Laverne' – a dark red flower – it has been moved a lot and is still flowering well. If you do move them, they will need a lot of space from other plants especially when they are establishing. You will need to plant them slightly deeper than you think so they do not dry out. They will need feed for the first couple of years and some care and attention in general.
Q – Every year I buy Tropaeolum speciosum and it never lasts into the next year, what can I do?
Matthew – The soil could be too moist and that could saturate it over winter. Improve the drainage of the soil with added grit – it needs to have sharp edges. You can also plant it onto a small mound so the water drains off to either side. You could also try putting it in a large pot.
Q – We have established a long hedge to protect an orchard from wind – we have weeds in the hedge and voles. What are the pros and cons of mulching?
Matt – You could mulch with well-rotted grass clippings or forest bark or anything that gives you a covering layer. The voles also like cover and will eat the roots of trees in the winter. The only thing you can do for voles is use humane traps or get a cat.
Q – Can we make our own seed tapes for people who struggle with eyesight?
Matt – Seed tapes are made from degradable paper. You could also get pelleted seeds, small seeds wrapped in clay. You could also mix up the seeds in silver sand which creates a natural dispersal.
Q – We have a lot of Bearded Irises, to deadhead or not?
Matt – I would deadhead them, if you leave the head on they are naturally going to produce seed. The energy will go into the seed rather than into the plant. Deadheading also increases the flowering period.  I tend to deadhead Gladioli too even though it does look a bit odd.