Main content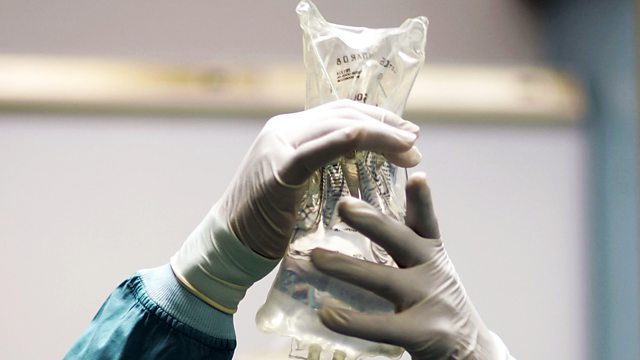 Permanent Vegetative State: Withdrawing Nutrition and Hydration
A car accident leaves Ben in a permanent vegetative state. With no prospect of recovery, is it ethical to withdraw the nutrition and hydration that is keeping him alive?
A young man, Ben, is critically injured in a road traffic accident and is left in a coma.
The family are desperate to save him but, despite the efforts of his medical team, he doesn't recover.
He emerges from a coma into a vegetative state. He fluctuates between periods of sleep and wakefulness but is completely unaware of his surroundings.
After a year, the vegetative state he is in is deemed to be permanent.
Unable to articulate his wishes himself, Ben's family consider what is in his best interests. They believe he would find his day-to-day existence intolerable.
He can breathe for himself so the only treatment keeping him alive is the nutrition and hydration that he receives through a feeding tube into his stomach.
With no prospect of recovery, is it ethical to withdraw the nutrition and hydration that is keeping him alive?
Producer: Beth Eastwood
Photo Credit: Joe Raedle / Getty Images.
Last on
More episodes
Previous
You are at the first episode
The Panel
Professor Celia Kitzinger is Co-Director of the York-Cardiff Coma & Disorders of Consciousness Research Centre.
Professor Lynne Turner-Stokes is a Consultant in Neuro-Rehabilitation at Northwick Park Hospital. 
Victoria Butler-Cole is a barrister who represents families and health authorities who are seeking to withdraw nutrition and hydration from patients in a permanent vegetative state.
Your Comments
I wanted to thank you for your sensitive approach to this very difficult subject. I've recently read a personal account of a similar situation: "The Last Act of Love", in which the sister of a teenager in a permanent vegetative state describes her family's 8 years' experience until her brother's nutrition was stopped.  My older brother died aged 65, suddenly, of a heart attack, 3 days after being admitted to hospital with breathing problems (and other symptoms), having being diagnosed with incurable prostate cancer 11 months earlier. That was last December. I know he would not have wished to be 'kept alive' like these young men.   My family is still coming to terms with our loss - it feels unending - though I know it's a process and will ease over time.

Having heard your programme now, after reading that book and reflecting on my family situation, I strongly think the taboo around death in this country needs addressing.  The fact that some in the caring professions, as mentioned in your programme, have religious or cultural views that may conflict with an individual's/their family's wishes, also needs review.

I have known a situation of a person believed to be in a PVS 'coming out' of it, when an Occupational Therapist noticed a small movement no-one else had spotted. The young man had been in hospital for years. He progressed to using communication aids so that he could state his wishes. I was then a social worker, in Bath - in the mid-1980's. I don't know the final outcome. This means I do understand why some families will live in hope for many years.

So I do encourage you to consider other ways of addressing attitudes towards death. There is a lot of pain being experienced by the families of people who are dying that I'm sure could be avoided or reduced if we could move to an acceptance that death is a part of life - and that many of us die before we are considered old.  We spend a lot of time in fantasy land these days with gaming etc. A touch more facing up to reality wouldn't hurt, would it?

(Barbara Dresner, Stockport)
---
Your very interesting programme highlighted numerous challenges we meet in clinical practice. It also raised many questions.  Those of us who point out the dangers of  "Slippery Slopes" are often derided. What better example, however, than that of the Bland case ruling which classified nutrition as 'treatment'? This  was hailed as a dangerous error by some of us at the time.    From this misclassification led the eloquent plea, in your programme, for involuntary ,indirect euthanasia for Ben by withdrawal of nutrition.  By implication also, for direct, involuntary euthanasia by lethal injection as a preferable alternative. 
Hunger and thirst are not diseases for which food and fluids are treatments. Nutrition fulfils its basic role by sustaining life.  In Ben's case doing this well until deliberately withdrawn in order to end a life which third parties had decided was not worth living. Genuine treatments are properly withdrawn if they become futile in achieving their therapeutic purpose; have benefits outweighed by disadvantages, or if the patient him or herself finds them to be too burdensome. By no stretch of the imagination is deliberately killing a patient, whether directly or indirectly, a therapeutic procedure.  
In your programme the care home where euthanising Ben was declined was spoken of in derogatory terms. Last month the Belgian care home where the euthanising of Mariette Buntjen was declined  was fined a considerable sum.  A warning, perhaps, about slippery slopes?  The humanitarian duty of care to patients, and to their dear ones in distress, needs objective principles rather more than subjective emotions, very understandable as those are.  Written into many international Human Rights documents is the traditionally inalienable principle that the lives of all human beings are of equal value, and worthy of equal respect. It is a wide departure from this to require, in addition to being a living human being, one has to qualify for life by having certain abilities or attributes as well. 
The tragic events of Ben's life and death took place before the defeat of the Marris assisted suicide bill last year by 330 votes to 118.  Before, also, Baroness Neuberger's report, "More Care, Less Pathway" on the LPC.  In that the practice of sedation and dehydration to death was exposed and condemned. In the interests of updating the ethical debate of this case history, and in the interests of free speech and balance, may we hope that the BBC will allow us another episode in the series. One in which we can propose that medical homicide as a solution need not trump more imaginative and advanced medical and nursing care which some of us strive to provide - and for which, we also, receive gratitude from some of our patients.
(Wendy Wright M.B.,B.S.)
---
I am outraged! The programme did not report findings that have been widely known in the neurological community dealing with Prolonged Disorders of Consciousness (PDoC) for the last 10 years: about 15 % of patients diagnosed by their absence of voluntary behaviour (i.e. only reflexive behaviour) to be in vegetative state are actually conscious (http://www.owenlab.uwo.ca/pdf/2013%20-%20Fernandez%20-%20Nature%20Reviews.pdf).
It is extraordinary, given that the BBC itself has shown in a programme (http://www.bbc.co.uk/news/health-20268044) that functional neuroimaging (fMRI) (and indeed high-density EEG) can reveal this. British neuroscientist Adrian Owen was featured in the programme. 
The key aspect that was ignored is that, except in a few world-level university hospitals, the diagnosis of PDoC (Vegetative state (VS) or indeed Minimally Conscious State (MCS)) is made by evaluating the patient with behavioural tools such as the Sensory Modality Assessment and Rehabilitation Technique (SMART) (http://www.rhn.org.uk/our-work/our-services/assessments/smart/introduction-to-smart/) or the Coma Recovery Scale-Revised CRS-R (http://www.tbims.org/combi/crs/), which already is a vast improvement over the 40% misdiagnosis by clinical consensus alone (http://www.coma.ulg.ac.be/papers/vs/schnakers_misdiagnosis_BMCNeurology2009.pdf). However they can miss 15% of patients who are actually conscious. 
The functional neuroimaging techniques can show that in about 15% of 'VS' patients, if you ask the patient to imagine either playing tennis or taking a virtual walk through their house, certain parts of their brain can reliably activate. A team of researchers used this technique for communication: imagine playing tennis if you want to say 'yes' and walking through your house if you want to say 'no' (http://www.coma.ulg.ac.be/papers/vs/NEJM_2009.pdf).
Indeed, the Royal College of physicians (RCP) issued some guidelines in 2013 with regards to PDoC in which the techniques are recognised. See "Imaging and Electrophysiology" pages 26-28 and 34 for RCP recommendations. I am surprised and deeply disappointed that Professor Lynne Turner-Stokes did not mention the research findings! These findings should not have been ignored in a programme about mental capacity and withdrawing nutrition and hydration. See VS patient Kate Bembridge testimony (http://news.bbc.co.uk/1/hi/health/5320234.stm).
Also, a study shows that more than 70% of patients in locked-in syndrome are happy to live, despite being completely paralysed, contrary to the assumptions of healthy people, who assume they would want to die (http://www.coma.ulg.ac.be/papers/vs/LIS_BMJ_2011.pdf). The ethical implications of these findings are staggering and no doubt the courts are beginning to take them into account!
Finally in a book, American Psychiatrist and Jungian Psychoanalyst James Hall describes how he changed his mind, after he became locks-in, and wanted to live despite having left advanced instructions to let him die in case he became incapacitated (https://www.amazon.co.uk/Locked-Life-R-Patton-Howell/dp/0970866623).
 (Antonio Incisa della Rocchetta, Neuropsychologist, The Wellington Hospital)
--- 
I listened to the tragic story on your programme yesterday morning and I was horrified to learn that there are 16,000 people existing in this vegetative state in this country.  What a terrible predicament for everyone concerned. 
I have never heard a stronger argument in support of euthanasia but not by this cowardly method of withdrawing food and water.  Thank God for the Doctor at the end of the programme who would have been kind enough to end that poor boy's life with an injection.  That is what should happen.  Why, when a life is utterly without hope can't we simply put someone to sleep as we do our dogs.  What is wrong with the people who make the law in this country.  I am sick to death of do-gooders pontificating.
Thank you for The Ethics Committee.  It is a brilliant programme.
(Kate Bigland)
---
I am a regular listener and great fan of this programme and for the first time I have felt the need to write to you. Today's programme on the subject of Permanent Vegetative State was outstanding. The contributions of the medical team were clear, comprehensive and most informative. The contribution by Chris's mother was truly incredible. So honest and so revealing. Joan Bakewell was her usual highly professional self.
Her description of Chris's final moments, with the medical paraphernalia removed, was so moving that I had to stop the car to have a good cry!
Anyone who has had to watch a loved one fade away with no hope of recovery could identify with her beautifully expressed emotions.
Thank you. I have told people to listen on iplayer.
(Kathryn Finlay)
---
Thank you for airing this important subject on which progress is so painfully slow - from my perspective anyway. I don't have direct experience of these difficult situations but I do have a good imagination and have thought a great deal over the years about end-of-life and quality of life issues. I've listened to family members and friends who've watched their loved ones dying in circumstances which most of us would not force on our pets.
I've had an advance directive for many years and have mostly thought about the issues from my own perspective - I, for myself, don't want to be in this situation or the other. I have also thought about how others would feel, but that is what this programme really highlighted for me. I thought I was making an advance directive mainly for my own benefit, but the programme made me realise that actually underlying that is what I want and don't want for my children, grandchildren, and great grandchildren. I don't want them to go through what the family in the programme experienced; I don't want them to watch my slow deterioration with dementia or some other progressive disease. And that is more important to me than how I feel about it for myself.
And although I have an advance directive and my doctor and all 6 of my children have copies, the programme has finally kicked me into sorting out appointing a health and welfare power of attorney in the hope of covering all bases. I've been meaning to do it, and now I'm going to sign off and make a phone call - the first step to making it a reality.
Thank you again.
(Patricia Price-Tomes - today fit and healthy at 74 - tomorrow, who knows?)
---
I listened to the programme about ABI today with great interest as my son Angus aged 20 was a passenger in a car crash in 1990 which killed the same age driver who wasn't wearing a seat belt and caused severe irreversible brain damage to Angus who was wearing his seat belt. We experienced all the trauma that was described in the programme made worse by the fact I was in Romania when the driver-caused crash happened.
I could write a book about the subsequent 26 years but suffice to say Angus has made a remarkable recovery as far as has been possible but every day is a challenge. He is physically fit and strong until his brain tires and he has humour and a wit as sharp as a needle yet he is totally disorientated in so many ways and cannot live unsupported. His temper fuse is a millimetre long and he suffers all the issues that brain damage to the right frontal lobe brings. https://www.headway.org.uk/about-brain-injury/individuals/effects-of-brain-injury/emotional-and-behavioural-effects/ are just some.
In combination with support from family and friends, my wife and I have worked ceaselessly to optimise his quality of life and with our constant support Angus is able to do amazing things but the cost to his life and ours is inestimable and its a miracle my wife and I are still together.  
My key point is that it helped us enormously to accept and deal with what happened when almost immediately we stopped using the 'accident' word. We know Angus was in a car crash which wasn't an accident. It had an attributable cause with culpability although we have never denigrated the driver or his family for allowing him to drive a high powered car aged 20. I too was once aged 20.....   
We know a) what happened [a car crashed on a country road] b) the causal factors [the car was being driven far too fast by a young driver who thought he was invincible] and c) why it happened to our son [Angus was in the car driven by his friend at the time it crashed]. Because the crash was predictable, avoidable and preventable IT WASN'T AN ACCIDENT.
Note: The media, and especially the BBC, hasn't caught up with the fact that all rescue services NEVER use the accident word. They attend and record incidents and those that are traffic-related are either crashes or collisions as also used by BRAKE http://www.brake.org.uk/, Cycling UK and Cycling England. Cave, Sea and Mountain Rescue Teams never refer to accidents because they do not prejudge cause and therefore culpability. No-one can foresee or be held responsible for an incident that is unavoidable, unpreventable or unpredictable i.e. an accident.
Finally the police and road rescue services used to attend and record RTAs or Road Traffic Accidents. Some occasionally still use old stock signs with feature the accident word but that is as far as it goes. Foe some time they have attended and recorded RTIs (Road Traffic Incidents).
Pedantic and hair splitting? No at all. Semantics are really important and using the accurate interpretation has helped me hugely. I wish the BBC would wake up to this subtle but influential use of words.
(Ted Liddle)
---
I happened to be able to follow the transmission of today's programme. It was of gruelling substance.
It was perhaps an accident but at the end of the programme there was a moment's silence.....it was so necessary and accentuated the fact that it wasn't longer. There was an urgent requirement for a musical interval. It did not come! Nothing is more "ethical" than a necessity for respect, here there was but an idea, a chance of circumstance, "a mistake", of respect.....the pressure of timetables takes precedent over everything and it is here where we as a society are making a mistake for which we are now paying.
This serious short coming does not take anything away from the benefit I had of listening to the whole programme for which I thank the organisers, the presenter and the BBC.
(Christopher Wood)
---
Thank you for today's sensitive presentation.  Having been a nurse and for most of my career worked in Health Education l found today's programme well-presented and heart breaking.
We are told to look at costs of healthcare in so many areas but this sad tale, which l would have titled "all for the want of fastening a seat belt" made no reference to the amazing cost of attempting to prolong a life which was assessed on admission to hospital as having little potential of having any "quality".
I possibly misheard but l believe there was a reference to an insurance pay out to the family. Surely if we don't comply with driving regulations this negates insurance?  If not why should we comply with regulation, now there's a moral discussion.
(Grace Fox)
---
Hello – I so enjoy your programmes, always intelligently debated, carefully edited, and presented in an understandable format, but never patronising.
This is, of course, a huge problem.  I have nursed such patients.  It is cruel and robs all relatives of a meaningful life as they exist from day to day caught between hope, fatigue, hopelessness and anger.  Obviously it is the time taken if the Courts are involved which intelligent persons must now give their undivided attention, with a view to shortening the whole exercise. Compassionate medics should not be consumed with the threat of litigation and accusations by some less intelligent person of killing hanging over their heads.  16 000 patients in PVS cannot be right at any level, either emotional, physical or financial..
Please keep these difficult issues in the limelight: I try my best to get my friends and acquaintances at least thinking over the dilemmas with which family members might be faced, and to make their wishes known through advanced directives, which are still a blunt tool, but the discussions are invaluable.
(Patricia Spencer-Barclay)
---
Another brilliant programme this morning from La Grande Dame Bakewell. This programme together with In Our Time, are worth the licence fee all on their own. Inside the ethics committee manages to integrate all the many facets – emotional, legal, medical and ethical – of truly terrible situations objectively but sensitively, avoiding the hysterical tone that often accompanies other reports of similar stories. Whenever I find myself thinking "yes, but what about…", I find my question answered in the next few minutes.  Half-listening before the start, I fear I heard someone say this was the final series. I hope I was mistaken. It would be a massive loss.
(Helen Middleton-Price)
---
Just a brief note to thank you for the first programme in what I think you announced was the last series of this wonderful offering.
Joan Bakewell is marvellous, we all know that, and the way the issues are revealed and discussed is marvellous – no dumbing down here.
The removal of nutrition and fluids is a hoary topic- and, of course, nutrition is a clinical intervention in the severely ill or non-able bodies-we should all remember Tony Bland and his family who made the medical profession see sense on that - but this was handled so empathetically – the delays because all sides are hesitant to take the decision on their individual shoulders was clearly discussed. I guess there is no real solution to this but to have to wait for proper judicial judgment after the decision to withdraw has been taken is surely foolish and distressing for loved ones and carers too.
The mother in this particular episode was wonderful and her final comments about her son being at peace should be of help to many in similar predicaments. Life is a thing of beauty and quality and not just something mitigated by bodily functions.
If this is the last series we will be the poorer for it next summer.
(Liz Langley)
---
Having listened to this morning's broadcast I am now in an emotional state.  My husband suffered a severe head injury 8 years ago.  He was in a coma for over 5 weeks, and although he never descended into a permanent vegetative state, in the early days we were warned that this might happen.  Your programme brought those days back.  My daughters and I did discuss this possible outcome.  We all have medical training and a knowledge of what is involved.  My initial reaction was that I would rather he died then, than have him go through a prolonged legal procedure which could last year's.  Also, selfishly, if he did regain consciousness, that his character remained the same.  I could deal with physical disability, but a complete change of character to the opposite of the lovely man, husband of over 35 years, father and grandfather would be more than I felt I could cope with.  I rather he died then than have years of a very happy marriage wiped out by an aftermath of trying to care for a complete stranger.
I was blessed with my husband regaining consciousness, having his brain and memory rebuilt by the amazing staff at the rehab unit in Barnsley, to the effect that he was home within 8 months of his accident.  Our lives were totally changed, but his essence remained, it was a wonderful and fulfilling final 8 years, he died peacefully at home last summer at home with his family around him.  We had so much fun and laughter, in between ups and downs of deteriorating health, operations and treatments. I am so glad we were granted the time we had, and have no bitterness at the deal we were dealt.  It was as good a quality of life that we could manage.  I have every empathy for those whose life has taken such a different course and the decisions, and battles, they have to endure.   I totally agree that there should be an exit strategy for those whose in a permanent vegetative state.  Surely the process could be speeded up, with the correct checks and balances, and a proper strategy worked out.
(Christine)
---
Speaking from experience!
I cared for my wife in bed for several years after a major stroke: Half of her body was 'dead', hence her throat only half functional needing liquidised foods: She got a throat infection which closed the other half to the extent that she could not take, even, water: In 24 hours she was unconscious and on third day she died in a skeletal condition, unconscious.
It is important to note, in the context of you team's discussion this morning, that unconsciousness is very rapid after withdrawal of water.
I would mention that there was a build-up period of a day or two when water was supplied in the form of fruity jelly, only.
She was 81 when she died.
(Brian Dawtrey)
---
This is an excellent programme and raises many issues.   However, it is marred by the continuous use of the so-called 'historical present'. Many of us listeners (including John Humphries!) dislike this intensely but accept that it's usage is now universal throughout the BBC as it's deemed to add dramatic content through the sense of immediacy.
What is most irritating though is the constant switching from the present to the past tense throughout your programme. Joan Bakewell uses the present tense mostly when describing the story, whereas the family members who are recalling events use the past tense, and indeed in today's programme Joan Bakewell herself switched between the two. This makes for difficult listening and after a while is very annoying and detracts from the programme content. So PLEASE in future would you stick to one or the other - preferably the past tense as the events described have already taken place?
(Joanne Bramley)
---
I listened to the programme with sadness and pity for all those involved - to have to decide to lose someone you love, and through that process.
However, I think it is a case of societal hypocrisy that we are content to remove nutrition - effectively killing by benign neglect - but too cowardly to take an active step by assisting their death.
Watching someone you love starving to death, and knowing the outcome is inevitable is cruelty towards all concerned, and we would rightly be called to task if we did it to an animal.  Have we not that duty to make the death easier for the victim and the family, to allow them to say their goodbyes and let the life end?
I must here state my profound respect for the family who allowed their tragedy to be made public and their courage in participating.
(Michael Pierce)
---
Thank you for your program today. I was left moved to tears at the final image of a young man at peace and his family able to see him free of monitors and tubes. Please if you are able to thank the family for sharing their story. I lost my partner over twenty years ago now and the tears I am crying now are as fresh as the day I lost him. But the pain does slowly move away from the flavour of the tears.
(Maniraja)
---
What a moving programme, and what a brave, loving family.
(Janice Kerr)
---
I have just listened to the very moving and horrific programme about Ben who was in a permanent vegetative state for over 4 years.  It is disgraceful that a family had to be put through such an appalling ordeal. At the end when the judgement had been made that the victim should be allowed to die, what possible reason could there be to deny a quick and completely painless death by lethal injection. Surely it was inhumane to allow Ben to die slowly for eight days. A very cruel punishment for this poor family.
(Hilary Hough)
---
A superb programme. Radio 4 at its absolute best; analytical, thoughtful, informed and deeply personal. Joan Bakewell is the most wonderful presenter and she is excellent in this programme.
The editing was masterful. Thank you for 45 minutes of completely absorbing radio listening.
(Heather Swarbrick)
---
Thanks for your programme, it's helped me make my decision to make damn sure I have a legally binding document to protect me from 'ethics committees' projecting their own immature, materialist fear of death on to me. The lack of empathy is frankly frightening. I have already written in various places what my clear wishes would be were I in such a state, but to find out from your programme that none of these writings, however clear, are not legally binding, is not only a huge concern, but an obvious motivation to have a legally binding document.
It is the simple fact that you worded the question thus: 'is it ethical to withdraw nutrition...' – this, psychologically, reveals everything. Surely the question should be worded thus: 'is it ethical to not withdraw nutrition...'.
The problem, of course, is materialism (stemming directly from the judaeo-christian ideology). The idea that 'life' does not include the predicate 'quality'. This would not be a problem if you believed in reincarnation!
I have to get back to work now so i can't expand on this – but I do think you need to do some proper self-examination here. Eat the apple!
All the best, however,
(Evie)
---
Your programme bought back difficult memories of my mum, who in her 80's had suffered a major stroke.
Fairly soon after the initial hospitalization (maybe three weeks' timescale bit of a blur now).  My brother and I had to make a decision about whether a feeding tube should be attached as mum had lost the ability to swallow with only a slim chance that this would come back, she was in a state where she could communicate a little butt not enough to take that sort of decision.
A  passing comment by a male nursing assistant who said i know if it was my mother I wouldn't want to put her through that and prolong her life in that way. We all had a strong  Christian faith (including my mum and she had lost my dad a couple of years before) I know that in my heart I agreed with the medic and that although I didn't want to be parted from my mum knew she would have chosen not to have had her life prolonged.
However my brother had a different opinion and was adamant that everything that was possible to be done for her should be. So the feeding tube was fitted, she was sent to our local cottage hospital where she remained for the next two years with the feeding tube.
At the beginning she could communicate with us a little and have simple conversations and we did see some recovery but she was often confused and suffered other strokes A lovely senior nursing sister her swallow capacity and helped her to drink a cup of tea at one point but said it was too dangerous for other nursing staff to do this as the liquid could have gone to her lung. her skin was beautiful as she was receiving good nutrition I went in to see her almost every day (except for when I was having my third child at the age of 45)! The staff were lovely and caring.
My brother who lived 200 miles away was not able to visit very often and I had the day to day task of visiting, keeping  an eye on her house and financial affairs as well as looking after a new baby and a 2 and half year old .
I took my baby in to show her when he was a week nor so old and she sort of looked at him and held him but think it confused her and she kind of thought that she had a baby!
Eventually we had a call from the hospital to say that there had been a failure with the feeding tube mechanism and that a new one would have to be fitted if we wanted the feeding to continue – this time we agreed that this would not be done. 
It then took two to three weeks before she died. I had the privilege of being with her in a side ward when she did (on my own) The staff knew that it was going to be soon and were concerned that I had been on my own with her at the end – she seemed very peaceful and had had another visitor from the church a little earlier, who seemed to encourage her to let go and a few minutes after the visitor had gone, she did.
I don't know what it would have been like to have not had that period of two years – I felt In such a difficult position as I know we all have different responses to situations and it did not seem right to push for my views to go against how my brother felt, although lots of emotion and relationship stuff within the family to deal with, as well as everything else. I had a wonderful supportive husband (who passed away 3yrars ago from cancer) and throughout it all a strong sense of knowing through my Christian faith that I was not going through these things alone and that I was being given strength and courage at every stage.
I do feel that it would have been so much easier for everyone in the family if the medical staff – the consultants at the beginning of my mums hospitalisation had had the power to decide not to fit the feeding tube – they could only advise and because there were differing views could not help - it seemed such a lot to go through for mum, as well as us, only to have a death by starvation at the end of it. There are of course no easy answers and issues vary according to the age, circumstances and beliefs of the people involved.
Sorry very long email but first time I have shared about it (16 years ago now) as life as bought many more challenges since then.
Hope your programme has helped others to know they are not alone in these difficult moments. I pray they will receive the help they need when faced with them
(Gillian Francis)
---
Dear programme makers, presenter Joan Bakewell and participants in today's programme on PVS & withdrawing food & drink,
Thank you very much for covering this so well. It gave me hope that some day reason will prevail in preventing the dreadful delays caused by having to go through the courts & also, hearing that the medical staff interviewed here support giving an injection to end a life in these circumstances, that some day not only there might be pressure sufficient to end these delays but also perhaps a quick safe way to end an intolerable situation. (Excuse any garbled syntax in my haste but should be understandable.)
I fully agree with the mother who said you would not put an animal through this. In this case it was a young life and you may well have dealt with the situation in older people; I know for example that you dealt with the two headline cases a couple of years ago regarding termination of life, but this did not deal as far as I know specifically with food and drink. (I will listen again to check) What I would like to raise now is the issue of palliative care in circumstances where a decision is made to withdraw food and drink in care homes. The programme stated that some care homes would not allow this because they find it distressing ( and I think there were other ethical reasons for refusing which weren't fully gone into however I got the picture), yet it was made clear that if sustenance were withdrawn proper care should involve sedation and analgesia. The patient in the PVS would appear to be suffering (sweating and other reactions etc) but that the sedation & analgesia would actually prevent suffering.
Now, what happens when a care home states that they provide palliative care but prescription or administration of medicines is influenced by doctors or nurses who have their own ethical objections to anything that brings death closer? The administration of drugs is controlled by the staff on duty at the time. This is a terrible situation and I found myself witnessing this in 2011 when my mother was dying in a nearby care home with nursing. They state that they provide palliative care. Unfortunately at this time the dreadful Liverpool Pathway was still operating, but to a certain extent that is not relevant. I accepted that she was dying because she had no will to eat and the nurse on duty (I'll say "Ann") when I went to visit thought that she might have a few days. As it happened she lived fairly comfortably most of the time for another five weeks. I was visiting every day, usually two or three times, and "Ann" told me that she had been put on the Liverpool Pathway. I took this to mean that they could not/would treat her but I ignored the business of not providing sustenance. I didn't know the criticisms of the Pathway at the time but it just seemed ridiculous not to give her anything if she might enjoy the taste of something or even benefit from it; even at age 96 she might rally if she perked up a bit mentally, as other patients had done in the home. I didn't believe in keeping her alive just for the sake of it (I do believe in assisted dying) but discomfort from normal dehydration, on hot days say, when you don't drink enough, is bad enough - parched throat, headaches, cramps. Plus I had heard that death from dehydration is a particularly awful death. So I told the staff that I would give her something like yogurt & honey. They provided (ghastly) orange "drink". She really enjoyed the yogurt etc  and i gave her a fair amount of the drink. In the end she didn't rally & of course there is the question that this small amount of nourishment meant she hung on longer than perhaps at 96 one might think is "necessary" or even "kind", however she was not suffering and was pleased to see me & experience the taste and some liquid.
That is background to the point I want to make about palliative care. After perhaps three or four weeks one nurse, I think "Ann" had spoken to my mother's GP when he visited about sedatives and painkillers. I was a novice about all this and had not made enquiries about the process, as I say , just doing my own thing, but when she told me the GP had indeed prescribed them I was amazed that this had not been done earlier because although she did not seem to suffer she was sometimes a bit restless and we did not know about pain for sure. (A nurse said that even if the patient does not communicate verbally about pain they tend to screw up their face & my mother wasn't doing that). "Ann" asked me about giving my mother the sedative and she did say that if she did it would help her to be peaceful but she would stay like that, not properly conscious. I said I was happy for that. To my dismay a nurse on  shift a day or two later had not administered the same medication and my mother was disturbingly restless. It took some persuasion from me to get her to give her "a little" sedative and she referred to the possibility of it meaning an earlier death than if not administered. I suddenly realized that her own views were preventing what I had thought was to be my mother's treatment and peaceful end. I suspect this may have been a religious conviction but am not sure, and also felt this from her GP's words even though he had prescribed the drugs, because he too referred to the case of speeding death. He might have just been accounting for the nurse's reluctance as opposed to his own feelings (despite the fact that I think both he & Ann had Irish catholic backgrounds). They were both very humane whereas the second nurse was letting her own beliefs interfere with a prescribed treatment, which is the very treatment, sedation and analgesia, desired by the contributing medical staff in your programme. I didn't know what to do. When you are in a care home at midnight and the nurse doesn't do what you know has been started by another nurse with the GP's prescription, and you think they are acting in the patient's best interests but realize, I firmly believe, that this person in authority is not doing the best as was decided, you can't really ring a GP at that hour. I got his view, as mentioned above, the next day. Nevertheless i still felt very powerless and had to persuade, especially as it was an injection so I could not do anything myself.
It was a horrible predicament and this was not providing the palliative care that the nurse should have done. I should probably have been much more insistent, but I asked had there been no instructions left in the light of the GP's prescription & didn't get a decent answer. My realization talking to other relatives there from time to time was that they usually did not feel they could complain because they did not have the experience to know what was correct/normal or not, or they were afraid that their relative would be moved because staff would then say they couldn't cope. My own actions were inadequate even though i did speak up, as I was not forceful enough. We relatives feel too inept or uninformed about what is best. So in my mother's case the Liverpool Pathway fortunately went by the board because I ignored the principles & the carers then just did what I did in helping with drinks. This helped with comfort i think.  What I'm asking you that you might do is somehow to publicise and discredit the actions of those who try to avoid a GP's advice & prescribed treatment because of their own ethical/religious stance. This should be part of the provisos in employing staff in these circumstances, the same as any nurse who is anti-abortion opts not to work on a gynaecological ward because they don't want to be involved in a procedure which might in fact be an abortion but they don't know in advance so can't avoid.
Excuse length & poor phrasing as I'm rushing. Hope you can do something in terms of publicising this problem. I don't suppose it could be the basis for a programme as it would be a case of a nurse not following doctor's advice & they wouldn't own up to that. Now I've spent the time writing I'll try & think who I might forward this to for consideration as a problem to be resolved. Maybe CQC.
(Pamela Kelly)
---
I found your programme this morning regarding the young man, Ben, most interesting.     He had a twin brother and before the accident a whole life ahead of him.
Would it have been ethical for Ben's parents to request the hospital to obtain some semen portions from Ben, to be used after his death to provide a grandchild for the parents and a blood relative for the surviving twin?
(Roger Gooderidge)
---
My condolences and thanks to the family and production team for presenting this very moving programme. Having been in a similar situation 34 years ago when regulations were different I totally identified with them.
I was exceedingly moved by the courage of all involved and I hope it gives a little clarity and guidance to anyone who may find themselves in a similar dilemma.
Thank you all. A wonderful programme.
(Alison Sanders)
---
In today's edition of Inside the Ethics Committee, I am surprised no mention was made of the value of Positron Emission Tomography (PET) in assessing what level of consciousness is possible following catastrophic brain injury. PET scanning can accurately show whether or not oxygenated blood and glucose is present in the cerebral cortex, without which consciousness is not possible.
(Tom)
ENDS
Programme Transcript - Inside the Ethics Committee
Downloaded from www.bbc.co.uk/radio4
THE ATTACHED TRANSCRIPT WAS TYPED FROM A RECORDING AND NOT COPIED FROM AN ORIGINAL SCRIPT.  BECAUSE OF THE RISK OF MISHEARING AND THE DIFFICULTY IN SOME CASES OF IDENTIFYING INDIVIDUAL SPEAKERS, THE BBC CANNOT VOUCH FOR ITS COMPLETE ACCURACY.
INSIDE THE ETHICS COMMITTEE
Programme 1 – Permanent Vegetative State and Withdrawing Nutrition & Hydration
TX:  04.08.16 
PRESENTER:  JOAN BAKEWELL
PRODUCER:  BETH EASTWOOD
Bakewell<?xml:namespace prefix = "o" ns = "urn:schemas-microsoft-com:office:office" />
Food and water: the very stuff of life.  A person so severely brain injured they can't feed themselves, is given nutrition and hydration directly into their stomach. 
But what if such nourishment is all that is keeping them alive and that being alive is judged intolerable?  When and how is it ethical to withdraw it?  Such issues arose in the case of Tony Bland, injured in the Hillsborough disaster.
Welcome to Inside the Ethics Committee.
Today's real-life story starts 10 years ago one evening in the spring of 2006.  Identical twins David and Benjamin are 16 years old.  David recalls what happened.
David
We had gone to see an old friend of ours for the weekend and we were coming back to school on the Sunday night and we were running a little bit late.  So we were told by the driver's mum, just take it easy, there's no rush, if you're five minutes late, you're five minutes late.
Bakewell
A friend drove them and another friend back to school. David and Ben were in the back.  It's only a 15 minute drive but, when they were a few minutes from the school, their car collided with an oncoming vehicle.
David
When I woke up or gathered my bearings I got out of the car and the other driver was already on the phone to the emergency services.  Then I noticed my brother wasn't there.  And a car was coming up the road and it was an elderly couple and they'd stopped in front of what looked like a dead deer.  I then figured out that that was my brother lying motionless in the middle of the road.  I bent down, started yelling his name.
Bakewell
Ben hadn't been wearing a seatbelt and had been ejected from the car on impact. His twin, David, runs to the school for help.  Ben is resuscitated at the scene before being transferred to a hospital that can cope with his head injuries.  The neurosurgeon.
Neurosurgeon
At two o'clock in the morning Benjamin arrived.  The scan showed extensive bruising to the brain with a blood clot pressing on to the brain.  The only reversible element was to take away the blood clot, which we subsequently did as an emergency in the operating theatre.
Bakewell
After three hours in surgery Ben is transferred, unconscious, to intensive care.
Neurosurgeon
We were very gloomy in regard to Benjamin's prognosis.  There was a significant chance he wouldn't survive, there was a significant chance he would be left disabled.  But it was very, very unlikely that he would ever recover to a reasonable quality of life as might be assessed being independent for all activities of daily living and having a future in terms of employment.
Mum
The neurosurgeon came to find me.
Bakewell
Ben's mother
Mum
He said - I gather that you had twins in this accident.  And I said – yes.  He said – we've done everything we can for your son and there's nothing you can do here, your place is with the living, you must go to your other son because he needs you far more.
Bakewell
Ben's mother travels to the hospital where her other son David, and the front seat passenger, are being treated for their injuries.  Tragically, in the early hours of the morning, their friend, who had been driving the car, dies. 
Despite David's broken ribs and fractured sternum, the hospital agree to discharge him so he can be with Ben.
David
I couldn't believe what I was looking at.  From his legs to his face was just tube after wire after tube.
Bakewell
Ben is critically ill, unconscious and on a ventilator.
Mum
There was still scuff damage from the road all over his face and shoulder.  He'd broken a collarbone and that was sticking up quite painfully.  They had not at that point wired his jaw back in place, so he looked a very battered and bruised boy.
David
To be confronted with a lifeless brother with massive black eyes and machines beeping and whistling at you, I couldn't stay for very long.  I had to leave the room just to gather myself to go back in.  And the only part of him I felt comfortable touching were his hands, even though he had loads of drips in.  So I just grabbed one of his fingers and just sat there in silence, I just couldn't take it all in at that time.
Bakewell
Ben is kept under sedation to allow his brain swelling to settle.  After about 10 days the team withdraw this so that they can assess the extent of the injury.  The news isn't good.
Neurosurgeon
Benjamin had very little response.  There was no verbal response and there was no visual response.  His only response was to very deep pain, so for example pressing on the nail bed, a very sensitive area, with a biro one would elicit a very minimal extension response.  So the wrists turn outwards.
Bakewell
Ben is in a profound coma.  He is unable to cough and can't clear his airway.  So the team want to make an opening in the front of his neck to fit what's called a tracheostomy, so that a tube can be inserted into Ben's windpipe to clear it.  Oxygen-rich air from the ventilator can also be passed through this opening, rather than through his mouth.
The team also want to fit a feeding tube into Ben's stomach to keep him nourished and hydrated.  These decisions are not taken lightly.  Sometimes the decision is made to withhold such life sustaining treatments if it's felt they're not in the patient's best interests.
Neurosurgeon
There are patients one meets where they're elderly, perhaps a background cancer, where the individual have discussed with the family a very strong wish that they don't wish to be disabled and under those conditions and with agreement a treating team may choose to withdraw treatment and certainly not escalate in terms of tracheostomies and feeding tubes.  But obviously they are decisions that are not easily made, particularly in the acute situation of Benjamin, who was a 16 year old boy and we did not know his potential for recovery at that stage.
Bakewell
In consultation with the family, the team fit Ben with a tracheostomy and a feeding tube.  A few days later, Ben - still unconscious - gradually becomes less dependent on the oxygen the ventilator is providing and just two weeks after his accident he's breathing on his own. 
But soon after, there are setbacks. Ben develops hydrocephalus, fluid on the brain, and undergoes surgery to insert a tube to drain it.  With each crisis the team do everything to save Ben's life.  The family is determined to give him every chance.
Mum
At that point, like a lot of families in that situation, I felt that I was almost certainly going to have my younger son back, permanently in a wheelchair, very probably sight impaired, that he would need to be helped to feed himself.  We were just thinking we want him to open his eyes, we want him to squeeze our fingers, we want him to start trying to speak – those were the terms of reference that we understood.
Bakewell
Ben has been on the brain injury unit for over a month now. He has emerged from his coma and now has periods of being awake and then asleep, but remains completely unaware. 
He's in what's called a vegetative state.
The neurosurgeon appreciates just how poor Ben's outlook is likely to be.  At the same time he understands why his family want everything done.
Neurosurgeon
A lot of patients in such a profound condition as Benjamin are going to make what would objectively be seen as a very poor recovery and at the worst a persistent vegetative state.  For myself I would hope that my family had the courage to let me die.  For my family I would fight to the bitter end.
Bakewell
Joining me to discuss this case today are:  Professor Celia Kitzinger, Co-director of the York-Cardiff Coma and Disorders of Consciousness Research Centre and Professor Lynne Turner-Stokes, Consultant in Brain Injury Rehabilitation at Northwick Park Hospital.  She chaired the working party for the National Guidelines on Prolonged Disorders of Consciousness.
So Lynne, let's discuss the medical situation here.  We've heard that Ben was in a coma and then emerged into a vegetative state, what's the difference?
Turner-Stokes
So in a coma you are asleep essentially – the eyes are shut and the patient has no awareness of anything.  In a vegetative state the eyes are open, the patient starts to have sleep/wake cycles, as we call it, they're awake but they're not aware.  They may show a number of spontaneous movements – their eyes may rove around, they may have spontaneous movements of the limbs and some swallowing, chomping, type of movements in their mouth and so on but there's no intention or purpose.  They don't, for example, discriminate in their responses to different people.
Bakewell
You mention gesture, you mention people having eyes open in this situation, so do families think this means recovery?
Turner-Stokes
Yes, even I find it difficult sometimes and I think – are they looking at me, are they not.  So if it's hard for me, as a professional who knows this field, think how much harder it must be for families to try and unpick what is just reflex and what is actually a response.
Bakewell
But how do you tell, is there absolute proof?
Turner-Stokes
There's no absolute proof but what we do is go through a very systematic process of assessment and we're looking for the frequency of interaction and the range of behaviours.  And if we see a trajectory towards getting more behaviours, more consistency, then that may be an indication that there's change happening.
Bakewell
I understand that you welcome the use of smartphones to record, by the families who are sitting there, is that so?
Turner-Stokes
Yes it is.  I've certainly got examples where the family's shown me one of those videos and that's been the first sign that we've seen that there really was an interaction happening.
Bakewell
That's very impressive.  Now Celia, you've had personal experience of all this, do tell me what happened.
Kitzinger
My sister, Polly, was in a car accident in 2009 and very severely brain injured, so she was in a coma and then a vegetative state for some time.  We moved very quickly though from hoping that she would recover to hoping that she would be allowed to be at peace because from everything that we knew about Polly and her values and her beliefs and her commitment to her own independence and making her own decisions no way would she want to receive the treatment she was getting.
Bakewell
So why wasn't the treatment withdrawn in the first few months if you thought those would be her wishes?
Kitzinger
Because the consultants disagreed with our decisions about what was the appropriate treatment and it's their decision not families' decisions unless you've written it down in a legally binding form, which is called an Advanced Decision to Refuse Treatment.
Bakewell
She hadn't written anything down?
Kitzinger
Oh she'd written lots of things down, none of them were in a legally binding form.  The other thing Polly could have done, we wish she had done, was appoint someone she trusted as lasting power of attorney for health and welfare, which relatively few people have and that enables somebody else to make medical and healthcare decisions for you if you can't.
Bakewell
Lynne, we've heard that Ben is reacting to deep pain, this pressing on the nail bed, that's the bottom of the nail isn't it, and that shows a level of consciousness does it?
Turner-Stokes
No, the type of thing you'd look for in awareness is if somebody is making some sort of response that makes you think that they are localising to that pain, so they're moving some way or looking towards the part that is being made painful.  But the reflex, just generalised signs, will happen anyway.
Bakewell
How do you know patients in a vegetative state are not in pain?
Turner-Stokes
We can't know for certain and hence, as a clinician, when managing a patient we will use analgesia, we would always be very careful about looking for signs of pain, attention to detail is really important to make sure that you've removed every possible source of pain, making sure that there isn't too tight catheter bag, elastic round the leg or something like that or something small that you might miss.
Bakewell
Now Ben has only had brain injury for six weeks so presumably it's too early to say whether he will progress at all or not.
Turner-Stokes
Yes it is.  I mean I have many patients who've been in a vegetative state for several months and have actually gone out of my unit and gone back to a very meaningful life and sometimes even back to work of some sort.  So you really can't reliably make judgements at that stage and obviously you travel in hope at that point.
Bakewell
And that's exactly what was happening, wasn't it, to Polly, Celia, that's how the team were addressing her problem.
Kitzinger
I think the team were of the view that she would probably be in a vegetative state for a long time.  There was a small possibility, they told us, that she might regain some consciousness.  Within the year she had become minimally conscious, which was terrible – speaking to other families I've realised many families do not receive the news that a patient is now minimally conscious as good news.  It means that we're now certain that the patient can feel pain and you know that they are going through torture.
Bakewell
So back to the real life case.
It's June 2006 and after six weeks in intensive care, Ben is transferred to a brain injury unit where patients are assessed for rehabilitation.  The neuro-rehabilitation specialist who treats Ben.
Neuro-rehabilitation Specialist
Benjamin was at the severe end of the spectrum when he first came under my care, so he was in what we call a vegetative state such that at times his eyes would be open, at other times of the day or night his eyes would be closed.  He was able to breathe on his own through his tracheostomy tube.  He had a feeding tube into his stomach, so that we could feed him.  He had no voluntary movement in his arms or legs, so taking him from a lying position in bed to a sitting position in a chair he would need to be hoisted.
Mum
He could, at that point, open his eyes but his eyes struggled to focus and very often they would just dance very rapidly from side to side.  He could open his mouth and make a sort of teddy bear growling noise.
David
A routine started to form for us as a family and as time passed there were fewer tubes and the monitors were nowhere near as in your face.
Mum
They were beginning to work on basic stretches, so that the muscles didn't contract.  And we actually began to feel that we were on the road forward.
David
Every time I saw him I was just caught up in that moment, I was just still pleased to see him.  It was all moving slowly but surely in the right direction, which was always nice.
Bakewell
But their hope is short-lived.  Over the coming weeks, Ben suffers a series of setbacks - repeated chest infections, epileptic fits and the hospital-acquired infection MRSA.  Each time doctors intervene to save Ben's life.  And then a problem arises with his feeding tube.  It has become dislodged and Ben will need surgery to have a new tube inserted into his stomach.  These life-saving decisions are complex and always made in conjunction with the family. 
Neuro-rehabilitation Specialist
Benjamin's family were very keen that we should do everything we possibly could to facilitate any recovery.  So when he got a chest infection they were very keen that we should treat him with antibiotics; when we had trouble with the feeding tube they were very keen that we should have that tube replaced and so we could nourish him and hydrate him again.  At the other end of the spectrum we get families where they say this is an absolute disaster, please don't do this, please don't do that.  So we in those circumstances are more likely to set a lower ceiling of care.
Mum
In my innocence I assumed that if his stomach was repaired and the peg feeding tube replaced then we would be back where we were on a slow but definite road to progress and recovery.
Bakewell
And of course Ben's mother may well have been right.  Just a few months since his brain injury it's impossible to say for sure whether he will remain in a vegetative state or not. 
Some patients remain in this state beyond 12 months and are then deemed to be in a 'permanent vegetative state'.  Some regain some levels of awareness and are said to be 'minimally conscious'. 
Neuro-rehabilitation Specialist
The third possible outcome would be somebody with a very severe physical disability who was nevertheless able to communicate to a certain extent and also gain some pleasure from being alive and being with friends and relatives.
Bakewell
The longer Ben remains on the unit, the clearer it becomes that he is unlikely to recover.
A place is sought for Ben in a care home.  But the intensity of care he needs makes it difficult for everyone, including Ben.  After several months, the family find another care home.
Mum
Once Ben had finally settled into his care placement the staff started a process of seeing exactly how accurate his senses were.  We took in things for him to smell, things like engine oil and the aftershave that he was wearing.  We took DVDs, so that he could watch his favourite television programmes, listen to his favourite music – again anything that might penetrate the mist that he was living in.  And it became obvious that nothing was reaching him at all.  We got to the point where we knew the body was still very much alive but the brain, the soul if you like, wasn't there.
Bakewell
Now over a year since the accident, Ben is considered to be in a permanent vegetative state.  He requires intensive nursing and treatment for his repeated infections and to manage his epileptic fits. 
Mum
For about two and a half years we lived on a knife edge because it was felt by everybody in his care team that a minor infection would almost certainly kill him because he was so frail and so weak.  But he was a fighter, he was in his teens, he'd got a young man's fit strong body and we began to feel that the one thing that we had dreaded – his death – was the only thing that was going to release him from the nightmare that he was now in.  If he got a chest infection, a suctioning tube had to be put down his throat and his lungs had to be suctioned out.  It inevitably made him gag and it was horrifying to watch.  Sometimes his jaw locked and his teeth couldn't be cleaned.  He would bite his tongue.  His hands and feet were in splints, which rubbed, but they had to be in splints because by that point his tendons were retracting.  And on the occasions when he didn't have splints on his hands then his fingernails would dig into his palms.  The big problem for us was we couldn't tell if he was actively in pain.  And sometimes he'd look at me as if to say – mum, make it all go away. 
Bakewell
Given Ben will always need ongoing care, the family have been seeking compensation from the driver's insurance to help pay for it.  A neurologist is asked to provide a legal report on Ben's diagnosis.  His colleague, who is an expert on the permanent vegetative state, meets with the family. 
Expert
He was two and a half years down the line so I told them that statistically his prognosis was around about 15-18 years more life but that it might go on for another 40 years or so.  So that leads to the question well should we treat any infections to keep him alive or not.  And had a shortage discussion about that pointing out that infections would rarely actually lead to a shortening of his life but they might lead to discomfort and so we should treat them.  And then we've moved on very specifically to the question of continuing giving him fluid and food through his so-called peg tube.  So I've said one option that we must consider is whether or not it is correct and right to carry on feeding and giving fluid to Benjamin.
Mum
None of us wanted to face life without him being there.  If I was feeling really down I could go and visit him and hold his hand or just sniff his hair.  And in that respect, at least, my boy was still there.
Bakewell
Not long after this meeting, the subject of withdrawing nutrition and hydration is raised again.
Mum
I'd been seeing a therapist who specialised in working with families with acquired brain injury.  She suggested to me that as a family if we felt the situation was beyond all hope we could ask the health authority to apply to the courts.  So we started to discuss that very, very seriously.
Bakewell
Back to our panel now and joining Lynne Turner-Stokes and Celia Kitzinger to discuss this case is Victoria Butler-Cole, a barrister who represents families and health authorities who are seeking to withdraw nutrition and hydration from patients like Ben.
Victoria, what does the law have to say about this?
Butler-Cole
Well you mentioned earlier the case of Tony Bland and his case went to the courts, back in the 1990s, because the view was taken by people involved with his care that he was in a vegetative state and that it wasn't in his best interests to keep him alive in that state.  And the doctors knew that if they withdrew is artificial nutrition and hydration he would die.  And of course their usual approach would be to keep their patients alive as long as possible.  So the courts were asked to look at this and to say well can you do this, can you lawfully withdraw the food and the fluids or is that killing your patient.  And that case went all the way to the House of Lords.  And the House of Lords decided that it was lawful to withdraw the artificial nutrition and hydration and the way that they reached that conclusion was to say that this was a form of medical treatment that was being provided and that it wasn't in Tony Bland's best interests.  And the reason it wasn't in his best interests was because in a vegetative state there was no way that it could have any benefit to him.
Bakewell
And you're allowed in law to withdraw treatments if they're not in your best interest?
Butler-Cole
That's right, in fact you can only provide medical treatment to someone if it is in their best interests.
Bakewell
Right.  Okay Lynne, now why is nutrition and hydration a treatment, it doesn't like it?
Turner-Stokes
In order to deliver that food and fluid there has to be a tube into the stomach.  And delivering that is a medical intervention to put that tube in and they don't just sort of go in once and stay there, as we've already heard they can block, they need to be replaced and that's the medical bit and hence why the General Medical Council now refers to it as clinically assisted nutrition and hydration.
Bakewell
So that case helped clear things up a good deal.  Nonetheless, is it usual practice to go to court to withdraw other types of treatment from such patients?  Victoria.
Butler-Cole
You might need to go to court if there was a big disagreement about what was in the patient's best interest.  But if there's agreement about it, generally speaking, that's sufficient and the doctors will then proceed…
Bakewell
Okay so why do health authorities, like the one overseeing Ben's care, have to go to court to withdraw nutrition and hydration?
Butler-Cole
Well the judges in the House of Lords in Tony Bland's case realised that this was a really significant ethical issue, not just a legal issue.  And so what the judges said was that it would be good practice for doctors to apply to the court and everyone would have a degree of reassurance that the matter had been looked at properly.
Bakewell
How likely is the court to permit withdrawal in Ben's case do you think Victoria?
Butler-Cole
Ever since the Bland decision it's really been almost automatic that once the diagnosis of permanent vegetative state is confirmed it follows inevitably that providing the treatment isn't in the person's best interest because what the House of Lords said was that someone in that state doesn't really have any best interest to consider because they're not aware of themselves or the world and so treatment is futile and therefore it's not in the patient's best interest to receive it.
Bakewell
How many cases have been brought since the Tony Bland ruling?
Butler-Cole
It's probably 40 or 50.
Bakewell
Celia, it feels as if once a person is deemed to be in a permanent vegetative state – one year in Ben's case – there's a sort of critical window when withdrawing nutrition and hydration closes.
Kitzinger
Yes I think it's an extraordinarily bizarre situation that until the person is formally diagnosed as being in a permanent vegetative state it's possible to withdraw treatment without making an application to the court.  That possibility closes once you've got a diagnosis of a permanent vegetative state, which then means that the case has to go to court.  So because families don't want to go to court, because trusts don't want to go to court, because nobody wants to go to court because it's expensive and because it causes delays often these cases do not go to court and nobody then enacts best interest decisions.  So there are up to 16,000 patients in a permanent vegetative state in England and Wales today and a tiny minority of those cases have ever been taken to court.
Bakewell
Now let's go back to the case.
It's autumn 2008, two and a half years since Ben's accident, and his family have just learnt that withdrawing nutrition and hydration is an option.  The neurologist who first raised the issue thinks they should have been told much earlier.  But teams shy away from the subject.
Expert
The large majority haven't been faced with this situation before, know that they don't know the answers to almost all the questions that arise and that never looks good.  So, for example, a family will talk about the person concerned and say – yes but when somebody puts a needle in him he winces, how do you know he's not feeling pain.  And then people will ask straightforward questions like – how do I know that the person cannot hear their voice.  But I think for many clinicians they find it difficult themselves to understand and they find it difficult to answer that sort of question, so they don't like doing it.
Bakewell
And of course for families it's extremely difficult too.
Mum
I grew up acknowledging that life was sacred but the way Ben was living wasn't a life in any meaningful sense.  And I just didn't feel that any code of ethics would actually put an animal through that, never mind a human being.
David
It was a horrible thought once the question had been posed, trying to make up your own mind where you stand and what would be in the best interest for him.  I always thought of it as if he was in my shoes would he be thinking the same as me.  And although I could never say a 100% I felt a lot more comfortable in myself knowing that they were going to be as close as possible between the two of us making the decision for each other.  We all came to the same conclusion separately.  It wasn't something to be celebrated, it felt hollow in some ways.  That was it now.
Bakewell
The family want Ben's nutrition and hydration to be withdrawn.
The health authority responsible for Ben's care apply to the Court of Protection – who can make decisions for people who don't have the capacity to do so. 
Mum
It became obvious to us very early on that although the health authority were very willing to help us this was not something that they had done very often.  In fact I'd go so far as to say they were perhaps as intimidated by it as we were.
Bakewell
To make a decision, the health authority has to determine whether continuing to give Ben nutrition and hydration is in his best interests. The process drags on.  After much deliberation they agree to make an application to the Court of Appeal.
As part of the application the expert neurologist, who had met with the family the previous year, is asked to provide a report on Ben's current neurological state.
Expert
When I went to see Benjamin there was no evidence of awareness.  So my conclusion at that time was that he was undoubtedly in a vegetative state and that it was undoubtedly permanent.
Bakewell
It's now over a year since the family approached the health authority but they are still waiting for a court date.  A year becomes 18 months.
Mum
The situation had drifted on and then we got a court date.  And at that point Ben staged a miraculous recovery – he started waving to his carers in the morning and trying to speak to them, so they said.  Now we knew that that couldn't possibly be the case but it did mean the official solicitor had to confirm everything that had been established three years previously and that meant that we lost our court date.  So it dragged the procedure on.
Expert
The overall impression was that normal reflex movements were being interpreted as evidence of awareness.  There are quite a few care homes where the general philosophy is that they do not want feeding and hydration to be withdrawn and so will tend to impose their view by giving you observations that they think hope or expect will reverse the decision.  And so I need to make a judgement as to how credible sometimes the observations and always the interpretations are.
Bakewell
The owner of the care home makes her views known to Ben's mother. 
Mum
First of all she said that this was something she didn't agree with and that secondly it couldn't possibly be managed on their premises and that Ben would have to be moved, despite his extreme fragility.
Expert
This is not common but it is certainly not uncommon.  So I would say that certainly some care homes absolutely will not do this and the person then needs to be moved.
Mum
I was then asked to visit her and she told me that I was condemning him to a slow and horrendously painful death that no painkiller could possibly alleviate and was I really sure that I wanted to do that.  So I telephoned our expert neurologist and he reassured me straightaway.  But a family in trauma don't need that kind of misinformation.
Bakewell
It's perfectly legal to withdraw nutrition and hydration from a person in a permanent vegetative stage if it is deemed to be in their best interests.  However, all cases have to be heard by a High Court judge in the Court of Protection, a process that can take up to two years. The expert neurologist feels this lets families and patients down.  Why does it take so long?
Expert
The fundamental problem is that clinical staff don't naturally want to get involved, don't push, managers don't know, don't want to get involved and don't push, lawyers acting for the trust do not know what to do.  I've recently been in a case where I provided them with a report, three months later I telephoned to find out what is happening – they hadn't done anything because nobody was quite sure what they should do.  Nobody really owns this.  Now if this was somebody who needed lifesaving treatment things would move quickly.  It isn't – everybody treats this as the lowest priority possible, of no concern.
Bakewell
Back to our panel now to discuss this case further: Lynne Turner-Stokes, Celia Kitzinger and Victoria Butler-Cole.
Celia, you've spoken to families who've gone through this, what was it like?
Kitzinger
For the families that we've done research with it was an extremely frustrating and anxious time.  It had often taken them years to come to terms with the idea that this was a way they could enable their relative to die and they had begun to experience the continued feeding as force feeding, torture, they wanted the tube feeding removed in order to let the person be at peace.  And they were often instigating the case, they were the ones who often heard about it accidentally through another source, read about it in a newspaper, went to the consultant and said – can this be done.  And then sometimes had to fight against entrenched views that no it couldn't be done and it was the wrong thing to do.  It had taken the families around nine months from when the application was submitted to when the case was actually heard in the Court of Protection.  And during that time there would be various setbacks.  They would have to keep writing, emailing, phoning up saying what's happening, they found it a devastatingly difficult process.
Bakewell
How much does all this court procedure cost the NHS Celia?
Kitzinger
It costs around £120,000 per patient, about £50,000 of that is in legal costs and the rest is the cost of keeping the patient alive between the time when the best interest decision has been made to withdraw the treatment and the time when the judge makes the decision that that can be done.  So this is entirely unnecessary cost because it's delivering treatment that it's been agreed the patient shouldn't have.
Bakewell
Is that ethical Lynne?
Turner-Stokes
That's a big problem because of course underlying all medical care we give is the principle of first do no harm and one is giving a medical treatment that is not in the patient's best interests and that I'm afraid technically constitutes an assault.  And so it is a very difficult situation.
Bakewell
What's the legal situation about that Victoria?
Butler-Cole
Unfortunately it's not very clear.  It's lawful to continue to provide treatment while you're awaiting a decision from the court but whether ethically that's right, particularly if the decision is going to take a year or even longer, I think is a very different question.
Bakewell
So what is the alternative?  Do these cases need to go to court?
Butler-Cole
My view is that this is not really an area where the lawyers have anything much to add.  These cases now come down to a question of diagnosis and the court's role in cases that come before it essentially really is just to verify whether that diagnosis is correct.  But of course the judges and the lawyers don't know the answer to that, only the doctors can assist them with the diagnosis.  And so the actual legal part, which is evaluating the person's best interests, is very straightforward and I don't think does need to be done through a convoluted court process.
Bakewell
What do you think of it Lynne?
Turner-Stokes
I would agree, there should be no need to go through a court process.
Bakewell
But if it has to go to court can it be made easier?
Turner-Stokes
I think it can.  We have been working to try and develop a fast-track process, where it's absolutely clear that the diagnosis is permanent vegetative state and everybody are agreed that it's not in the patient's best interest to continue food and fluid.  And under those circumstances if one can present a concise set of documentation to the court, simply to say everybody's agreed, that shouldn't need to go to a formal hearing.  Unfortunately it's not been possible so far to get that accepted by the courts but we are still working on it.
Bakewell
So let's discuss then the withdrawal of food and fluid.  It's the dying process.  I think the great distress that lurks in everybody's mind confronted with this is what will it feel like.  Celia, what do the people who share experiences with you what do they make of this situation?
Kitzinger
The families that we've done research with are very frightened about what the death will be like.  They talk about nightmares, about somebody shrivelling up and turning into a skeleton.  And they're also frightened because almost always they've witnessed near deaths from lung infections and from other kinds of issues since they became ill.  The families that we've interviewed who've been through the court procedure and who have proper palliative care packages are then reporting peaceful deaths.  They say that they felt good about the patient's own wishes and own values being allowed to take precedence and they talk about a sense of relief and a sense of having done the right thing by the person.
Bakewell
What do you feel about this Lynne?
Turner-Stokes
The guidelines recommend a very clear palliative care programme – sedation and analgesia – to make sure that the dying process is as calm and peaceful as it possibly can be.  Quite apart from the concerns that everybody might have that the patient is suffering because the body is reacting to the lack of nutrition and hydration any spontaneous activity that they had can be more pronounced, so it can appear to other people that they're suffering distress.  So they may be sweating, they may be breathing very rapidly and quite apart from that they visibly lose a substantial proportion of their bodyweight as they become dehydrated.  So there's a great burden of witness both for the family and for the care staff and it's not something to be undertaken lightly, which is why we recommend that withdrawal is done in centres where there's experience of this.
Bakewell
Celia, what do the families feel might be a possible alternative? Do they feel that assisted dying would have been preferable to the withdrawal of food and fluid?
Kitzinger
They frequently make the point that the person is going to die anyway, from the moment at which the treatment is withdrawn, and that rather than protract it over the two to three weeks that it typically takes it would be kinder to give an injection.
Bakewell
A fatal injection?
Kitzinger
Yes.
Bakewell
Would you be prepared to do that Lynne?
Turner-Stokes
Yes, having managed a number of patients where we've withdrawn nutrition and hydration when they're in permanent vegetative state I'm aware that despite our best efforts we don't always get the palliative care as good as we should.  And in this particular context where death is inevitable anyway actually as a compassionate doctor I feel that it probably would be the right way to manage it and if it were legal and providing I was certain that all the correct procedures had been gone through then yes I would be prepared to administer that injection in this particular situation.
Bakewell
Well let's hear what happened in this case.
In the winter of 2010, more than two years after the family first approached the health authority and over four and a half years since Ben's brain injury, the day of the final hearing arrives.  The family speak via video link to the High Court judge to confirm that they are all in agreement with the request.
Mum
We were all pretty intimidated at the thought of trying to explain all of this with barristers and a high court judge in attendance and yet the day of the hearing everything ran so smoothly.  The judge didn't have to ask us too many questions and his key aim, I think, was to hear from each member of the family that we were in total agreement that this was the right thing to do.
Bakewell
The judge agreed that continuing to provide nutrition and hydration to Ben was not in his best interests and permitted its withdrawal.  Ben was moved to a hospice which agreed to nurse him through his final days.
David
It wasn't something to be celebrated.
Mum
No.
David
The best way to describe it – relief.
Mum
Yes.
David
It had been a long slog to get to that point and when we were told it was granted it was a weight off shoulders I think.
Mum
Yes.  Very relieved.  He had his feeding and hydration withdrawn and it took about eight days, didn't it..
David
Yeah.
Mum
And in that time his pain relief was expertly managed.  In a beautiful bedroom overlooking a courtyard garden.  We could come and go as we needed to.  And he died when we weren't there.  And by the time we got to him he was settled comfortably in bed and do you know the best thing – every drip, every monitor, they were all gone.  And he was at peace.
ENDS
Broadcasts

Podcast
Joan Bakewell and a panel of experts wrestle with the ethics of a real-life medical case.