Main content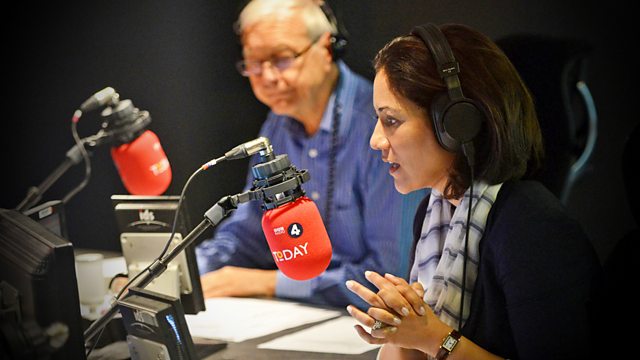 03/08/2016
Morning news and current affairs. Including Sports Desk, Weather and Thought for the Day.
Today's running order
All timings subject to change
0653
The unofficial race to choose the next UK's city of culture has begun. Nick Higham has been reporting from six city contenders: Paisley, Coventry, Sunderland, Hereford, Stoke-on-Trent  and now Perth.
0709
Important news about how consumers may get cheaper gas and electricity will be revealed. The watchdog Ofgem gives its verdict on the competition and markets authority's (CMA) suggested measures. Dermot Nolan is the chief executive of the energy industry regulator Ofgem.
0713
How will the big six energy suppliers including British gas, EDF and Npower respond and what does it mean for some of the smaller energy providers? We hear from the boss from First Utility, Ed Kamm.
0717
The second Briton to die fighting with the Kurds against Isis has been named as Dean Carl Evans - a 22-year-old from Reading.  Mark Campbell is a London based pro-Kurdish activist who speaks on behalf of Dean Carl Evans' family and also liaises with the YPG and its political sister organisation the PYG.
0724
2015 was the warmest year on record with the Earth's surface reaching more than 1°C above pre-industrial levels. The levels of greenhouse gases also reached new high levels. Professor Peter Stott leads the climate monitoring and attribution team at the Met Office Hadley Centre.
0733
A ruling is expected later today in the case of a 21-year-old British woman who claims she is being held against her will in Saudi Arabia in her father's home. We hear from a national charity that supports victims of so-called honour-based abuse and forced marriage.
0743
One of the most endangered species of big cat, the Amur Leopard, has given birth to two cubs in Twycross Zoo in Leicestershire. Charlotte Macdonald is director of Life Sciences at the zoo.
0750
A House of Commons Committee report says Britain's Border Force has a "worryingly low" number of boats to patrol the UK's coasts. MPs warn that coastal security is under threat from people smugglers. Tony Smith is the former director general of the UK Border Force and now a consultant on border security. Martyn Underhill is the Police and Crime Commissioner for Dorset.
0810
More on Ofgem's measures to make sure consumers get the best deals for fuel. Lawrence Slade is the chief executive of Energy UK, the trade association for the energy industry
0820
This year marks Roald Dahl's centenary and Wales is trying to reclaim him with a series of events kicking off in Abergavenny. Professor Damian Walford Davies is editor of 'Roald Dahl: Wales of the Unexpected' and Lleucu Siencyn is chief executive of Literature Wales.
0831
Republican nominee Donald Trump claims the US presidential election is being rigged. We speak to Daniel Kay Johnstone - a biographer of Donald Trump.
0836
A committee of MPs says that some councils are not "pulling their weight" in helping to settle Syrian refugees. Councillor Kevin Davis is the leader of Kingston Council.
0842
This summer we are following the progress of The Polar Ocean Challenge, an expedition that hopes to circumnavigate the Arctic to highlight declining sea ice during the summer months. The expedition leader David Hempleman-Adams has been recording an audio diary for the programme - here is the latest instalment. 
0848
Today marks the centenary of the execution of Sir Roger Casement at Pentonville Prison in North London. The Irish born former British diplomat tried to smuggle 20,000 rifles into Ireland on the Good Friday before the Easter Rising. Some feel he has been written out of history in part due to his sexuality. Marie Coleman is from Queen's University Belfast and Patrick Gegohegan is from Trinity College in Dublin.