Main content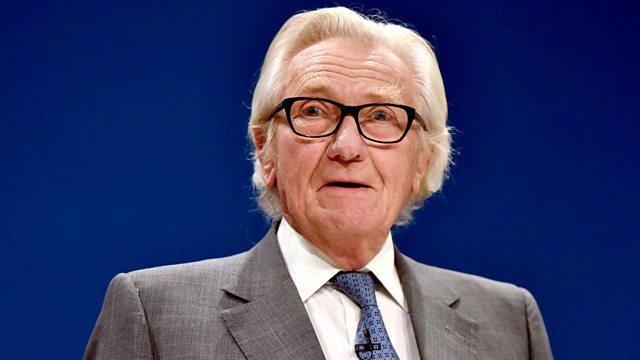 Peter Hennessy invites a senior politician to reflect on his or her life and times. This week, his guest is Michael Heseltine, the former deputy prime minister.
In this series, Peter Hennessy, the historian, asks senior politicians to reflect on their life and times. In this first programme, Michael Heseltine, one of Britain's most charismatic, controversial and dynamic politicians, reveals the experiences and motivation that fuelled his life's journey from a comfortable childhood in Swansea and student days at Oxford, to his turbulent time at the top of politics.
Never one to shun the limelight, Heseltine recalls how, as a would-be MP in his native South Wales, he engineered a clash with Aneurin Bevan, the legendary Labour orator. He also tells why he was wary of revealing that his political hero is another great Welsh radical, Lloyd George. Heseltine's hero among Conservatives is Harold Macmillan, who inspired his beliefs in 'One Nation' Toryism and Britain's role in a united Europe. After becoming an MP in 1966, he served in Edward Heath's Government in the early 1970s. He sheds fresh light on Heath's defeat and tells why, despite agreeing with Heath's pro-Europeanism and moderate Toryism, he could no longer support him in 1975.
Although Heseltine will be remembered for his part in Thatcher's fall, he casts her premiership in fresh perspective by emphasising the continuity with earlier Tory efforts to reform Britain. He explains how she was persuaded to accept his plans to regenerate London docklands and inner-city Liverpool. However, he remains convinced that he had no alternative but to resign as Defence Secretary in 1986 over Westland's future, because the Cabinet meeting had been a 'set up'.
His commitment to 'the forgotten people' in deprived areas remains undimmed, but he suspects that his legacy will be the arboretum that he and his wife, Anne, have worked on for 40 years.
Producer: Rob Shepherd.
More episodes
Previous
You are at the first episode