Main content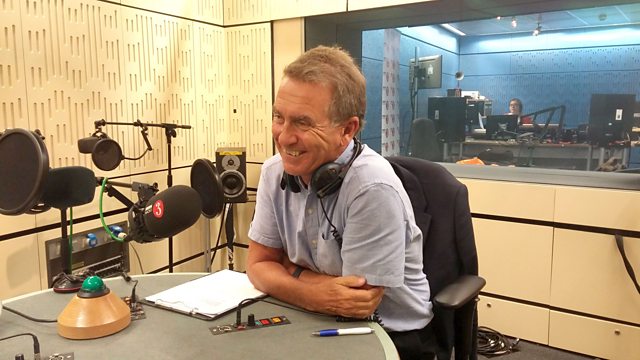 Friday - Rob Cowan with Garry Richardson
With Rob Cowan. Including My Favourite Marches; Liszt: Transcendental Studies after Paganini; Artist of the Week: cellist Alban Gerhardt, featured in Prokofiev's Symphony-Concerto.
9am
My Favourite... Marches. This week Rob slips on a sturdy pair of boots and steps out to the accompaniment of some of his favourite marches - imperious Mozart, Tchaikovsky's patriotic Marche slave, the humbling Dead March from Handel's dramatic oratorio Saul, the famous Alla marcia that closes Sibelius's Karelia Suite and, most imposing of all, the grief-laden Marche funèbre from Berlioz's Grande symphonie funèbre et triomphale.
9.30am
Take part in today's challenge: listen to the clues and identify the mystery music-related object.
10am
Rob's guest this week, sharing a selection of his favourite classical music, is the journalist and presenter Garry Richardson, who has been bringing sports news to radio listeners for over thirty years. Garry currently hosts 5 Live's Sportsweek, as well as presenting the sports section of Radio 4's Today programme, and has interviewed leading personalities from Muhammad Ali and David Beckham to Arnold Schwarzenegger and Bill Clinton. Garry will be talking about his career and sharing music by composers including Gershwin, Bach and Verdi every day at 10am.
10.30am
Music in Time: Romantic
Today the spotlight is on the Romantic era and Liszt's Transcendental Studies after Paganini, the digit-defying demands of which pushed pianistic pyrotechnics to the limits on their publication in 1838. Just as Paganini's writing for the violin had redefined what was technically possible on that instrument, Liszt rewrote the piano rulebook, producing works of great charm and brilliance that for many years were unplayable by all but a handful of pianists.
11am
Rob's Proms Artist of the Week is Alban Gerhardt, who ranks among the most sensitive cellists of the younger generation. Gerhardt appears at London's Royal Albert Hall this Wednesday as the soloist in Dvorák's Cello Concerto. Throughout the week on Essential Classics we'll hear Gerhardt perform a rich variety of Romantic cello music. The repertoire ranges from the Bachian tones of a Max Reger solo suite and a rarely heard sonata by Alkan, to the subtly-woven sound-world of Fauré's First Cello Sonata and Enescu's powerful Sinfonia Concertante. Friday's featured work is Prokofiev's Symphony-Concerto, an affirmative piece in spite of the composer's declining health and the ever-present menace of Stalin's disapproval.
Prokofiev
Symphony-Concerto in E minor, Op. 125
Alban Gerhardt, cello
Bergen Philharmonic Orchestra
Andrew Litton, conductor.
Music Played
My favourite... marches

Garry Richardson's Choice

Rob's Choice for Garry Richardson

Music in Time: Romantic

Artist of the Week: Alban Gerhardt
Time Travellers: the podcast