Main content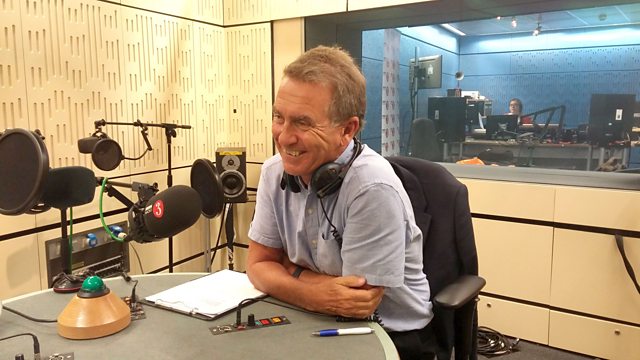 Thursday - Rob Cowan with Garry Richardson
With Rob Cowan. Including My Favourite Marches; Music in Time: Lully: Orchestral Suite (Atys); Proms Artist of the Week: Alban Gerhardt, featured in Alkan's Cello Sonata in E.
9am
My favourite... marches. This week Rob slips on a sturdy pair of boots and steps out to the accompaniment of some of his favourite marches - imperious Mozart, Tchaikovsky's patriotic Marche slave, the humbling Dead March from Handel's dramatic oratorio Saul, the famous Alla marcia that closes Sibelius's Karelia Suite and, most imposing of all, the grief-laden Marche funèbre from Berlioz's Grande symphonie funèbre et triomphale.
9.30am
Take part in our daily musical challenge. Two pieces of music are played together: can you identify them?
10am
Rob's guest this week, sharing a selection of his favourite classical music, is the journalist and presenter Garry Richardson, who has been bringing sports news to radio listeners for over thirty years. Garry currently hosts 5 Live's Sportsweek, as well as presenting the sports section of Radio 4's Today programme, and has interviewed leading personalities from Muhammad Ali and David Beckham to Arnold Schwarzenegger and Bill Clinton. Garry will be talking about his career and sharing music by composers including Gershwin, Bach and Verdi every day at 10am.
10.30am
Music in Time: Baroque
Rob places Music in Time. Rob heads back to the Baroque era to hear an orchestral suite from Lully's opera Atys, assembled, not by Lully himself, but by the pioneering Dutch publisher Estiennes Roger a decade or so after the composer's untimely death. Roger's commercial instincts proved to be spot-on, and the suite from Atys was not only popular but also enormously influential, helping to kickstart the development of the Baroque orchestral suite.
11am
Rob's Proms Artist of the Week is Alban Gerhardt, who ranks among the most sensitive cellists of the younger generation. Gerhardt appears at London's Royal Albert Hall this Wednesday as the soloist in Dvorák's Cello Concerto. Throughout the week on Essential Classics we'll hear Gerhardt perform a rich variety of Romantic cello music. The repertoire ranges from the Bachian tones of a Max Reger solo suite and a rarely heard sonata by Alkan, to the subtly-woven sound-world of Fauré's First Cello Sonata and Enescu's powerful Sinfonia Concertante. Friday's featured work is Prokofiev's Symphony-Concerto, an affirmative piece in spite of the composer's declining health and the ever-present menace of Stalin's disapproval.
Alkan
Cello Sonata in E, Op. 47
Alban Gerhardt, cello
Steven Osborne, piano.
Music Played
MY FAVOURITE...MARCHES

GARRY RICHARDSON'S CHOICE NO.1

GARRY RICHARDSON'S CHOICE NO.2

GARRY RICHARDSON'S CHOICE NO.3

GARRY RICHARDSON'S CHOICE NO.4

Music in Time: Baroque

PROMS ARTIST OF THE WEEK: ALBAN GERHARDT
Imperfect Harmony
The music played:
Stravinsky
Symphony of Psalms: 3rd movement
Russian State Academy Chorus
Russian State Academy Orchestra
Igor Markevitch (conductor)
PHILIPS
 
Debussy
Children's Corner: I. Doctor Gradus ad Parnassum
Pascal Roge (piano)
DECCA
The Classical Companion Collection