Main content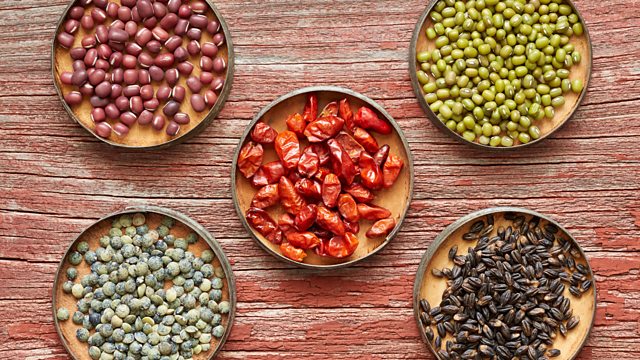 Raising the Pulse
Sheila Dillon hosts a panel on pulses, with Sanjay Kumar and Jenny Chandler cooking in the studio and Nick Saltmarsh on setting up a company to market British beans to consumers.
Pulses are little marvels - protein packed lentils, peas and beans are cheap, good for health and help the soil. They're central to many food cultures including Italy and France but as a nation we eat very few other than baked beans. Now the Food and Agriculture Organisation has announced the 'Year of the Pulse' to encourage us to eat more but they may be met with reluctance from some quarters.
Sheila Dillon's panel will kick off any tarnished reputation of wind and worthiness with tips on how to prepare pulses with ease and how to choose them. Chef Sanjay Kumar and cookery expert and author Jenny Chandler get cooking in the studio with a breakfast sambhar from Goa and 'black badgers and bacon' - a traditional Black Country dish better known as grey peas and bacon which tastes far better than the name would suggest.
Farmers across the UK grow fava beans to help enrich the soil yet most of them are exported or fed to animals. Nick Saltmarsh was so shocked when he learnt this that he set up a company to market British beans to consumers and he's now asking farmers to grow other varieties especially. In addition to dried and tinned pulses he's selling them as snacks and flours and looking into pastas and other uses for them. Sheila's also discovered a beer made from British fava beans and now chocolate covered pulses are hitting the shelves. It's a hard job but someone's got to try them for you.
Presented by Sheila Dillon
Produced by Anne-Marie Bullock.
Last on
Sanjay's Ready Steady Sambhar
Ingredients
3/4 cup Moong Dal (yellow lentils)
2 Okra
1/2 cup Green Beans
2 tbsp Coconut Oil
1 tsp Mustard Seeds
7 Curry Leaves
2 pinches of Asafoetida
1/2 cup Chopped Tomatoes
3 small Red Onions
2 1/2 tbsp Tamarind Pulp
3 tbsp Sambhar Powder
2 tsp Chilli Powder/Turmeric Powder
Salt to taste
2 tbsp finely chopped Coriander Leaves
To make the Sambhar
1. Wash the dal thoroughly and drain.
2. Toast the lentil on a non sticking pan for a few minutes.
3. Combine the okra and green beans with 1 cup of water in a deep non-stick pan and cook on a medium flame for 4 to 5 minutes or till the vegetables are soft. Keep aside.
4. Heat the oil in a deep non-stick pan and add the mustard seeds, curry leaves and asafoetida and sauté on a medium flame for a few seconds.
5. Add the tomatoes, mix well and cook on a medium flame for 1 to 2 minutes, while stirring occasionally.
6. Add the cooked okra/green beans, onions, tamarind pulp, toasted dal, salt, sambhar masala, chilli powder, turmeric powder, and ¾ cup of water, mix well and bring to boil and allow to cook on a medium flame for 2 to 3 minutes, while stirring occasionally.
7. Cook on a medium flame for 2 to 3 minutes, while stirring occasionally.
8. Add the coriander, mix well and cook on a medium flame for 1 minute.
9. Serve hot with freshly steamed idlis or boiled rice.
Jenny's Grey Peas and Bacon
Makes 10-12 small bowlfuls.
A classic Black Country dish, popular on Bonfire Night but worth cooking anytime you need to feed a crowd.
If you live in an area with particularly hard water it is worth adding a teaspoon of bicarbonate of soda to the soaking water otherwise the peas can take an age to cook.
500g Dried Carlin Peas (aka Maple Peas or Black Badgers)
25g Butter
1 Onion, diced
300g Streaky Bacon, smoked or unsmoked, chopped into small pieces
75g Pearl Barley
Salt and Black Pepper
Cider Vinegar (optional)
Soak the peas overnight in plenty of cold water.
Take a really large saucepan and fry the onion and 2/3rds of the bacon in the butter for about 10 minutes, until the onion is soft and the bacon begins to colour.
Drain the peas and add them, along with the pearl barley, to the pot with enough water to cover them by about 10 cm.
Bring the pot up to the boil and then cover and turn down to a simmer to slowly bubble away for around an hour until the peas are tender. Keep an eye on the water, you may need to add a little more (the peas should always be submerged), the idea is to finish up with a stewy consistency with no need to strain off any delicious juices.
Taste the peas and season with salt and pepper. I like to add an unorthodox splash of cider vinegar.
Fry the remaining bacon in a little butter or oil until crisp and sprinkle over the grey peas to serve.
Credits
| Role | Contributor |
| --- | --- |
| Presenter | Sheila Dillon |
| Participant | Sanjay Kumar |
| Participant | Jenny Chandler |
| Participant | Nick Saltmarsh |
| Producer | Anne-Marie Bullock |
Broadcasts