Main content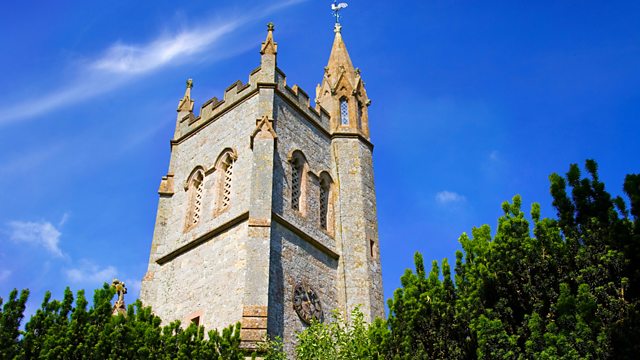 Faith and the Uncertainties of Life
Fr. Michael Gollop explores how the Gospel equips us to deal with the unexpected. The service led by Fr. Mark Zorab comes from the parish church of St. Arvans, Chepstow. The Cantemus Chamber Choir is directed by Huw Williams. Organist Peter King. Producer Karen Walker.
Script:
Please note:
This script cannot exactly reflect the transmission, as it was prepared before the service was broadcast. It may include editorial notes prepared by the producer, and minor spelling and other errors that were corrected before the radio broadcast.
It may contain gaps to be filled in at the time so that prayers may reflect the needs of the world, and changes may also be made at the last minute for timing reasons, or to reflect current events.
OPENING ANNO FROM R4:
BBC Radio 4. Time now for Sunday Worship which comes this week from the Parish Church of St. Arvans, near Chepstow.   The service, reflecting on the theme of Faith and the Uncertainties of life, is led by Fr. Mark Zorab and begins with an introduction by the preacher, Fr. Micheal Gollop.
ITEM 1 WELCOME & INTRODUCTION 
Welcome to the parish of St Arvans. We are a small village community at the lower end of the beautiful Wye Valley in Monmouthshire. There has been a Christian community and a Church on this site since Celtic times and the age of the Saints in Welsh history.
It's thought that the Wye valley was on one of the many pilgrim routes to Santiago de Compostela.  I myself walked one of the routes to that place of pilgrimage a few years ago and it was to open my eyes and heart in unexpected ways.  Travelling on foot to a Holy Place is, at its essence, an encounter which leads us to embrace greater simplicity in our lives and an accepting openness to those we meet along the way.  We reflect today, in the midst of anxiety and the uncertainties of life, on the need to walk along the path of life with the grace to seek true freedom and our greatest treasure in the person of Christ.
We begin our worship with a joyful hymn: Christ is the King.
ITEM 2 HYMN  CHOIR/ORGAN 
Christ is the king
ITEM 3 COLLECT FR. MARK ZORAB
Let your merciful ears, O Lord, be open to the prayers of your humble servants; and that they may obtain their petitions make them to ask such things as shall please you; through Jesus Christ your Son our Lord,
who is alive and reigns with you, in the unity of the Holy Spirit, one God, now and for ever.  AMEN
ITEM 4 FIRST READING   
A reading from the book of Ecclesiastes beginning at Chapter 1  
Vanity of vanities, says the Teacher, vanity of vanities! All is vanity.
I, the Teacher, when king over Israel in Jerusalem, applied my mind to seek and to search out by wisdom all that is done under heaven; it is an unhappy business that God has given to human beings to be busy with. I saw all the deeds that are done under the sun; and see, all is vanity and a chasing after wind. I hated all my toil in which I had toiled under the sun, seeing that I must leave it to those who come after me – and who knows whether they will be wise or foolish? Yet they will be master of all for which I toiled and used my wisdom under the sun. This also is vanity. So I turned and gave my heart up to despair concerning all the toil of my labours under the sun, because sometimes one who has toiled with wisdom and knowledge and skill must leave all to be enjoyed by another who did not toil for it.
This also is vanity and a great evil. What do men get from all the toil and strain with which they toil under the sun? For all their days are full of pain, and their work is a vexation; even at night their minds do not rest. This also is vanity.
Reader / This is the Word of the Lord   Response / Thanks be to God
ITEM 5  ANTHEM: CHOIR / ORGAN
How lovely are the Messengers.  
Mendelssohn 
ITEM 6 GOSPEL READING
A reading from the Holy Gospel according to Luke  
Glory be to thee, O Lord.
Someone in the crowd said to Jesus, 'Teacher, tell my brother to divide the family inheritance with me.' But he said to him, 'Friend, who set me to be a judge or arbitrator over you?' And he said to the crowd, 'Take care! Be on your guard against all kinds of greed; for one's life does not consist in the abundance of possessions.' Then he told them a parable: 'The land of a rich man produced abundantly. And he thought to himself, "What should I do, for I have no place to  store my crops?" Then he said, "I will do this: I will pull down my barns and build larger ones, and there I will store all my grain and my goods. And I will say to my soul, 'Soul, you have ample goods laid up for many years; relax, eat, drink, be merry.'" But God said to him,  "You fool! This very night your life is being demanded of you. And the things you have prepared, whose will they be?" So it is with those who store up treasures for themselves but are not rich towards God.'
This is the Gospel of the Lord     Praise be to thee, O Christ
ITEM 7 LINK FR. MARK
As we continue our pilgrimage of faith towards the vision of God, we are reminded that, living or departed, we are one in Christ.
The choir sings Stanford's 'Justorum animae' - the souls of the righteous are in the hand of God.
ITEM 7a ANTHEM
Sanford: Justorum Animae
ITEM 8 ADDRESS 1 FR. MICHAEL GOLLOP   
After all the events of the last month  - with political upheaval, terrorism and violence around the world - we don't need to be told what its like to live in very uncertain times.  
But, public events on one side, there are times in our lives when we can feel utterly overwhelmed by the difficulties that surround us, that we've lost control of events and that life has become, or has the potential to become, dangerously chaotic and unpredictable. Times when we can feel very bewildered about the way our lives have turned out and uncertain about how we might make any sense of them or how we might be able to turn things around.
Well, as they say, life was ever thus, but we might be forgiven for thinking that the rapid changes and chances of modern living make this kind bewilderment more likely to occur. We live – very plainly – in the midst of uncertainty of all kinds.
Times of uncertainty give rise to the perennial questions about the meaning of life. What is it all about? What is the meaning of it all and it's the question raised by each of today's readings.
Now, of course, we can approach uncertainty in various ways: we can embrace it or we can do our level best to reduce its risks or even deny / circumvent them altogether.
The rich landowner in today's Gospel parable – in what is clearly meant by Jesus to be a caricature - only cares about making the most of the exceptional harvest that has taken place for the sake of his own well-being.  He is pictured by Jesus as being blinkeredly self-centred. The words 'I 'and 'me' figure quite prominently in what he has to say.  He considers no one else, nor does he seem to have the slightest inkling that the unpredictable nature of life will suddenly deprive him of his carefully hoarded wealth and hand it to others.
There's an old joke which goes: "How do you make God laugh? Just tell him your carefully made plans!"
In the first reading this morning, from the  book of Ecclesiastes, the author reacts to the uncertainties and injustices of life by concluding that nothing lasts; everything is vanity, without meaning: the only sensible way to live is to take what comes our way, 'take things easy; eat, drink, have a good time.'
The concern Jesus expresses about those who, he says,  "store up treasures for themselves but are not rich towards God" is something which seems to be reflected in the many people today who are clearly searching for what they regard as a greater and more fully human vision for their lives than the acquisition of personal material advantage, those who are  profoundly dissatisfied with what seems to be the absence of a wider significance and purpose, whilst remaining sceptical , often for very good reasons,  of the claims of conventional religious practice or the old social and cultural certainties.
I've spoken to many people on the dusty footpaths of northern Spain who feel this way and who are seeking something more, holding to what may would see as a basic human instinct that, in an uncertain world, our lives should have a discernible meaning and consequence beyond the immediate and the purely material.
Without some kind of meaning uncertainty can very easily lead us to despair, as we have no larger understanding to help us come to grips with what otherwise can seem the sheer randomness life; no wider pattern to make sense of the suffering we all go through in one form or another.  The temptation is to try to ignore how random and unpredictable life at times seems to be, and to drown it out with carefully choreographed consumer mood music.
Yet, in a strange way this very absence of a common understanding of the universe and our place in it only serves to witness to the abiding human need for faith and belief in something greater than ourselves and our own achievements and the material things we accumulate.
ITEM 9 ANTHEM
Ralph Vaughan Williams:  'The Call' (Come My Way)
ITEM 10 ADDRESS 2 FR. MICHAEL
The world looks different when you carry all you need on your back.  I first walked the medieval pilgrimage trail from the French Basque country across northern Spain to Santiago de Compostela a few years ago. I made the classic mistake of the beginner, having filled my backpack with all kinds of things which might come in useful, given the unpredictable nature of a five week walk, with its uncertain weather and variable accommodation.
It's an odd feeling, getting off a train at a small French, alpine-looking town you've never seen before but heard a lot about – with high mountains towering in the distance and above you the vultures soaring on thermals. It's an odd feeling knowing that in an hour or so you will be setting out on a 500 mile walk into the unknown…
For all my careful planning, the rucksack was, of course, far too heavy, and impossible to carry in the searing heat of late summer and the physical exertion necessary to cross the mountainous terrain of the Pyrenees.
One of the lessons of the Camino de Santiago is that things can go wrong very quickly. One of the other lessons is that kindness and help are always there to be found.  But the resulting blisters, dehydration and heatstroke were great incentives for a radical de-cluttering and simplification of the baggage I was carrying with me.   To walk far, you have to carry less.
Of course, not all the de-cluttering is material. Many of the pilgrims I've met along various pilgrim routes were walking at times of crisis in their lives; many felt, in their own words, 'disconnected' by the pressures and pace of contemporary life, by the constant need to be electronically in touch and available to others, many searching for meaning and beauty in a world where one's status is largely determined by personal ambition and material possessions.
I suppose most of us, whatever stage of life we've reached,  spend a lot of time chasing things we think will make us happy – the well-paid job, the dream home, the nice clothes, the perfect relationship, the 'real me.'
But when we try to search for happiness, when we try to find ourselves, all too often we get lost and become wrapped up in ourselves and blind to greater realities. Like the landowner in Jesus' parable we make our plans, we build our barns and forget the needs of those around us and the things which make us fully human.  
The truly human life, the Christian tradition tells us, is one in which our present existence is seen and lived out, as St Paul says,  in the light of the things of lasting value, 'the things that are above, where Christ is'.
Christ, Paul tells us is the image of the invisible God ... in him all the fullness of God was pleased to dwell.  And he gives us through his death and resurrection the fullness of all that it is to be truly human. That is why we are urged to de-clutter spiritually, to put to death in us those things which are not consistent with being 'raised with Christ', the things which lead us to become focused on ourselves and our own needs to the exclusion of everyone else, those things which lead us to be ego-centric rather than focused on God and our neighbour.
Instead, Paul says, the true human life should display compassion, humility, patience, forgiveness, love  -  all of them virtues which lead to a concrete expression of commitment towards other people in the messy reality of human life as we find it. This is where we can find God himself. We don't find him either in immersing ourselves in a kind of selfish hedonism or in a retreat into an esoteric form of spirituality divorced from the realities of human life.
God is not the remote, aloof creator imagined by the writer of Ecclesiastes, in today's first reading.    God is, in the words of St Augustine, "closer to us than we are to ourselves."  This is the God who comes to us in word and Sacrament and teaches us the truths about himself and the real nature and purpose of life.  This is how we discover him and grow in our love for him, where we hope to be led into his presence, both now and into eternity.   Human life doesn't consist in the 'abundance of possessions' or in the success or failure of our personal or public ambitions.   Instead, we are called to walk along the pilgrim path of faith towards the life of God himself, Father, Son and Holy Spirit, who gives himself endlessly for the life of the world.
ITEM 11 LINK FR. MARK ZORAB
We raise our voices in prayer that that may we keep our eyes fixed on the Lord who is the source of our life and hope.  Be Thou My Vision.
ITEM 12 HYMN
Be thou my vision
ITEM 13 INTERCESSIONS
FR. MARK  
Let us now come before the Lord with our prayers for the needs of the Church and the world:
READER 1
For the Church throughout the world, that, true to its calling,
she may witness to the boundless love of God and proclaim his love in word and deed.
We pray for [our bishops, for all priests and deacons, all those entrusted with pastoral and teaching ministries, and for ] all Christian people, that their witness to Christ may be full of faith, hope and love, and that we may live our lives with grace, courage and compassion, unafraid in joy and in pain, in sickness and in health.
READER 2
We pray for those who govern the nations of the world, that they may use their authority in wisdom, fairness, and in pursuit of peace. Awaken in us all who govern a thirst for that justice which embodies God's care for humanity.  We pray for those who work in the mass media, especially for journalists and newspaper editors that they may seek to inform truthfully and with honesty and integrity.
READER 1
For a renewal of our society: that we may more and more live by God's Word and not seek our fulfillment in money and possessions.
For all young people: that God's Spirit will fill them with wisdom and understanding so that they may perceive the true values of life and not be seduced by a search for wealth, fame, or power.
READER 2
For all who have an abundance of possessions: that they may be aware of the needs of those, near and far away, who have little, and freely share the gifts they have been given.
READER 1
We pray for the victims of warfare and violence, especially for the people of the Iraq, Syria, …… 
and all the troubled places of the world ….
We pray for all who suffer illness, distress or grief, especially those we name silently or aloud ... , that you would grant them comfort, healing and peace. 
READER 2
For the departed; that their sins forgiven, they may be brought to share the joy of the heavenly city.
Joining our prayers with those of Mary the Mother of God, [St Arvan, our patron,] and all the Saints of every time and generation, let us bring our silent petitions before the Father.
FR. MARK
Let us pray in the words our Saviour taught us:
Our Father, who art in heaven, hallowed be thy name,
Thy kingdom come, Thy will be done, On earth as it is in heaven.
Give us this day our daily breadAnd forgive us our trespasses
As we forgive those who trespass against us.
Lead us not into temptation, but deliver us from evil.
For thine is the kingdom, the power and the glory,
For ever and ever.  Amen.
ITEM 14 LINK FR. MARK
We continue our silent prayers during the musical meditation
'Adonai S'fatai', inspired by verses from psalm 51 ''O Lord open my lips. That my mouth may declare your glory'
ITEM 15 MUSIC - ADONAI
Cello: Katherine Price
Organ: Peter King.
ITEM 15a READER  Extract Psalm 51
"A pure heart create for me, O God,
put a steadfast spirit within me.
Do not cast me away from your presence,
nor deprive me of your holy spirit.
Give me again the joy of your help;
with a spirit of fervor sustain me,
that I may teach transgressors your ways
and sinners may return to you.
O  rescue me, God, my helper,
and my tongue shall ring out your goodness.
O Lord, open my lips
and my mouth shall declare your praise.
ITEM 16 FINAL PRAYER FR. MARK  
Eternal God, who are the light of the minds that know you, the joy
of the hearts that love you, and the strength of the wills that serve you;
grant us so to know you, that we may truly love you, and so to love you
that we may fully serve you, whom to serve is perfect freedom,
in Jesus Christ our Lord.   Amen.
ITEM 17 LINK FR.  MARK
Following the blessing we end with the hymn Ye Holy Angels Bright.
ITEM 18 BLESSING FR. MICHAEL
May God the Father bring us to the home
which his Son prepares for all who love him. Amen.
May God the Son give us the will
to live for him each day in life eternal. Amen.
May God the Holy Spirit give us the assurance
that our citizenship is in heaven
with the blessed and beloved,
and the whole company of the redeemed. Amen.
And the blessing of God Almighty, the Father, the Son, and the Holy Spirit, be upon you and remain with you always.  Amen
ITEM 19 HYMN    
(Darwalls 148th) 
Ye Holy Angels bright (Darwalls 148th)
ORGAN PLAYOUT  PETER KING
CLOSING ANNO
Sunday Worship, led by Fr. Mark Zorab, came from the parish church of St. Arvans, Chepstow in Monmouthshire.  The preacher was Fr. Michael Gollop.  The Cantemus Chamber Choir, Wales was directed by Huw Williams.  The Cellist was Kathryn Price.  And the Organist Peter King.  The producer was Karen Walker.  
Next week's Sunday Worship comes from the Keswick Convention in the hills of Cumbria.