Main content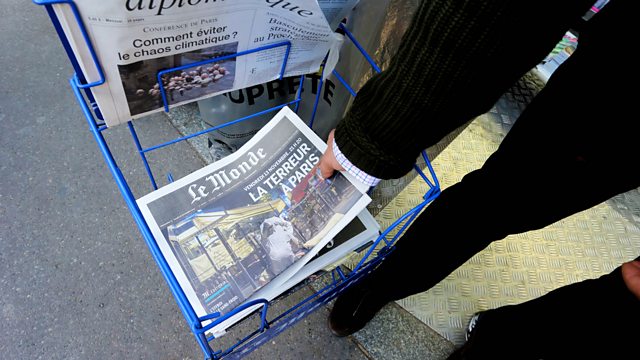 Naming terrorists; Naked Attraction; Facebook results
Why some French and German media aren't naming terrorists, Facebook's ad revenue results, and is Channel 4's Naked Attraction a hit formula? Prod: Katy Takatsuki.
Following the recent spate of terrorist attacks in France and Germany, and widespread reporting on these atrocities, some media outlets, including the French daily newspaper Le Monde, have decided to not publish the names or pictures of perpetrators. One of the organisations choosing to not publish details is French networked Europe1 Radio. Andrea Catherwood speaks to managing editor Nicolas Escoulan to hear why they've made that decision. Plus Jo Groebel, an academic and media consultant in Germany, who has been advising media there on this issue, explains why he thinks self-censorship is ineffective.
Channel 4's new 'dating' show 'Naked Attraction' has certainly sparked controversy, with around 123 complaints already to regulator Ofcom. The programme sees a single man and woman choose a date from a selection of six people standing naked before them. Some viewers have been left shocked by close ups of genitalia and full frontals, but ratings suggest it's pulling in a big audience - particularly the young. Andrea Catherwood is joined by presenter Anna Richardson, plus critics Kevin O'Sullivan and Rachel Cooke.
Latest results from Facebook show the company now has 1.71 billion monthly users, a surge from 1.65 billion in the previous quarter. Strikingly, the results also showed that revenue from advertising has grown 63 per cent in a year, to over $6.2 billion, with mobile ad revenue accounting for 84 per cent of this. Andrea Catherwood talks to ad expert Martin Bowley about the significance of these figures; what this tells us about ad spend, the impact on traditional media, and whether Facebook profits still have space to grow.
Producer: Katy Takatsuki.
Chapters
Naming Terrorists

Academic Yo Groebal and Nicolas Escoulan, editorial director French radio station Europe1

Duration: 09:18

Facebook results

Martin Bowley former Chief executive of Carlton TV Media Sales.

Duration: 04:03

Naked Attraction

Presenter Anna Richardson. Critics Kevin O'Sullivan and Rachel Cooke.

Duration: 17:51
Become a TV mogul and get rich
A celebration of Steve Hewlett, presenter of The Media Show