Main content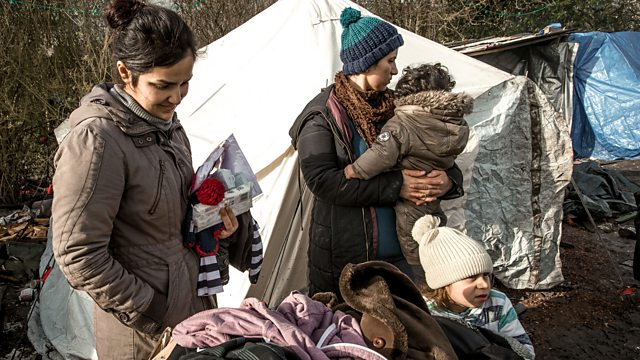 Calais 'Jungle' camp, Edinburgh Fringe, Attitudes towards disability
How women and children fare in the 'Jungle' camp in Calais. Plus 'Best Newcomer' Sofie Hagen on the Edinburgh Fringe and novelist Emma Claire Sweeney talks about her inspiration.
We hear the first in a series of features about the reality of day to day life for women, mother and child migrants, and refugees living in the 'jungle' camp in Calais. Reporter Catherine Carr visits one accommodation centre for women and children funded by the French government, a food distribution point and a health centre.
With the start of the Edinburgh Fringe Festival later this week, we talk to Sofie Hagen, winner of Best Newcomer a year ago for her show 'Bubblewrap'. What's it like being a stand-up comedian when you're an introvert?
Novelist Emma Claire Sweeney talks about her first novel, inspired by her sister who has cerebral palsy and autism. What does the research she did for the book Owl Song at Dawn tell her about how attitudes to disability have changed over time?
Sure Start was a flagship policy of the 1997 Labour government, aimed at improving outcomes for children and their families with the focus on those in greatest need. With budgets reduced and local authorities restructuring their services in recent years what does the future look like for early-years services? Naomi Eisenstadt, the first director of the Sure Start programme, gives her assessment of its impact and future.
Presenter: Nikki Bedi
Producer: Anne Peacock.
Chapters
Sofie Hagen

Danish comic Sofie Hagen talks about her new show 'Bubblewrap' at the Edinburgh Fringe.

Duration: 08:19

Mothers In The Calais 'Jungle'

The first in a series of features about day to day life for women in the Calais 'Jungle'.

Duration: 14:41

Emma Claire Sweeney

Emma Claire Sweeney on her first novel, Owl Song at Dawn, and her inspirational sister.

Duration: 07:53

Women In One

The latest edition of the 'Women in One' series sees Abigail Hollick head to Sheffield.

Duration: 02:09

Naomi Eisenstadt

First director of Sure Start programme, Naomi Eisenstadt, assesses its impact and future.

Duration: 08:04

Mothers In The Calais 'Jungle'