Main content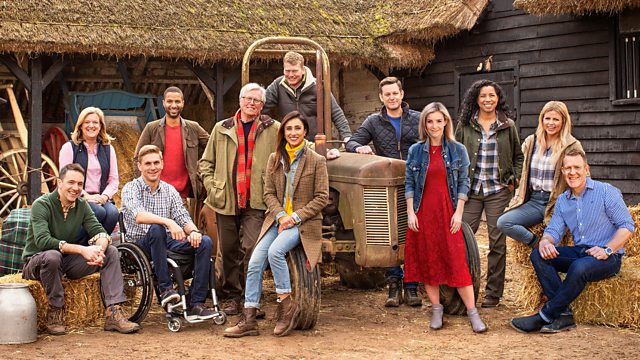 Meadows
The Countryfile team explore meadows, from the wildlife that makes the meadow its home to the plants that thrive there. Matt Baker discovers the art of scything.
The Countryfile team explore meadows, from the wildlife that makes the meadow its home to the plants that thrive there. Matt Baker discovers the art of scything with Britain's reigning female scything champion, and also makes hay whilst the sun shines.
Naomi Wilkinson meets an artist whose passion for meadows echoes through her vibrant paintings. She explores the RSPB site encouraging birds, bees, bugs and butterflies by introducing a meadow habitat. And she finds out about the rise in popularity of burial meadows.
John Craven discovers the folklore behind meadow plants and how their healing properties are being used in modern medicine. And Adam Henson is on his farm looking at his own meadows and grasslands. Tom Heap investigates the lack of affordable housing in Britain's rural areas and asks why we're still not getting it right.
Wildlife stepping stones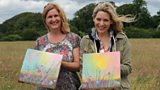 The archetypal meadow has waving grasses catching the sun, is peppered with colourful wild flowers and is humming with bees, bugs and butterflies. Naomi Wilkinson meets artist Yvonne Coomber in the heart of this beautiful setting to learn how she creates her colourful, impressionist paintings of wildflower meadows. However, chalk land meadows this pretty and bursting with this much life are scarce. Two of the largest remaining meadows of this type are on the protected military land of Salisbury Plain and Porton Down. Naomi meets Patrick Cashman from the RSPB to find out why ten years ago they bought a farm between these two sites to restore the arable land to a wildflower meadow, creating a sort of wildlife stepping stone. Bryan Pinchen is entomologist who visits the site regularly to do a sort of bug audit. Naomi helps him sweep net some insects to find out just how successful the restoration here has been.
Coronation meadows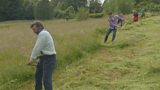 In the past 100 years 97% of our meadow habitats have been lost, but with a little help they are slowly returning. Kingcombe Nature Reserve in Dorset has a Coronation Meadow; a 'donor site' for other local meadows. Matt Baker meets Dr. Trevor Dines from Plantlife to establish exactly what a meadow is and to discover more about this special site. Nick Gray from the Dorset Wildlife Trust shows Matt the incredible species which thrive here and will go on to seed our future meadows. Matt also visits Simon Fairlie, a man who knows a thing or two about scythes. On his small holding in Dorset Simon hand harvests hay to feed his cattle. Matt learns to scythe with Andi Rickard, the UK Women's Scything Champion. She challenges him to a mowing competition under Simon's expert eye. Has Matt got what it takes to beat a champion? Making hay whilst the sun shines is a group effort. Matt joins in and discovers how important it is to keep your precious hay dry.
Adam's meadows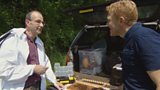 Adam Henson is examining the wildlife at his home in the Cotswolds to see how he can farm whilst supporting the environment. He has set aside vast areas to conservation and Plant Life visit the farm as part of a national wild flower survey to see what they can find. These conservation areas are also great when it comes to pollinators for the crops, but when time is short Adam gets a helping hand from bee farmer Chris Wells, who brings 1 million bees to the farm every year. Chris shows Adam what it means to be a bee farmer and his clever method of producing new queen bees and introducing them to a hive.
Burial meadows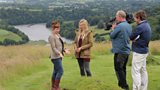 For many of us the cycle of growth and harvest often represents life and death.  Naomi Wilkinson will explore how the peace and tranquillity of meadows has a very special meaning for some. Julian Carnell is the director of the Sharpham Trust that own a burial meadow overlooking the picturesque Dart river in Devon. Naomi will meet him and Jennifer Bronwen  from the Green Funeral Company to find out more. She'll then try her hand at felt making with Yuli Somme a local craftswomen who makes felt shrouds which are helping take us back to nature in this beautiful setting.
Meadow medicine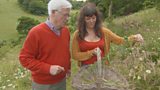 Ever heard of 'Bacon and Eggs', 'Bellies and Bums', 'Tom Thumb' or 'Crow's toes'? These are some of the wonderfully named meadow plants. Meadows have always provided food for animals in the form of hay, but they were once also a major part of our diet, well-being and language. John meets wild-forager expert Brigit McNeil to discover how to safely identify, pick and prepare some seasonal wild meadow plants to make into a medicinal remedy. What seems a little like folklore actually has its place in science. John meets Dr. Jan Knight who's researching how the healing properties of meadow plants can be used in modern medicine.
Rural housing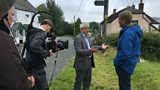 Tom Heap is looking into the continuing shortage of homes in the countryside.  Most people agree there's a national shortage, and many villages are becoming the preserve of commuters, and wealthy retired people. It means local people working in low paid but essential jobs, from farm workers to pub staff, simply cannot afford to buy or rent. Tom meets a family of five who are sharing with their in-laws because they can't find a home of their own.  He sees a possible solution when he visits a development of houses which are soon to be made available to local people.  The project in Christow village has been made possible because local people saw there was a need for affordable housing and decided to take matters into their own hands.
Credits
| Role | Contributor |
| --- | --- |
| Presenter | Matt Baker |
| Presenter | Naomi Wilkinson |
| Presenter | John Craven |
| Presenter | Tom Heap |
| Presenter | Adam Henson |
| Executive Producer | William Lyons |
| Series Producer | Joanna Brame |